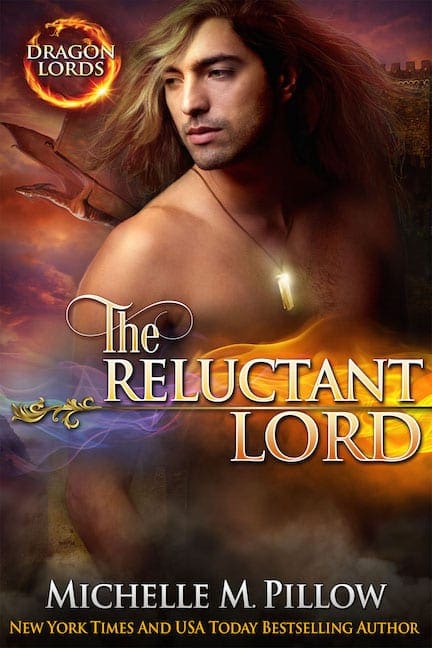 The original Dragon Lords series by NYT Bestselling Author, Michelle M. Pillow.
An uninhibited woman to match his untamed soul. That would be this dragon's ideal wife. 
Dragon-shifter Lord Vladan is not like his noble brothers. Adopted into their family after a mining accident killed his parents, he is every bit as titled as his new brothers, and every bit as welcome into the fold. Yet he can't help but feel the pull of his commoner past. He loves his family, and will always do as duty demands, but a part of him still yearns to shift into dragon form and run free in the wild. It is a side he indulges every chance he gets. This is how he knows his bride will be the most wild of creatures, for he wants passion, not perfection.
Surely the gods are mistaken when they bind him to the most refined, reserved, frustratingly perfect creature in the universe.
Polished, dignified and reserved in all things. That is a true noble. 
Lady Clara of the Redding, a living statue of perfection, has been raised a true Redde noblewoman. She has been taught to never show emotion, to never raise her voice, to touch as little as possible, and to never act wildly or rashly.
According to her people's custom, the new generation cannot begin until the current one is settled. She is the last of her siblings without a husband and her pregnant sisters will remain in stasis until she's married.
After Clara denies all suitable males on her home world, her parents are left with one choice–send her to a primitive place where several alien noblemen await mates. The men hardly appear picky about their choices, and her parents think it a perfect arrangement for a reluctant bride.
A Qurilixen World Novel
Click Preferred Format Below For Buy Links:
★★★★★
5 Stars! "The hero is utterly swoon-worthy, and while the couple doesn't see eye-to-eye all the time, they certainly have a chemistry that neither can't deny. I found this to be an incredibly fun read."
"Who doesn't love a dragon-shifter adopted into a noble family? Michelle M. Pillow does it again with another sizzling bathtub read. That's true love, right there."
★★★★★
5 Stars! "This is my favorite of a very fine series. This is the clash of two very opposing cultures as a sensitive noblewoman under tight societal restrictions marries an emotional, carefree dragonshifter who prefers to avoid his aristocratic status. Lovely."
| | | |
| --- | --- | --- |
| Print Pages | Hours to Read | Total Words |
| 360 | 6 – 7 Hours | 63K |
Original Copyright Release Date: 2013/09/27
CW: Michelle M. Pillow's books contain adult subject matter, graphic violence, and are not suitable for all audiences. 
Book Heal Levels: Spicy
Tropes:
Fated Mates, Alpha Hero
Arranged Marriage, Opposites Attract
Mail Order Bride
Nobility & Royalty
Dragon Shifter
Books 5-8
The Noblemen dragon shifter brothers aren't new to the sacred Qurilixian bridal ceremony. After several failed attempts at finding a wife, it's hard to get excited about yet another festival. No matter how honorably they try to live, it would seem fate thinks them unworthy of such happiness... that is until now.
With very few words spoken and the shortest, most bizarre courtship in history, these dragons will bond to their women forever. And once bonded, these men won't let go...
This series is part of the Qurilixen World.