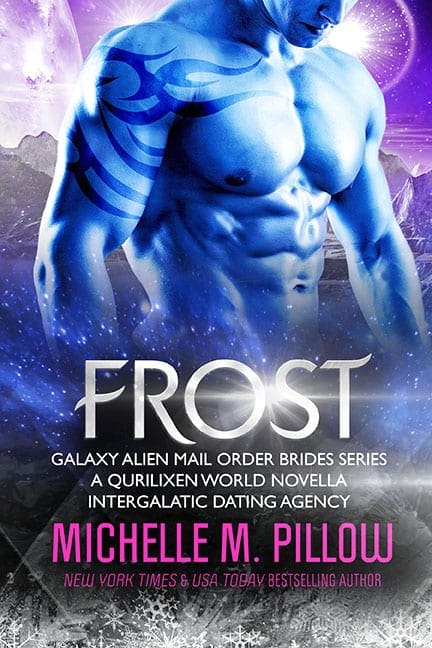 All he wanted was a little adventure and maybe to find a wife on Earth. What he got was a hell of a lot more than this alpha alien bargained for.
NYT Bestselling Author, Michelle M. Pillow, is back with a brand new sci fi alien romance adventure.
Alpha male alien Edur (aka Frost Chaos) will do anything to escape his ice tundra of a home planet. He'll even convince his brothers to jump onboard a bride procurement spaceship bound for Earth… which to be honest he should have vetted a little better.
Galaxy Brides promises a land of untold beauties just waiting for strong alien men to come and abduct them away.
Galaxy Brides promises a lot of things they can't deliver.
Galaxy Brides should maybe not be in business.
Journalist Meg Taylor had no problem leaving her big city life behind to come home to care for her sick father, but she does miss the excitement of chasing a story. When rumors of a blue hockey player surface in her small town, she can't resist. But following Frost home will give her more story than she bargained for–dangerous mercenaries, spaceships, intrigue, and a sexy blue-skinned alien looking for more than a one night stand.
A Qurilixen World Novella
Click Preferred Format Below For Buy Links:
★★★★★
5 Stars! "Another funny alien romance. Love the clueless aliens and the dating agency's mistranslations. Fun story."
★★★★★
5 Stars! "I always enjoy the humor found in this author's books. I have so many "favorite" characters in all of the series that picking just one would be impossible. The characters are likable and fun. The guys are sometimes clueless, and not only give us plenty of laughs, but also make us want to just reach out and hug them."
★★★★★
5 Stars! "Lots of action, drama, mystery, craziness, Danger, and more. I love the characters. The story was great I couldn't put it down. It's one of those storylines you just get lost in and can't get enough of." 
| | | |
| --- | --- | --- |
| Print Pages | Hours to Read | Total Words |
| 188 | 2 – 3 Hours | 29K |
Original Copyright Release Date: 2018/11/13
CW: Michelle M. Pillow's books contain adult subject matter, graphic violence, and are not suitable for all audiences. 
Book Heal Levels: Spicy
Genre:
Romantic Comedy

Alien Romance
Tropes:
Aliens visiting Earth

Blue Aliens

Mail Order Brides / Matchmaker

Different Worlds

Love at First Sight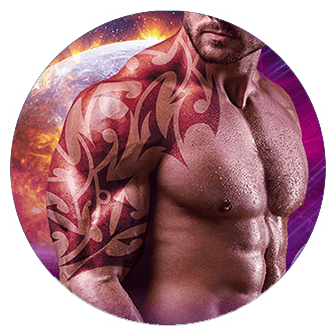 5 Stars! "Another funny alien romance. Love the clueless aliens and the dating agency's mistranslations. Fun story." – Cara Bristol, USAT bestselling author (2019)
5 Stars! "I always enjoy the humor found in this author's books. I have so many "favorite" characters in all of the series that picking just one would be impossible. The characters are likable and fun. The guys are sometimes clueless, and not only give us plenty of laughs, but also make us want to just reach out and hug them." Emily Pennington, Bookbub (2021)
5 Stars! "Lots of action, drama, mystery, craziness, Danger, and more. I love the characters. The story was great I couldn't put it down. It's one of those storylines you just get lost in and can't get enough of." pammyl, Barnes & Noble
5 Stars! "Excellent book! The Sintaz brothers antics are so laugh out loud." Jennifer, Barnes & Noble