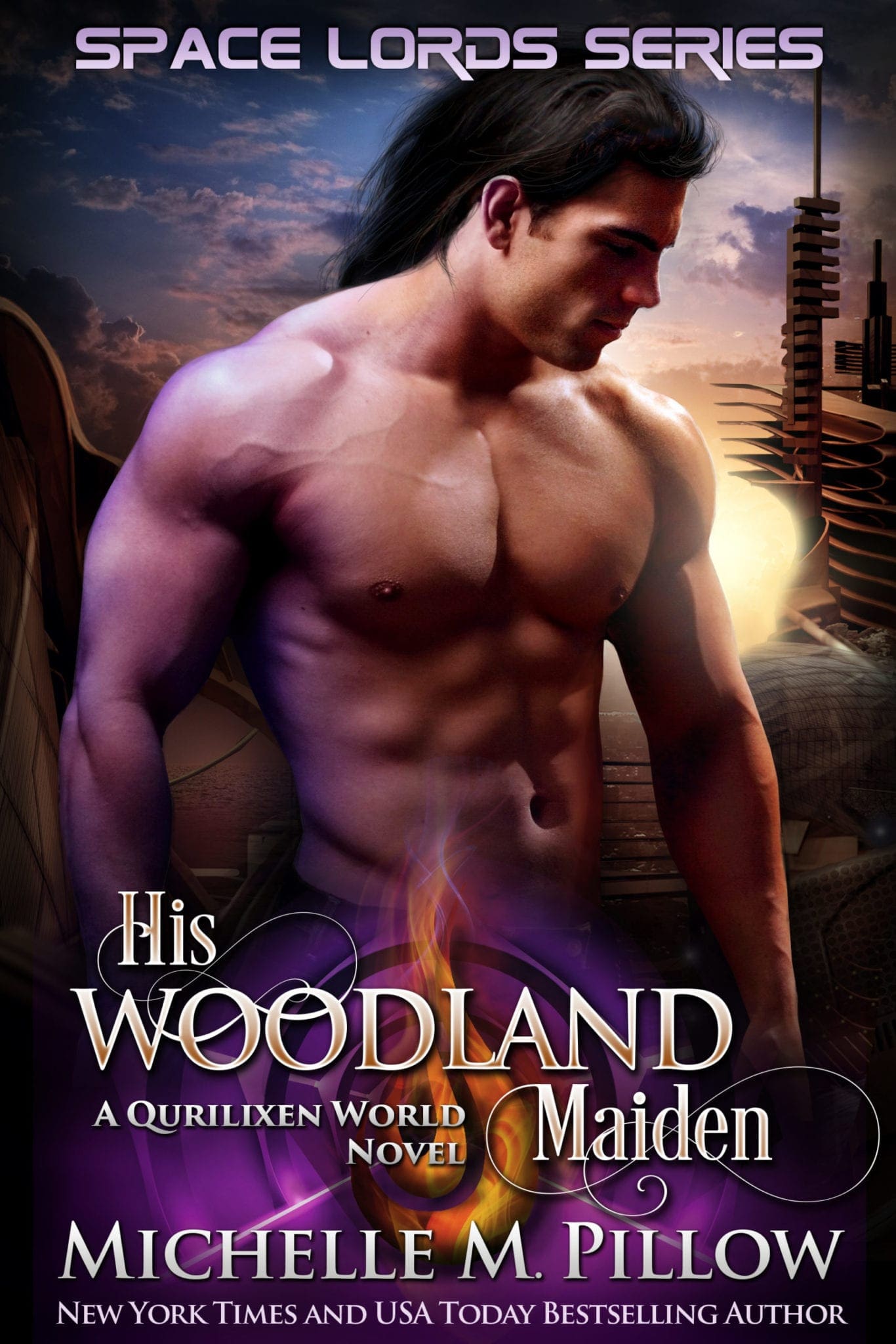 Space Pirate Rick Hayes sails the high skies searching for mischief. It looks like she finally found him.

From NY Times & USA TODAY Bestselling Author, Michelle M. Pillow, a space adventure romance!
Space pirate and all-around bad boy, Rick Hayes isn't looking to change his ways. He's one helluva pilot, has a crew he thinks of as family, and women seem to want his company. What more could a guy want? Life is too short to settle down, and he knows firsthand the less you care about, the less it hurts when you lose it. Too bad his logic doesn't always get through to his heart. When fate tempts him with a beautiful woman that appears to see through all of his defenses…
Well, actually, the frustrating star beam took him prisoner, hit him over the head, and stole his memories. Regardless of those few minor hiccups on the road to romance, Rick has to decide if love is worth the risk.
A Qurilixen World Novel
Click Preferred Format Below For Buy Links:
★★★★★
5 Stars! "This was such a playful and adventurous book. Rick and Harper was so fun together and their story was not what I expected. Michelle is always a go-to for me. I am not usually reading sci-fi, but with her I always do. This was fantastic!"
★★★★★
5 STARS! " She has created complete worlds filled with magic, cultures and laws. Michelle has created new plants, animals and humanoid races that make sense and mean something. If you pick up His Woodland Maiden—or any of the marvelous Michelle M. Pillow's books—you will be transported to a whole new world and not be sorry…. Until you have to come back to reality." 
★★★★★
5 Stars! "This story is absolutely hilarious and you will not stop laughing from the beginning to the end." 
| | | |
| --- | --- | --- |
| Print Pages | Hours to Read | Total Words |
| 334 | 5 – 6 Hours | 63K |
Original Copyright Release Date: 2019/09/24
CW: Michelle M. Pillow's books contain adult subject matter, graphic violence, and are not suitable for all audiences. 
Book Heal Levels: Spicy
Genre:
Space Opera Romance
Futuristic Romance
Tropes:
Space Pirates
Lovable Rogue, Bad Boy
Kidnapped
on the road, road trip (erm, in the sky, sky trip)
action adventure
5 Stars! – Mandy M. Roth, NYT & USAT bestselling author (Bookbub)
RECOMMENDED ADVENTUROUS SERIES! 5 Stars! – Jennine, Bookbub (2021)
5 Stars! "All the ingredients that you need for a great book!" Hsu Lee, Goodreads (2019)
5 Stars! "This was such a playful and adventurous book. Rick and Harper was so fun together and their story was not what I expected. Michelle is always a go-to for me. I am not usually reading sci-fi, but with her I always do. This was fantastic!" Jojo, Goodreads (2021)
5 Stars! "This is a super fun sci-fi adventure/romance! I loved it! It is cute and funny, steamy and sassy.. I fell in love with these characters!" Marianne K., Goodreads (2021)
5 Stars! "This story is absolutely hilarious and you will not stop laughing from the beginning to the end." Melissa Powell, Goodreads (2019)
5 Stars! "Michelle once again has continued to create her own unique world that we are lucky enough to read and live. Michelle has this amazing ability that I think some authors who write in this genre fail to grasp. Her books—this one included—have a good and interesting story plot that flows and makes sense and aren't rushed, well developed characters that you love and care for (and sometimes claim as your own book boyfriend… no judge from me ladies). She has created complete worlds filled with magic, cultures and laws. Michelle has created new plants, animals and humanoid races that make sense and mean something. If you pick up His Woodland Maiden—or any of the marvelous Michelle M. Pillow's books—you will be transported to a whole new world and not be sorry…. Until you have to come back to reality. This book is like many other of Michelle's books. It is filled with action, suspense, romance and of course… humor. (…) If you're looking for a good time, pick up this book and you won't be sorry." Rachael Messing, GooglePlay (2019)