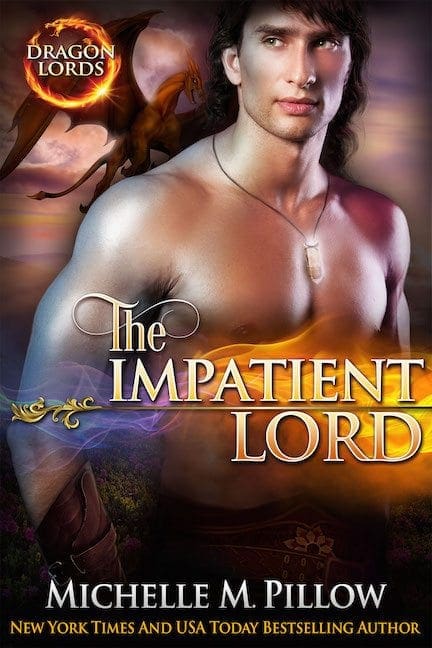 The original Dragon Lords series by NYT Bestselling Author, Michelle M. Pillow.
An unlucky bride… 
Riona Grey lives life on her own terms, traveling wherever the next spaceship is flying and doing what she must to get by. When her luck turns sour, she finds herself on a bridal ship heading to a marriage ceremony. A planet of primitive shifters seeking mates wasn't exactly what she had in mind as a final destination.
Just when she thinks things couldn't possibly get worse, she wakes up months later in an isolation chamber with a sexy, hovering dragon shifter telling her they're meant to be together…forever.
The impatient groom… 
After years of failed marriage attempts at the festivals, fate finally revealed Lord Mirek's bride… a day too late. Eager to have her, the dragon-shifter nobleman defies tradition and lays claim. But it's a mistake to go against fate's plans and his new wife is the one to pay the price of his impatience.
Now almost a year later, his bride is finally waking from a deep sleep. He feels the eagerness to claim her overtaking him once more. Fearful she'll slip through his grasp, he's hesitant to anger the gods by taking her to his bed too soon. But, how can a man resist the one thing that would make his life complete, especially when she looks at him with eyes of a seductress?
This is a test he can't fail, and yet with one of her sweet kisses he knows he may already have lost.
A Qurilixen World Novel
Click Preferred Format Below For Buy Links:
★★★★★
5 Stars! "Whenever I am looking for something to read, Michelle is one of my go-to authors every single time!"
"A wonderful series in the scifi genre!" 
★★★★★
5 Stars! "I also highly recommend reading the whole series! You wont be disappointed." 
| | | |
| --- | --- | --- |
| Print Pages | Hours to Read | Total Words |
| 332 | 6 – 7 Hours | 61K |
Original Copyright Release Date: 2014/03/03
CW: Michelle M. Pillow's books contain adult subject matter, graphic violence, and are not suitable for all audiences. 
Book Heal Levels: Spicy
Tropes:
Fated Mates, Alpha Hero
Fairy Tale Retelling: Sleeping Beauty

Mail Order Bride

Nobility & Royalty
Dragon Shifter
Forced Proximity
Books 5-8
The Noblemen dragon shifter brothers aren't new to the sacred Qurilixian bridal ceremony. After several failed attempts at finding a wife, it's hard to get excited about yet another festival. No matter how honorably they try to live, it would seem fate thinks them unworthy of such happiness... that is until now.
With very few words spoken and the shortest, most bizarre courtship in history, these dragons will bond to their women forever. And once bonded, these men won't let go...
This series is part of the Qurilixen World.