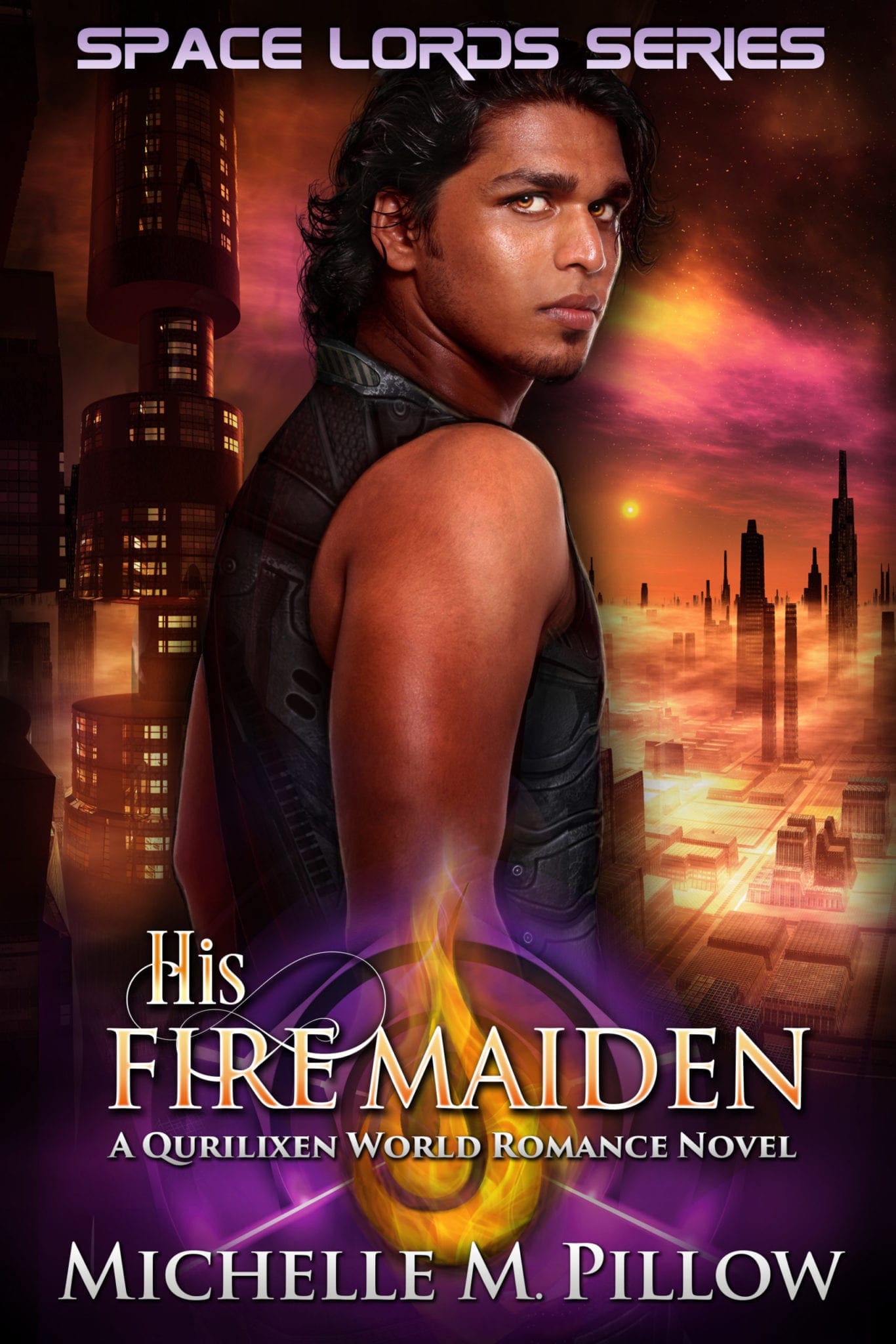 From NY Times & USA TODAY Bestselling Author, Michelle M. Pillow, a space adventure romance!
Dev has found a home with a misfit outlaw band of space pirates and he will do anything to protect his makeshift family. He knows he will never be accepted into human society. The demonic race of his birth shuns him and the humans fear him. So when the woman of his dreams comes gunning for his crew, the fiery maiden leaves him no choice but to show just how naughty his demon can be.
A Qurilixen World Novel 
Click Preferred Format Below For Buy Links:
★★★★★
5 Stars! "This is the story of Dev and how he caught a hold of his little badass spitfire. His story has drama, action, sexy bits & everything that makes an audiobook great. Buy now with one click……now, go. You'll be glad you did. Michelle M Pillow is a rock star in the author world!" 
★★★★★
5 Stars! "Michelle Pillow has another great series going on. This is book two and it doesn't disappoint. Hot, sexy, steamy and suspensefully romantic. Very well written I was hooked from page one."
★★★★★
5 Stars! "The story has Pillow's usual strong, sympathetic characters, irresistible romance, comprehensive world-building and sheer rollicking storytelling. Readers will find themselves swept along on Dev and Violet's journey, with some sweet touches along the way."
| | | |
| --- | --- | --- |
| Print Pages | Hours to Read | Total Words |
| 286 | 4 – 5 Hours | 49K |
Original Copyright Release Date: 2016/01/14
CW: Michelle M. Pillow's books contain adult subject matter, graphic violence, and are not suitable for all audiences. 
Book Heal Levels: Spicy
Genre:
Space Opera Romance
Futuristic Romance
Tropes:
Space Pirates
Demon
Lovers in denial
Different Worlds
Revenge
5 Stars! "This is the story of Dev and how he caught a hold of his little badass spitfire. His story has drama, action, sexy bits & everything that makes an audiobook great. Buy now with one click……now, go. You'll be glad you did. Michelle M Pillow is a rock star in the author world!" Kristin Chontelle, One Woman's Opinion (2021)
5 Stars! "This is an amazing story and I recommend you read it but I also recommend you read the first book in the series as well as the Lords of Var. All of them are amazing stories." MK Powell, Bookbub (2020)
5 Stars! "This is a fun story line with likable characters. I loved this series when I first read it, and re-reading it was every bit as fun and enjoyable. Grab your copy and see why these stories are timeless and continue to entertain!" – Emily Pennington, Bookbub (2021)
5 Stars! "Michelle Pillow has another great series going on. This is book two and it doesn't disappoint. Hot, sexy, steamy and suspensefully romantic. Very well written I was hooked from page one." Happy Reader, Amazon (2016)
5 Stars! "The story has Pillow's usual strong, sympathetic characters, irresistible romance, comprehensive world-building and sheer rollicking storytelling. Readers will find themselves swept along on Dev and Violet's journey, with some sweet touches along the way." Ann L., Amazon (2021)
5 Stars! "This sci-fi/paranormal romance is fantastic! I loved it! It is steamy and action-packed, with wonderful characters." Marianne K., Amazon (2021)
5 Stars! "loved this story and this series" Lisa Anderson, Amazon