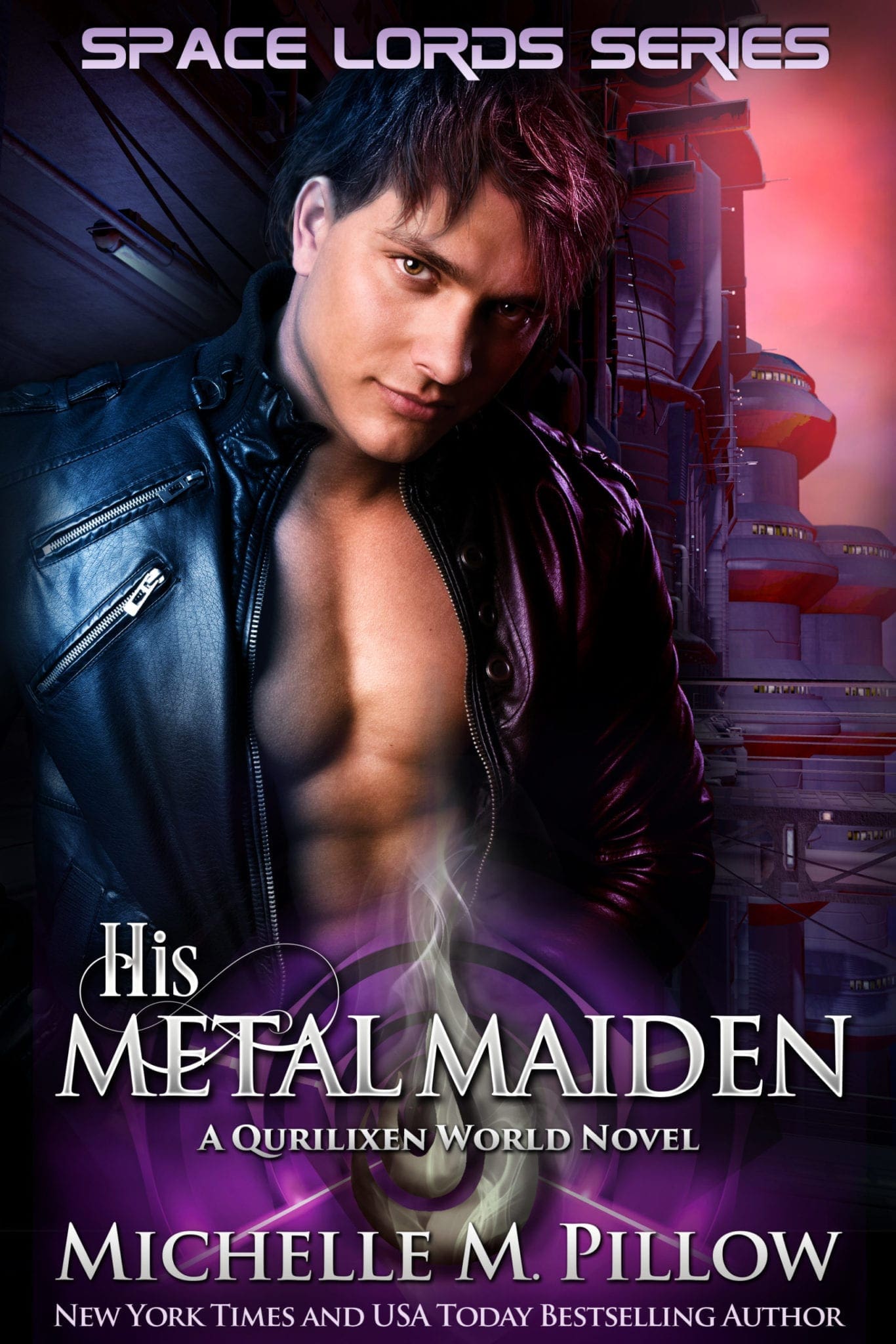 From NY Times & USA TODAY Bestselling Author, Michelle M. Pillow, a space adventure romance!
Dragon-shifter Lochlann left home to avoid a war he didn't believe in. Now as Captain of The Conqueror, in charge of a misfit crew, all he wants is to return without the label of coward. He's been offered one chance at redemption: Find Margot, a noblewoman's missing sister. The only problem is, the woman disappeared years ago, and his closest lead is a stunningly beautiful look-a-like droid crafted in her image. Alexis is programed to be everything he could ever desire, but getting her to reveal her secrets proves to be a true challenge for this alpha male.
Being a base model pleasure droid isn't as glamorous as it sounds. Alexis can't remember a time when she wasn't the property of others. Multiple surgeries, and endless tests, have amounted to a life not worth living. When a pirate crew visits her facility, she sneaks onto their ship. Desperate not to be returned to her owners, she strikes a deal with the alluring captain. Pretend to be Margot in exchange for freedom.
Series Note: Dragon Lords Fans – Find out what happened to Margot!
A Qurilixen World Novel 
Click Preferred Format Below For Buy Links:
★★★★★
5 Stars! "I love this series! I keep saying if that's my favorite book, no that's my favorite story. Can't make up my mind. Just know I can reach for of her books and go anytime I want. Another one of those type of series where you can read it & reread it & never tire." 
★★★★★
5 Stars! "I really liked the tone of this story as it felt less like a shifter story and much more a sci fi romp. Yes we have an honourable and virtually unflappable dragon shifter in Captain Lochlann but his motley crew are absolutely hilarious and so very diverse. Plus the author has gone back to the possibility of medical breakthroughs that seem fantastical and yet can be so cruelly manipulated."
★★★★★
5 Stars! "Absolutely loved the sci-fi vibes without it be overwhelming." 
| | | |
| --- | --- | --- |
| Print Pages | Hours to Read | Total Words |
| 294 | 6 – 7 Hours | 60K |
Original Copyright Release Date: 2016/09/25
CW: Michelle M. Pillow's books contain adult subject matter, graphic violence, and are not suitable for all audiences. 
Book Heal Levels: Spicy
Tropes:
Space Pirates
Space Opera
Secret Mission
Cyborg / Droid
Dragon Shifter
5 Stars! "Absolutely loved the sci-fi vibes without it be overwhelming." Laura Martinez, Bookbub (2021)
5 Stars! "His Metal Maiden is a fun, romantic read that easily takes its place up there with my favorites of Pillow's works." De'sire'e, Bookbub (2021)​​​​​​​
5 Stars! "I love this series! I keep saying if that's my favorite book, no that's my favorite story. Can't make up my mind. Just know I can reach for of her books and go anytime I want. Another one of those type of series where you can read it & reread it & never tire." Arysta, Bookbub (2021)
5 Stars! "Well written as sales usual by Michelle Pillow. Great continuation of the Space Lord's series. I liked this one as much as the first two. Five Stars!" Linda Fowler, Goodreads (2016)
5 Stars! "I really liked the tone of this story as it felt less like a shifter story and much more a sci fi romp. Yes we have an honourable and virtually unflappable dragon shifter in Captain Lochlann but his motley crew are absolutely hilarious and so very diverse. Plus the author has gone back to the possibility of medical breakthroughs that seem fantastical and yet can be so cruelly manipulated." Marta Cox, Goodreads (2016)
5 Stars! "This is an awesome sci-fi/fantasy romance.. I really liked it! It is cool and compelling, with lots of drama and fun adventure." Marianne K., Goodreads (2021)