NYT & USAT Bestselling Author Michelle M. Pillow's Books
When discovering a new author, it can be difficult to know where to start. We're here to help! Michelle M. Pillow has been a published author since 2004, and during that time, she has written over 100 books in many genres and in different styles. Do not let that number intimidate you.
Some fan favorites include sci-fi and paranormal romance, paranormal women's fiction, fantasy romance, and cozy paranormal mystery. With so much variety to choose from, you're sure to find something to spark your interest! Michelle's extensive library offers something for everyone, whether you're looking for a gripping paranormal romance or heart-racing mystery.
Some of these books have been with publishers, some are as an indie. All are in ebooks and paperback. Most are in audiobooks. Several in hardback. They're at all major vendors, and you should be able to order through your fave bookstores.
So, where should you begin? The simple answer is it depends on what you like to read.
Click to jump to the section: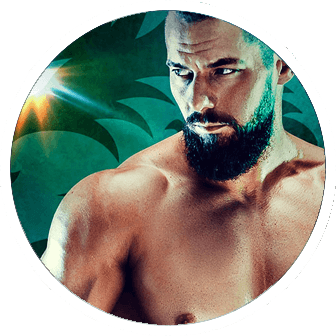 Reading Recommendations
DON'T KNOW WHERE TO START? Pick your genre! We'll start with some fan favorites.
Sci-Fi & Paranormal Romances
Enjoy this captivating tale of romance, loyalty, and royal intrigue with this thrilling read with over 1,000 five-star ratings on Goodreads.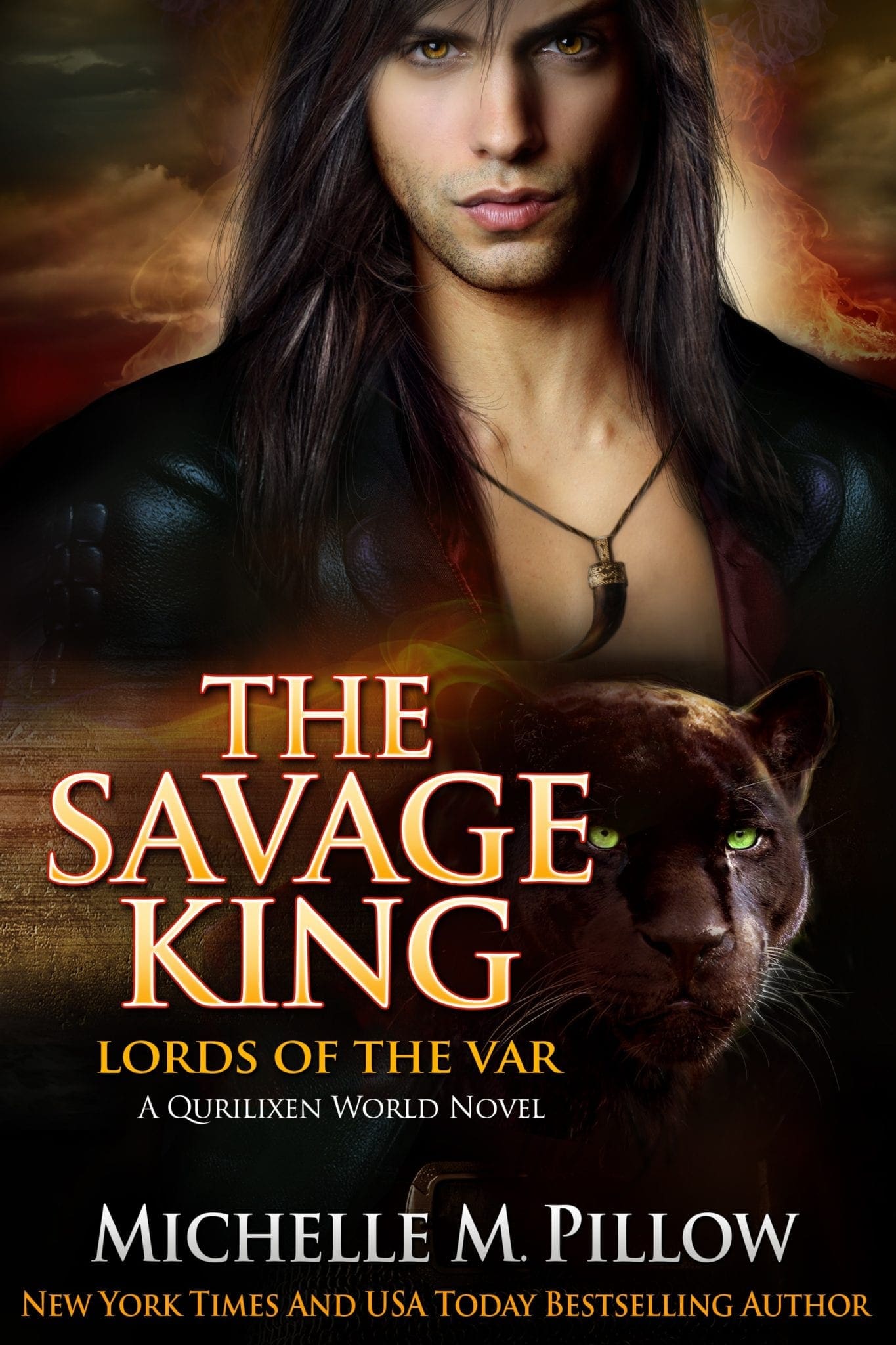 A Royal Paranormal Romance: Cat Shifter King Kirill has a duty to his people, but when he meets Ulyssa, all bets are off. This unexpected romantic adventure will have you flipping through pages as you journey with them to discover what fate holds for them both.
Cat-shifting King Kirill knows he must do his royal duty by his people. When his father unexpectedly dies, it's his destiny to take the throne and all of the responsibility that entails. What he hadn't prepared for is the troublesome female prisoner he inherited.
Undercover Agent Ulyssa is no man's captive. Trapped in a primitive alien forest awaiting pickup, she's going to make the best out of a bad situation… which doesn't include falling for the seductions of an alpha male king.
This book is part of the Qurilixen World, a collection of series installments in the same book universe.
Qurilixen World Series
Suggested Series Reading Order for the Qurilixen World: Each series installment is standalone, as are the books. You can read them in any order and not get lost. However, there are official reading orders here if you prefer.
The following are listed as
Series: Book One Title – Genre
Romantic Comedy PNR: Magically Mischievous Scottish Warlocks in Modern-day Wisconsin
Although Erik may not be looking for love, it finds him anyway in this paranormal romantic comedy! Experience an enchanting story filled with otherworldly creatures, powerful magic and true love. Whether you're a fan of fantasy or romance stories, this series has something for everyone!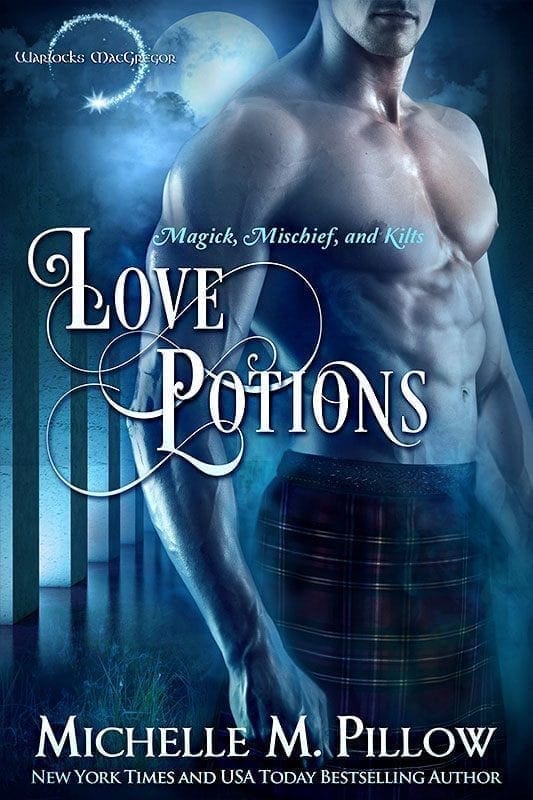 2015 Virginia Romance Writers HOLT Medallion Award of Merit recipient for outstanding literary fiction in Paranormal
Warlocks MacGregor® series:
Love Potions (Warlocks MacGregor Book 1)
Paranormal Warlock Romance: A little magical mischief never hurt anyone until a love potion goes terribly wrong.
Magic, Mischief, and Kilts!
Erik MacGregor is from a line of ancient (and mischievous) Scottish warlocks. He isn't looking for love. After centuries of bachelorhood, it's not even a consideration… until he moves in next door to Lydia Barratt. It's clear the beauty wants nothing to do with him, but he's drawn to her and determined to win her over.
The last thing Lydia needs is an alpha male type meddling in her private life. Just because he's gorgeous, wealthy, and totally rocks a kilt doesn't mean she's going to fall for his seductive charms.
When a family prank goes terribly wrong, causing Erik to succumb to a love potion, Lydia becomes the target of his sudden and embarrassingly obsessive behavior. They'll have to find a way to pull Erik out of the spell fast when it becomes clear that Lydia has more than a lovesick warlock to worry about.
A Must Read You Won't Forget: Meet the unforgettable cast of characters in Michelle M. Pillow's emotionally powerful novels. These ladies will draw you in with their strength, courage and powerful bonds while they embark on spine-tingling magical adventures. Fans of supernatural stories won't be able to put down this captivating read!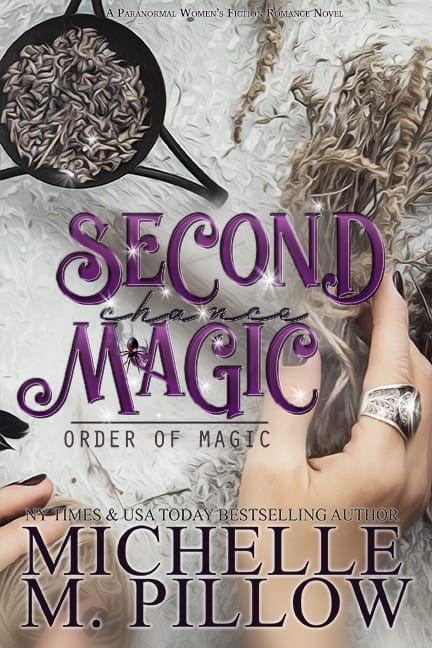 Secrets broke her heart… and have now come back from the grave to haunt her.
Lorna Addams' forties are not what she expected. After a very public embarrassment, she finds it difficult to trust her judgment when it comes to new friendships and dating. She might be willing to give love a second chance when she meets the attractive William Warrick, if only she could come to terms with what her husband did to her and leave it in the past.
How is a humiliated empty nest widow supposed to move on with her life? It's not like she can develop a sixth sense, séance her ex back, force him to tell her why and give her closure. Or can she?
"Delightfully heartfelt and filled with emotion. Psychic powers, newly discovered magic, and a troublesome ex who comes back from the grave. Michelle M. Pillow delivers a wonderfully humorous start to a new paranormal women's fiction romance series."
Still want more suggestions? Try these!
The following are listed as
Series (if there is one): Book One Title – Genre