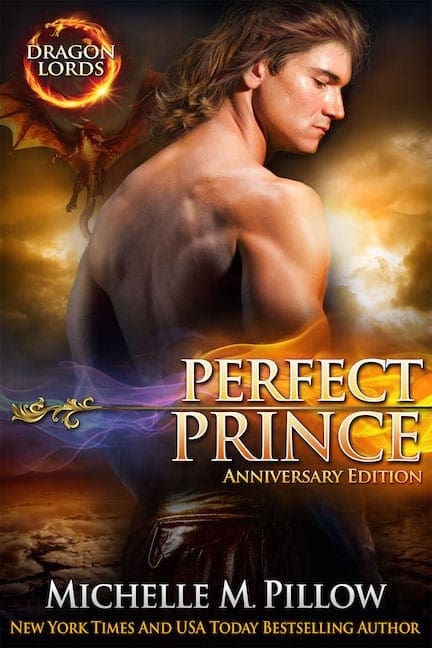 A Perfect Escape… 
Nadja Aleksander has everything she could ever want in life, except her freedom. Skipping out on her engagement to a man her controlling father has chosen for her, Nadja books passage on the first ship she can find. Bound for a planet of primitive humanoid males, she plans on finding a simple, hardworking man who will allow her to live out her days in total obscurity. Unfortunately, simple isn't what fate has in mind.
A Perfect Mistake… 
Dragon shifter Prince Olek is pleased with his refined and blushing bride. When she chooses him to be her life mate, appearing happy in her decision, his heart soars–until the next morning when his new princess wants nothing to do with him. The dragon prince doesn't know what he's done to upset his alluring woman, but he is determined to reignite the hot sparks that burned the night they met.
A Qurilixen World Novel
Revised Expanded Anniversary Edition
Click Preferred Format Below For Buy Links:
"Olek should really leave his mate for me. I was totally made for him."
★★★★★
REVIEWER CHOICE! 5 Stars! "Ms. Pillow's strong characters, fast-paced plot, and steamy sexual encounters made this an outstanding book… Ms. Pillow's talent for storytelling is sure to make her a renowned author of the romance genre." 
★★★★★
5 Stars! "Exciting and Sensual"
★★★★★
5 Stars! "An extremely good dragon shifter arranged marriage book! I liked the characters of Olek and Nadja very much and the storyline was interesting and original plus it was well-written and flowed smoothly." 
| | | |
| --- | --- | --- |
| Print Pages | Hours to Read | Total Words |
| 488 | 7 – 8 Hours | 88K |
Original Copyright Release Date: 2004/09/09
CW: Michelle M. Pillow's books contain adult subject matter, graphic violence, and are not suitable for all audiences. 
Book Heal Levels: Spicy
Tropes:
Fated Mates, Alpha Hero
Hidden Identity, Runaway Bride
Mail Order Bride
Nobility & Royalty
Dragon Shifter
The dragon-shifting alien princes have no problem with commitment. In one night, these alpha males will meet and choose their fated mates in a simplistic ceremony involving the removal of masks and the crushing of crystals. With few words spoken and the shortest, most bizarre courtship in history, they will bond to their women forever.
This series is part of the Qurilixen World.