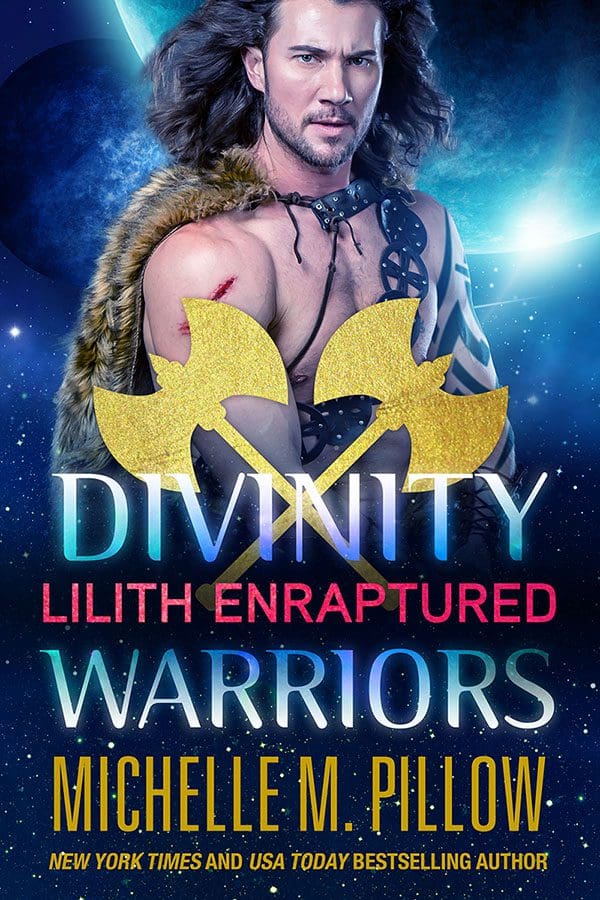 Divinity Warriors Series #1
When Lilith, a Divinity Corporation data analyst, awakes in an alternate dimension, she's appalled to find herself the bride of an alpha alien warrior. But Sorin of Firewall is nothing like she imagined — and his touch makes her feel things she never thought possible… (Bookbub)
In a land forever at war, meeting women is the last thing they can think about, so what's a lonely alpha warrior to do?
Sorin of Firewall lives in a land forever at war. In fact, the Starian men are so busy fighting, their marriage ceremony has been reduced to an alpha male "will of the gods" event where they simply pick a woman out of a lineup and claim her as a wife. With women becoming scarce, it's necessary to trade the offworld Divinity Corporation for brides. Duty-bound to attend the ceremony, he has no intention of picking a bride, let alone one from another dimension. That is, until he sees Lilith, the bewitching woman sent by the gods to reward—or punish?—him.
Alternate Reality, Alternate History, Parallel Universe, Portal Travel, Science Fiction Warrior Alpha Male Romance – Part of the Divinity Universe
Click Preferred Format Below For Buy Links:
"I thoroughly enjoyed the interactions between the characters in Lilith Enraptured and felt the novel has a steady fast pace that will keep the reader interested."
"If you like books that transport you to unusual cultures with hot alpha men, this book will entertain you. Time traveling heroine ends up in a culture where the men are all he-men and a sassy woman has to figure out her own happy ending."
4.5 Stars! "If you are looking for a series depicting strong and determined women who lead with not only their hearts but also their minds and bodies, this is a series you want to embrace."
| | | |
| --- | --- | --- |
| Print Pages | Hours to Read | Total Words |
| 370 | 5 – 6 Hours | 61k |
Original Copyright Release Date: 2009/03/25 
Part of the

Divinity World
:
Lilith Enraptured
Ariella's Keeper
Linnea's Arrangement
CW: Michelle M. Pillow's books contain adult subject matter, graphic violence, and are not suitable for all audiences. 
Book Heal Levels: Spicy – Carnal
Genre:
Science Fiction Romance

Alternate Reality Romance
Portal Travel
Tropes:
Fated Mates
Enemies to Lovers
Arranged Marriage / Bartered Brides
Royalty & Nobility
Alpha Hero
Sub Genres: Alternate History, Parallel Universe, Time Travel
Did you know?
I wanted to call the Divinity Warriors series: Battlewar Castle series. The original publisher said no. They didn't think romance fans would like that series title.

Part of the

Divinity World
:
Lilith Enraptured
Ariella's Keeper
Linnea's Arrangement
"I thoroughly enjoyed the interactions between the characters in Lilith Enraptured and felt the novel has a steady fast pace that will keep the reader interested." Joyfully Reviewed, May 2009
"If you like books that transport you to unusual cultures with hot alpha men, this book will entertain you. Time traveling heroine ends up in a culture where the men are all he-men and a sassy woman has to figure out her own happy ending." Zara West, Contemporary Romance Author (2019)
4.5 Stars! "If you are looking for a series depicting strong and determined women who lead with not only their hearts but also their minds and bodies, this is a series you want to embrace." Bitten by Books, December 2009