When Cora Dewitt encounters an unusual little girl, she never expects the seemingly lost child to lead her beyond state lines and into the path of sexy Scottish warlock Euann MacGregor. "An incredible talent… [Pillow] is not to be missed!" (New York Times bestselling author Gena Showalter).
Magic, Mischief and Kilts!
Scottish Warlock Euann MacGregor may be the tech savvy one in his family, but when it comes to love, savvy doesn't enter into the equation. So when he crosses paths, in the most unusual way, with a woman who holds an essential piece to a puzzle that has haunted the MacGregor family for decades, he's torn between wanting answers and wanting her. Forces beyond his control have brought them together, but those same dangers might also be what tears them apart forever.
Warning: Contains yummy, hot, mischievous MacGregors who are almost certainly up to no good on their quest to find true love.  And Uncle Raibeart.
Click Preferred Format Below For Buy Links:
"Michelle M. Pillow is an incredible talent! No matter the genre she writes, I'm captivated, enthralled and totally in love. She is not to be missed!"
"Michelle M. Pillow weaves a story so engrossing that I lose track of time while reading and think about the characters long after I'm done. Each time I open one of her books I know I'm going to be taken on an unbelievably awesome journey and have a satisfying HEA."
5 Stars! "The kilt-clad MacGregors are up to no good, and it's freaking awesome! LOVED THIS BOOK!" 
| | | |
| --- | --- | --- |
| Print Pages | Hours to Read | Total Words |
| 288 | 4 – 5 Hours | 46K |
 Original Copyright Release Date: 2018/10/23
CW: Michelle M. Pillow's books contain adult subject matter, graphic violence, and are not suitable for all audiences. 
Book Heal Levels: Spicy Carnal
Genre:
Romantic Comedy
Warlock Romance
Scottish Romance
Small Town Romance
Tropes:
Magic, Witches and Warlocks, Phoenix

Highlander

Wealthy, Rich Poor, Different Worlds, Kidnapped

Contemporary

Fox shifter
Warlocks MacGregor: Magic, Mischief, and Kilts!
From the Highlands of Scotland to the valleys of Wisconsin...
A modern-day Scottish Paranormal Romance, Award-Winning Series by NYT Bestselling Author Michelle M. Pillow.
About the Series:
People know magic is fake--card tricks and illusions, magicians and entertainers. But there is an older magick, a powerful force hidden from modern eyes, buried in folklore and myths, remembered by the few who practice the old ways and respect the lessons of past generations.
The term "warlock" is a variation on the Old English word waerloga, primarily used by the Scots. It meant traitor, monster or deceiver. This fiction-based family includes males and females of magick. The MacGregors do not agree with how history has labeled them, or other supernaturals. To them, warlock means magick, family, and immortality. This series is not a portrayal of modern-day witchcraft or those who hold such beliefs. The MacGregors are a magickal class all their own.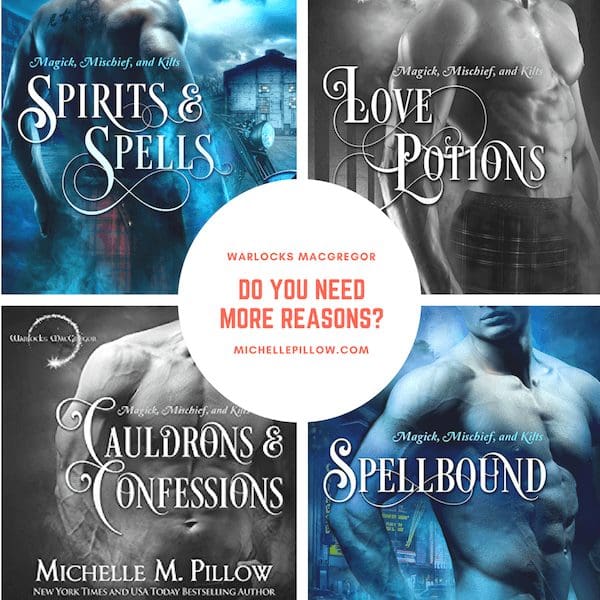 "Michelle M. Pillow is an incredible talent! No matter the genre she writes, I'm captivated, enthralled and totally in love. She is not to be missed!" Gena Showalter, New York Times bestselling author (2018)
"Michelle M. Pillow weaves a story so engrossing that I lose track of time while reading and think about the characters long after I'm done. Each time I open one of her books I know I'm going to be taken on an unbelievably awesome journey and have a satisfying HEA." Mandy M. Roth, New York Times bestselling author (2018)
5 Stars! "The kilt-clad MacGregors are up to no good, and it's freaking awesome! LOVED THIS BOOK!" Robyn Peterman, NY Times & USA Today bestselling author of snarky, sexy, funny contemporaries and paranormals (2019)
5 Stars! "These sexy Scottish warlocks might have finally met their match…and it's the most hilarious villain ever."  Mandy M. Roth, New York Times bestselling author (2019)
5 Stars! "I love Michelle M. Pillow's warlocks. This one did not disappoint, and the tiniest MacGregor just might steal your heart." Luna Joya, paranormal romance author (2021)
5 Stars! "Scottish warlocks run amuck in Wisconsin…too much fun! I love this series!" Jaycee Clark, NY Times & USA Today bestselling author of romantic suspense (2019)
5 Stars! "Another wacky and wild MacGregor adventure! I love this book!" Debra Dunbar, Urban Fantasy Author (2019)
5 Stars! "Those crazy-sexy MacGregor boys are back and causing more mischief than ever. This series is so much fun! Can't wait to see what happens next!" Renee George, USA Today Bestselling author of paranormal mysteries (2019)
5 Stars! – Jessica Grayson, USA Today bestselling scifi and fantasy romance author (Bookbub, 2021)
5 Stars! "OMG love it!" Pam Louis, Bookbib
Warlocks MacGregor® is a registered trademark. Registered, U.S. Patent and Trademark Office