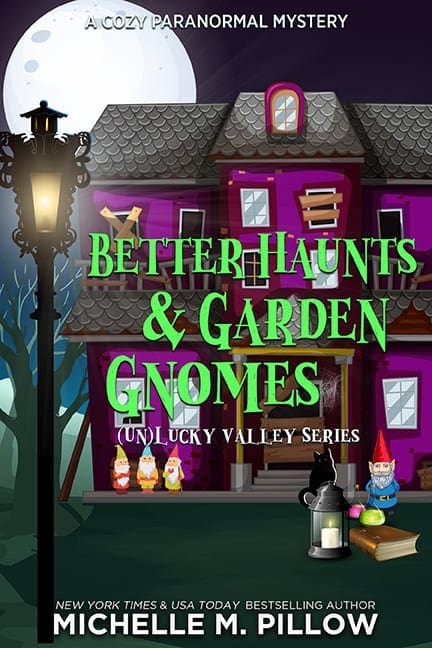 Better Haunts and Garden Gnomes
(Un)Lucky Valley Series Book #1
A Cozy Paranormal Mystery – A Happily Everlasting World Novel
Welcome to Lucky Valley where nothing is quite what it seems.
Lily Goode wasn't aware she had an inheritance waiting for her in the form of a huge Victorian house in Lucky Valley, Colorado. Life might finally be coming together for her. That is if you don't count the endless home repairs, dealing with eccentric Aunt Polly who claims they're both witches, and Nolan Dawson the handsome home inspector who seems to have it out for her, then, sure, life is grand. Oh and not to mention the strange hallucinations and garden gnomes who are far more than lawn ornaments.
If mysterious accidents don't do her in, then the rebellious gnomes just might. With the help of Aunt Polly, it's up to Lily to discover who's sabotaging her new home and trying to drive the Goodes out of Lucky Valley once and for all.
From NY Times & USA TODAY Bestselling Author, Michelle M. Pillow, a Cozy Mystery Paranormal Romantic Comedy.
Happy Reading!
Click Preferred Format Below For Buy Links:
★★★★★
5 Stars! "I love a great cozy mystery, and Michelle M. Pillow ramps it up with humor, a great cast of secondary characters and adds the paranormal! C'mon – garden gnomes?! Yes!!!"
★★★★★
5 Stars! "Love this author, love this book!"
★★★★★
5 Stars! "Better Haunts and Garden Gnomes by Michelle M. Pillow was so funny and awesome that I want to read the next book already. I was so sucked in that I had a hard time letting go to eat or do anything. I loved the Goode siblings and of course Aunt Polly. This book is definitely a five-star read and I recommend to anyone that loves paranormal cozy mysteries with romance."
| | | |
| --- | --- | --- |
| Print Pages | Hours to Read | Total Words |
| 340 | 5 – 6 Hours | 58K |
 Original Copyright Release Date: 2018/07/31
Happily Everlasting series:
1. Fooled Around and Spelled in Love
(Un)Lucky Valley series:
3. Better Haunts and Garden Gnomes
Reader notes: 
The Happily Everlasting series was a group book project with authors Jana DeLeon, Mandy M. Roth, Michelle M. Pillow, and Kirsten Painter. Each book was a standalone and do not have to be read in order. 
The (Un)Lucky Valley series is by Michelle M. Pillow. Did her character Aunt Polly tickle your funny bone in Fooled Around and Spelled in Love, and Curses and Cupcakes? If so, just wait until you read the next crazy adventure Aunt Polly has up her sleeve.
Welcome to (Un)Lucky Valley!
(But don't stay too long. We don't trust outsiders)
Excerpt from
A Cozy Mystery Paranormal Romantic Comedy
By NYT & USAT Bestselling Author Michelle M. Pillow
In the town of Lucky Valley, Colorado, nothing is quite what it seems. As Lily Goode is quickly finding out…
"What do you mean feared? What did my relatives do?" Running footsteps sounded overhead. Lily looked at the ceiling. "What is that?"
"Every old house makes its own noise," Nolan dismissed. "You'll get used to it."
"You don't think it's another animal, do you?"
"No." He seemed fairly confident, so she let it drop. "To answer your question, Lucky Valley was founded by the Goodes and the Crawfords during the 1800s as a refuge for certain types of people who were not wanted in the old country. Jedediah Crawford had struck gold, and the Goode family had the money to set up a full mining operation. They combined forces and together they built this town."
"Go on," she prompted when he paused. Getting conversation out of him was like trying to get a straight answer out of Polly—darn near impossible.
"All I know is the stories I heard as a kid." The light through the window had dimmed, and he reached to flip on a light switch. The lights flickered. "I'll fix that."
"The stories you heard as a kid…" she reminded him. There was no way she was letting him go until she heard why someone wanted to burn the lawn and spray paint the house.
"Some say the Goodes became greedy. Some say the Crawfords became careless. Others claim it was a pact with the devil. And a few think maybe it was the very first of the bad luck curse. The one thing everyone agrees on is that the Goodes and the Crawfords did not get along, and it was that feud that began the run of bad luck the town became known for." Nolan walked to the window and looked out. His shoulders lifted as if he took a deep breath. "Out there, in Unlucky Valley—that's what locals call the remains of the first town—there were a series of calamitous events. In the span of three days, a church went up in flames, a disease spread out over the crops, and the mine caved in."
"And they think my ancestors did this?"
"They think it was a byproduct of the magic being used between the feuding families. Everyone in town had a family member who died that day, most had more than one. The two families couldn't agree on the way to save the miners and refused to work together. Their individual efforts were not enough and by the time they dug through to where the men were holed up, a hundred and eighteen workers died."
"That's tragic. So did my ancestors sabotage the mines? Or skip corners with safety?"
"They say it was magic."
"So they magically dried up crops, destroyed churches, and ruined their money making gold mines? That makes little sense. Why would they do that? It doesn't seem like it was beneficial for anyone." Lily shook her head. "Maybe it was nothing more than plain old bad luck."
He stiffened. "I wouldn't dismiss the stories in front of others if I were you."
"I didn't mean to insult anyone, but I'm still trying to determine how a mining accident in a time where there were probably hundreds of unsafe mining accidents in this country equals my siblings and me being evil."
"Well, your mother…"
Lily sighed and nodded her head. "Right. Never mind. Now it makes sense."
Marigold wouldn't have helped the family reputation.
"I don't want to speak ill of the dead," he said. "It's your mother."
"The last time I saw my mother, she was standing outside my apartment window tapping her fingernails on the glass while muttering nonsense. She was too thin. Her hair looked like wild birds might have been living in it, and her black lace dress was in tatters. When I tried to go outside to get her help, she'd vanished. All that was left was a strange symbol drawn in blood on the glass. So please, don't feel the need to sugarcoat anything on my behalf."
"They say she stirred dark magic when she married a Goode and awoke the old curse. Like I said, I was a kid at the time, but I remember people shunning her in the streets. We were all scared of her. Bad things were happening, and every misstep was blamed on your family. I remember her how you described—thin, almost skeletal, with overgrown hair and nails. She always talked even though no one was there to answer her. We were told to stay away from Marigold Crawford Goode or she'd steal our souls and leave us wandering."
"I don't know about soul stealing." Lily even surprised herself at the small defense.
He again turned his attention toward the window. "You didn't ask me why the people who came here needed a refuge."
"Wasn't it because of religious persecution, or people being exiled, or potato famines, or something? My history is a little rusty, but I'm pretty sure that is why most people came to America in the first place."
"That's true, but the one thing that joined everyone in Lucky Valley, the one thing that still joins us is…"
CW: These cozy mysteries are considered clean romance, as in there are no sexy times happening on the page. There is mild violence and themes, deaths, and neglectful parents, things like that. These cozy mysteries are going to be the sweetest of Michelle's books. You want something sexier and more graphic, try her other series. 
Book Heal Levels: Sweet / Clean (No sexy times), Closed Door
Tropes:
Inheritance gone wrong

Aunt Polly. Hey, we think she deserves her own category.

Ghosts, Demons, Magic, Garden Gnomes, Curses, Witches

Second Chances

Bed and Breakfast, Cozy Animal, Amateur Sleuth, Woman Sleuth, Culinary Cozy Mystery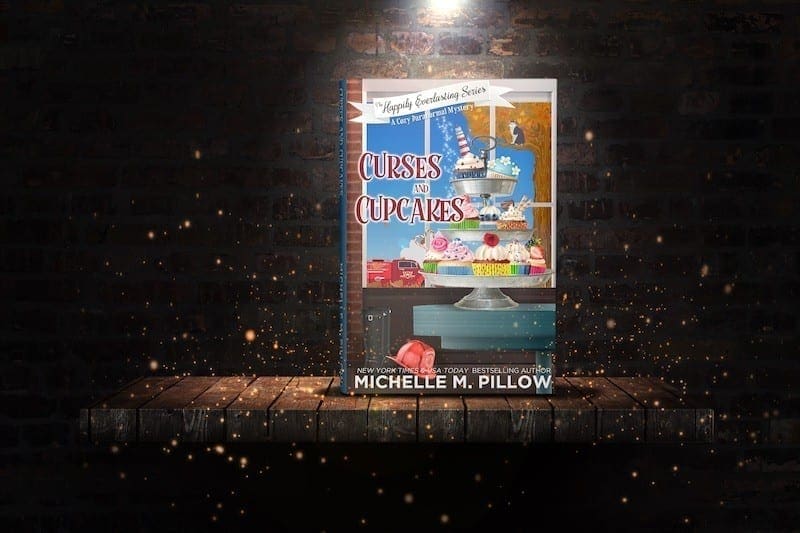 #1 New Release (Mystery Category)
5 Stars! "Holy HedgeWitches! This is a fab new cosy series." Nikki's Book Nook
5 Stars! "From start to finish this story doesn't disappoint… This story is full of twists, action and comedy. I couldn't put it down and cannot wait to see more in the series." Melissa Powell, Goodreads
5 Stars! "I loved the characters and the story was excellent. It sucked me right in from the very beginning and held on tight. Aunt Polly kept me laughing the whole way through, while the "who done it" kept me guessing. Loved this book, I can't wait for more!" Jen L, Goodreads
Stars! "Better Haunts and Garden Gnomes by Michelle M. Pillow was so funny and awesome that I want to read the next book already. I was so sucked in that I had a hard time letting go to eat or do anything. I loved the Goode siblings and of course Aunt Polly. This book is definitely a five-star read and I recommend to anyone that loves paranormal cozy mysteries with romance." Karen, Baroness Book Trove (2022)