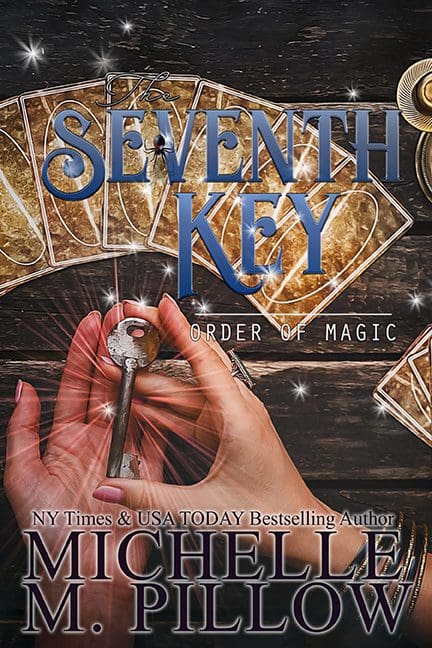 Paranormal Women's Fiction & Romance
Unlucky number seven.
Nina Cole thought escaping a serial killer would be the hardest thing she ever had to face. When a reporter comes sniffing around wanting her to relive the trauma, she feels she has no choice but to pack up and move to a place where no one knows her. Starting over in her forties is easier said than done. Bad memories aren't the only thing chasing her. The killer might be in jail, but now it looks like something much more sinister from beyond the grave is hunting her.
Fortunately, there seems to be no shortage of magical assistance in Freewild Cove. But will it be enough? Can her new friends and a secret love interest help Nina survive the latest chapter in her unlucky life?
Heather, Vivien, Lorna, and Sue are back! With the help of Grandma Julia's ghost, they're kicking supernatural butt and taking names.
Happy Reading!
Click Preferred Format Below For Buy Links:
★★★★★
5 Stars! "Danger, great characters, some heat, wonderful world-building, and a captivating storyline." 
★★★★★
5 Stars! "I can't get enough Michelle M Pillow's books. This is another brilliant book in the order of magic series… This a great story with a plot that held my attention from start to finish."
★★★★★
5 Stars! "The feels hit you like a ton of bricks… Great read." 
| | | |
| --- | --- | --- |
| Print Pages | Hours to Read | Total Words |
| 280 | 4 – 5 Hours | 46K |
 Original Copyright Release Date: 2022/11/29
Third Time's A Charm

The Seventh Key
CW: Michelle M. Pillow's books contain adult subject matter, graphic violence, and are not suitable for all audiences.
Book Heal Levels: Sweet Sensual 
Genre:
Paranormal Women's 

Fiction
Witch Romance
Contemporary Small Town Romance
Supernatural Fantasy Romance
Tropes:
Over 40 Heroines,

Gen X, Later in Life

Sisterhood and Friendships Matter

Ghosts, Demons, Magic, Serial Killer

Second Chances, New Chapter in Life

Never Married 
  Paranormal Women's Fiction Romance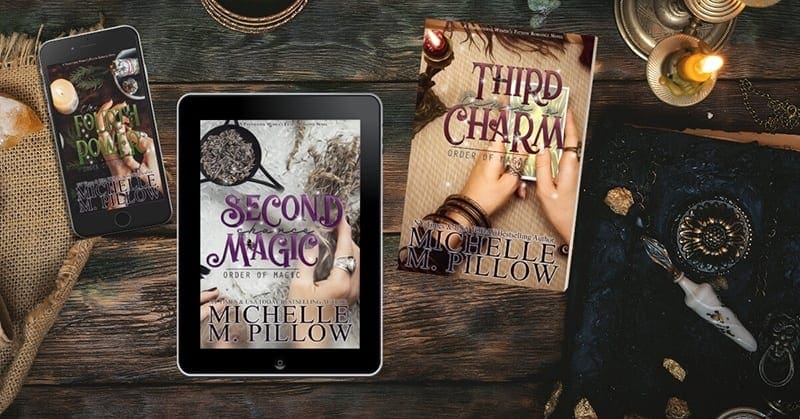 "Michelle M. Pillow brings us yet another hilariously touching story, this one set in the world of paranormal women's fiction, and you won't want to put it down. I know I didn't! Then again, she had me at séance."
"The perfect combination of spine-tingling magic, paranormal fun, and the strength of female friendships. Michelle M. Pillow delivers an emotionally powerful, must-have read."—K.F. Breene, Wall Street Journal, USA Today, and Washington Post bestselling author of the Demigods of San Francisco (2020)
"Michelle M. Pillow brings us yet another hilariously touching story, this one set in the world of paranormal women's fiction, and you won't want to put it down. I know I didn't! Then again, she had me at séance." –NY Times Bestselling Author Darynda Jones (2020)
"When the past and the present merge…awesome author Michelle Pillow brings secrets from the grave and other things that go bump in the night into a fantastic story of second chances in the second act of life." – Jana DeLeon, NY Times, USA TODAY, & WSJ Bestselling Author (2020)
"Second Chance Magic starts with a bang and does not slow down! It's a beautifully written story of starting over and finding your inner power. Highly recommended." – Elizabeth Hunter, USA TODAY Bestselling Author of the Elemental Mysteries (2020)
"Michelle M. Pillow's Second Chance Magic is full of delicious secrets! What's not a secret is how much you're going to love this book and this heroine. I'll take book two now!" – Kristen Painter, USA Today Bestselling Author (2020)
"Delightfully heartfelt and filled with emotion. Psychic powers, newly discovered magic, and a troublesome ex who comes back from the grave. Michelle M. Pillow delivers a wonderfully humorous start to a new paranormal women's fiction romance series." – Robyn Peterman, NYT and USA Today Bestselling Author (2020)
"Second Chance Magic is full of heart and everything I love in a paranormal tale. Great friends, second chances, and physic powers… what's not to love?" – Deanna Chase, NYT and USA Today Bestselling Author (2020)
"Michelle M. Pillow's Second Chance Magic proves that sometimes all it takes to get a second chance after a massive betrayal, is a little luck, a lot of magic, and the help of your best friends. I was captivated by this book." Mandy M. Roth, , NYT and USA Today Bestselling Author (2020)
5 Stars! "Danger, great characters, some heat, wonderful world-building, and a captivating storyline." Cheri, Goodreads (2022)
5 Stars! "The feels hit you like a ton of bricks… Great read." Judi, Goodreads (2022)
5 Stars! "To say that Nina has had bad luck is one of the largest understatements to ever be said." Sabella, Goodreads (2022)
5 Stars! "I can't get enough Michelle M Pillow's books. This is another brilliant book in the order of magic series… This a great story with a plot that held my attention from start to finish."Janet Smith McHardy, Goodreads (2022)
5 Stars! "Michelle M. Pillow knows how to write books that keep a reader engaged." Kimberly Davis, Goodreads (2022)
5 Stars! "I literally sat and read this book in one sitting. I couldn't put it down… This book was definitely a page turner with so much going on. I love this cast of characters and can't wait to see what comes next." April Mollenkopf, Goodreads (2022)
5 Stars! "Wow, this book just kept me enthralled from the beginning." Lucia Valenzuela, Goodreads (2022)