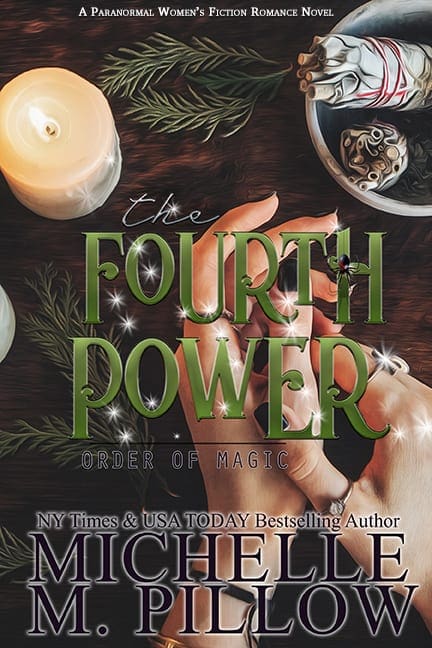 Paranormal Women's Fiction & Romance
In the past, Heather's used her gift to help her two best friends. The time has come for her besties to return the favor.
Heather Harrison sees ghosts. It's not something she brags about. In fact, she wished she didn't. Communicating (or not communicating) with the dead only leads to heartache, and for her it led to a divorce. For the most part, she's happy being single. She's got a good business, close friends, and a slightly overprotective brother. What more does a forty-something woman need?
When her two best friends beg her for help in contacting loved ones, against her better judgment she can't say no to the séance. But some gateways shouldn't be opened, and some meddling spirits shouldn't be stirred…like that of her Grandma who insists she's "found her a nice man".
The supernaturals have come out to play and it's up to this amateur medium to protect herself and her friends before the danger they summoned comes to bite them in the backside.
A Barnes & Noble Top Indie Favorite for April and May 2020!
Happy Reading!
Click Preferred Format Below For Buy Links:
★★★★★
5 Stars! "Parts were laugh out loud funny and parts were heartbreaking. But nothing beats a person going through the own personal hell and coming out the other side in peace! Best book in the series… best book I've read lately!"
★★★★★
5 Stars! "It was fun, it was sweet, it was emotional… and CAKE!" 
★★★★★
5 Stars! "Wow! Heartbreaking and uplifting at the same time. I laughed and cried and even cringed at the awkward conversations Vivien tried to have with Troy. Simply beautiful!" 
| | | |
| --- | --- | --- |
| Print Pages | Hours to Read | Total Words |
| 300 | 4 – 5 Hours | 49K |
 Original Copyright Release Date: 2020/04/28
Third Time's A Charm

The Fourth Power
CW: Michelle M. Pillow's books contain adult subject matter, graphic violence, and are not suitable for all audiences. The heroine is getting over the loss of a child (ten years ago).
Book Heal Levels: Sweet Sensual 
 Genre:
Paranormal Women's 

Fiction
Witch Romance
Contemporary Small Town Romance
Supernatural Fantasy Romance
Tropes:
Over 40 Heroines,

Gen X, Later in Life

Sisterhood and Friendships Matter

Ghosts, Demons, Magic, Psychic Medium, Ghost Whisperer

Second Chances, New Chapter in Life

Divorce, Past Tragedy
  Paranormal Women's Fiction Romance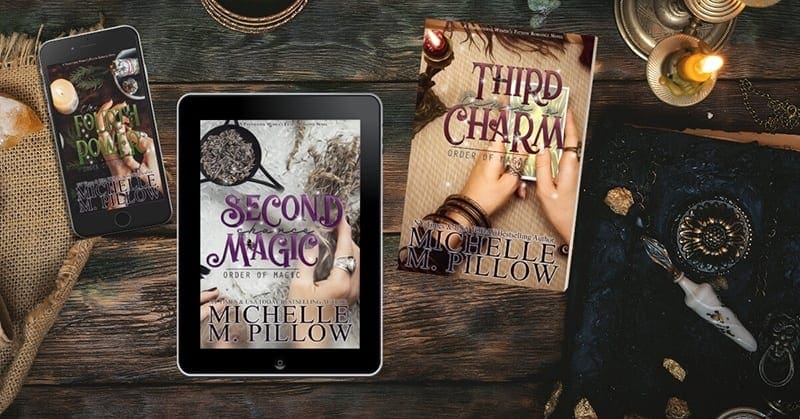 "Great friends, second chances, and physic powers… what's not to love?"
"The perfect combination of spine-tingling magic, paranormal fun, and the strength of female friendships. Michelle M. Pillow delivers an emotionally powerful, must-have read."—K.F. Breene, Wall Street Journal, USA Today, and Washington Post bestselling author of the Demigods of San Francisco (2020)
"Michelle M. Pillow brings us yet another hilariously touching story, this one set in the world of paranormal women's fiction, and you won't want to put it down. I know I didn't! Then again, she had me at séance." –NY Times Bestselling Author Darynda Jones (2020)
"When the past and the present merge…awesome author Michelle Pillow brings secrets from the grave and other things that go bump in the night into a fantastic story of second chances in the second act of life." – Jana DeLeon, NY Times, USA TODAY, & WSJ Bestselling Author (2020)
"Second Chance Magic starts with a bang and does not slow down! It's a beautifully written story of starting over and finding your inner power. Highly recommended." – Elizabeth Hunter, USA TODAY Bestselling Author of the Elemental Mysteries (2020)
"Michelle M. Pillow's Second Chance Magic is full of delicious secrets! What's not a secret is how much you're going to love this book and this heroine. I'll take book two now!" – Kristen Painter, USA Today Bestselling Author (2020)
"Delightfully heartfelt and filled with emotion. Psychic powers, newly discovered magic, and a troublesome ex who comes back from the grave. Michelle M. Pillow delivers a wonderfully humorous start to a new paranormal women's fiction romance series." – Robyn Peterman, NYT and USA Today Bestselling Author (2020)
"Second Chance Magic is full of heart and everything I love in a paranormal tale. Great friends, second chances, and physic powers… what's not to love?" – Deanna Chase, NYT and USA Today Bestselling Author (2020)
"Lorna has been kicked in the lady balls by life. While she's at her husband's funeral, she gets a rather eye-opening truth bomb dropped on her. She's left high-tailing it out of town to put roots down anywhere but a spot that knows her previous among the living no-good-son-of-a…. what? I can judge the man if I want.
Back to Lorna. Wanting some closure, she and her new group of friends séance him back. They get a little more than they bargained for. Oh… I almost forgot about William. He's the love interest and a thousand times better than that no-good-son-of-a…
I absolutely love the Order of Magic series and really hope you binge-read them all! I'm also hoping Michelle does a spin-off of the series." – Mandy M. Roth, NY Times & USA TODAY Bestselling Author (2023)
5 Stars! Gena Showalter, USA Today Bestselling Author (Bookbub, 2020)
5 Stars! "Parts were laugh out loud funny and parts were heartbreaking. But nothing beats a person going through the own personal hell and coming out the other side in peace! Best book in the series… best book I've read lately!" JavaJen, Barnes and Noble
5 Stars! "You will laugh, cry and be happy for everyone in this book by the end. I am excited there will be more books in this series." Monica, Goodreads
5 Stars! "My heart broke for Heather in the other two books and I wasn't quite sure how Michelle was going to bring her story to life. She did an amazing job bringing depth to these characters that makes you feel their pain along with them." Melissa, Goodreads
5 Stars! "It was fun, it was sweet, it was emotional… and CAKE!" Caroline Paquin, Caros Reads