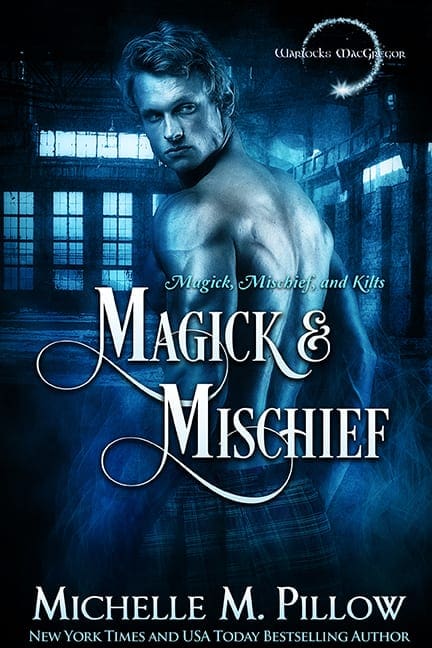 Andrea Breaux has been on the run for years. But when she encounters a handsome, immortal Scottish warlock and his powerful toddler who adores her, she can't seem to resist the duo! A fun, spellbinding romance full of hijinks and humor. (Bookbub)
Magic, Mischief and Kilts!
Kenneth doesn't have room for anything in his life beyond his responsibilities as an immortal warlock and a father. Being a single dad is difficult, especially when that toddler is more powerful than his entire magickal family combined. Standing against forces who want nothing more than to harness his daughter's power takes focus, dedication, and the willingness to put his life on hold. So when the mysterious yet beautiful Andrea appears on his doorstep, he can't help but distrust her.
For two years, Andrea Breaux has been running from a dangerous supernatural force. She's learned to stay on the move, to never allow grass to grow under her feet, and to be suspicious of everyone and everything. When she finds herself in a house surrounded by magicks and a powerful child who would rather she not leave, Andrea isn't sure what to do or if she even wants to go. But staying puts everyone at risk, especially the Scottish hottie in a kilt, Kenneth MacGregor.
Warning: Contains yummy, hot, mischievous MacGregors who are almost certainly up to no good on their quest to find true love.  And Uncle Raibeart.
Click Preferred Format Below For Buy Links:
★★★★★
5 Stars! "It's always great to "see" the past characters and the family dynamics are awesome and so so funny! The story line was excellent and so hard to put down! I laughed so hard at some of the banter." 
★★★★★
5 Stars! "As usual, Michelle M. Pillow did an amazing job!"
★★★★★
5 Stars! "To say I love those warlocks is probably the understatement of the century. Michelle M. Pillow created a world with this Scottish family, one filled with mischief and magick, to our complete enjoyment." 
| | | |
| --- | --- | --- |
| Print Pages | Hours to Read | Total Words |
| 292 | 4 – 5 Hours | 50K |
 Original Copyright Release Date: 2020/01/28
CW: Michelle M. Pillow's books contain adult subject matter, graphic violence, and are not suitable for all audiences. 
Book Heal Levels: Spicy Carnal
Genre:
Romantic Comedy
Warlock Romance
Scottish Romance
Small Town Romance
Tropes:
Magic, Witches and Warlocks, Phoenix

Highlander

Wealthy, Rich Poor, Different Worlds, Kidnapped

Contemporary

Brown bear shifter
Warlocks MacGregor: Magic, Mischief, and Kilts!
From the Highlands of Scotland to the valleys of Wisconsin...
A modern-day Scottish Paranormal Romance, Award-Winning Series by NYT Bestselling Author Michelle M. Pillow.
About the Series:
People know magic is fake--card tricks and illusions, magicians and entertainers. But there is an older magick, a powerful force hidden from modern eyes, buried in folklore and myths, remembered by the few who practice the old ways and respect the lessons of past generations.
The term "warlock" is a variation on the Old English word waerloga, primarily used by the Scots. It meant traitor, monster or deceiver. This fiction-based family includes males and females of magick. The MacGregors do not agree with how history has labeled them, or other supernaturals. To them, warlock means magick, family, and immortality. This series is not a portrayal of modern-day witchcraft or those who hold such beliefs. The MacGregors are a magickal class all their own.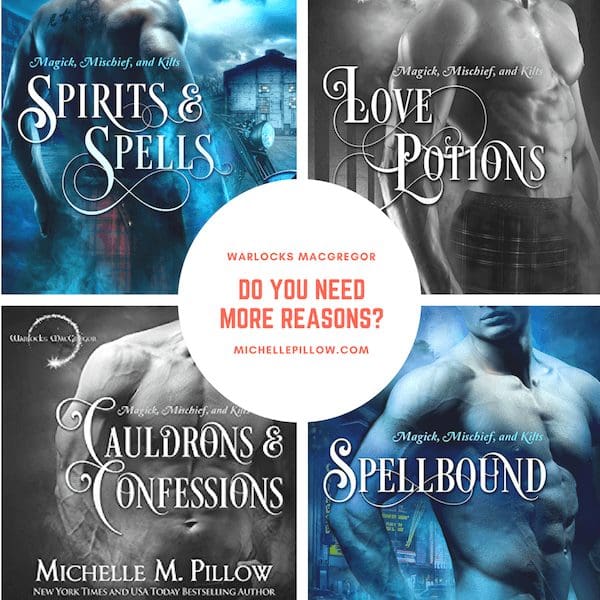 Bestseller at Barnes and Noble – Dec 2020
#7 Top Paid Books Bestseller at Apple Books – Dec 2020

Amazon Best Sellers Rank: #11 in Kindle Store – Dec 2020
#1 in Romantic Fantasy (Kindle Store)
#1 in Paranormal Witches & Wizards Romance
#1 in Fantasy & Futuristic Romance
5 Stars! "As usual, Michelle M. Pillow did an amazing job!" Mary Cook, thriller fiction author (2020)
5 Stars! "The story is as funny as it's almost heartbreaking & every character plays a part." Keoki Ki`Ili, Goodreads
5 Stars! "My favorite Michelle Pillow book. I never thought I 'd be able to choose any one book. I love this one." Cheri, Vine Voice (2020)
5 Stars! "To say I love those warlocks is probably the understatement of the century. Michelle M. Pillow created a world with this Scottish family, one filled with mischief and magick, to our complete enjoyment." Caroline Paquin, Caros Reads
Warlocks MacGregor® is a registered trademark. Registered, U.S. Patent and Trademark Office