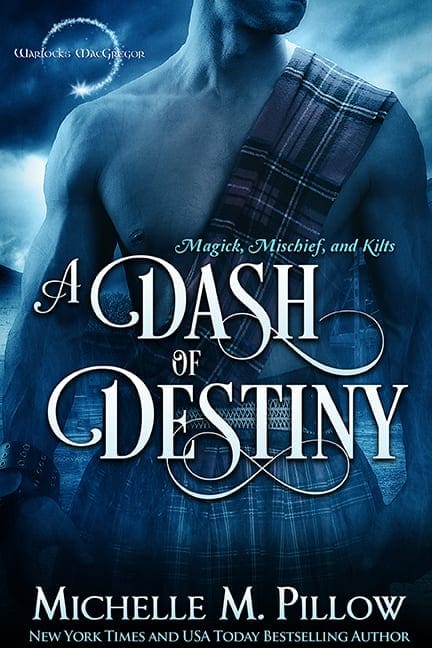 Magic, Mischief and Kilts!
A dash of destiny and a pinch of passion can change everything…
Scottish warlock Rory MacGregor knows something from the supernatural world is trying to kill him. He's not sure exactly what that something is, but it'll make for a fun adventure figuring it all out. Of course, nothing is simple, so when Fate tosses in a dash of destiny to keep him on his toes by way of an enchanting new arrival in town, he's all in.
He just wished she was too.
Life hasn't turned out as planned for Jennifer Greene. After taking care of her sick father for years, she's come to Green Vallis, Wisconsin, for one reason only—a job. She isn't looking for adventure, even if it's by way of a tempting Highlander in a kilt or men streaking across the countryside. And she definitely isn't looking for love—even though love is looking for her.
Warning: Contains yummy, hot, mischievous MacGregors who are almost certainly up to no good on their quest to find true love.  And Uncle Raibeart.
Click Preferred Format Below For Buy Links:
★★★★★
5 Stars! "I absolutely LOVE these Warlocks! I completely binged the entire series again before digging into this one. Rory's book is by far my favorite yet!!"
★★★★★
5 Stars! "I love the MacGregors and their funny family quirks!"
★★★★★
5 Stars! "I made the mistake of starting it at bedtime and I couldn't stop until it was over."
| | | |
| --- | --- | --- |
| Print Pages | Hours to Read | Total Words |
| 292 | 4 – 5 Hours | 49K |
 Original Copyright Release Date: 2020/10/27
CW: Michelle M. Pillow's books contain adult subject matter, graphic violence, and are not suitable for all audiences. 
Book Heal Levels: Spicy Carnal
Genre:
Romantic Comedy
Warlock Romance
Scottish Romance
Small Town Romance
Tropes:
Magic, Witches and Warlocks

Highlander

Wealthy, Rich Poor, Different Worlds

Mischief

Curse
Warlocks MacGregor: Magic, Mischief, and Kilts!
From the Highlands of Scotland to the valleys of Wisconsin...
A modern-day Scottish Paranormal Romance, Award-Winning Series by NYT Bestselling Author Michelle M. Pillow.
About the Series:
People know magic is fake--card tricks and illusions, magicians and entertainers. But there is an older magick, a powerful force hidden from modern eyes, buried in folklore and myths, remembered by the few who practice the old ways and respect the lessons of past generations.
The term "warlock" is a variation on the Old English word waerloga, primarily used by the Scots. It meant traitor, monster or deceiver. This fiction-based family includes males and females of magick. The MacGregors do not agree with how history has labeled them, or other supernaturals. To them, warlock means magick, family, and immortality. This series is not a portrayal of modern-day witchcraft or those who hold such beliefs. The MacGregors are a magickal class all their own.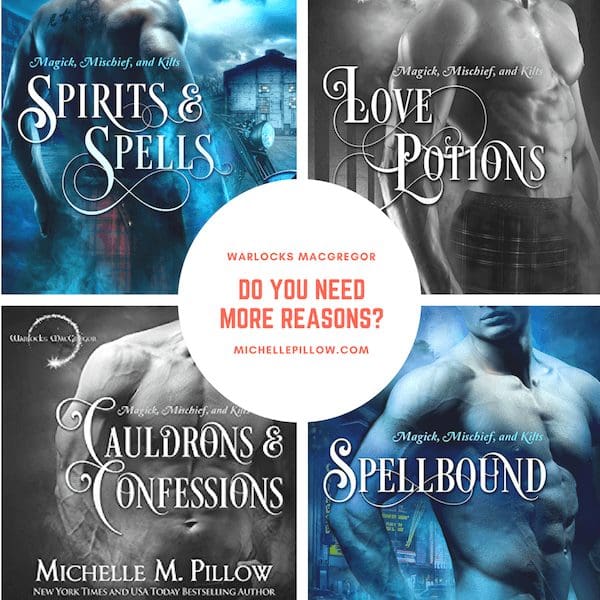 5 Stars! "I absolutely LOVE these Warlocks! I completely binged the entire series again before digging into this one. Rory's book is by far my favorite yet!!" akepple844, Bookbub (2021)
5 Stars! "I love the MacGregors and their funny family quirks!" purplelakebell, Bookbub (2021)
5 Stars! "I made the mistake of starting it at bedtime and I couldn't stop until it was over." Sam Tully, Bookbub (2021)
5 Stars! "Just the right amount of everything, humor, drama, mystery and intrigue to keep me glued to the pages until I reached the last page and then frustration because it was over and I wanted to read more!" – Jennifer Lowrance, Goodreads (2020)
5 Stars! "A fun, often scary, romp!" – Karen Fisher, Goodreads (2020)
5 Stars! "Michelle has done a superb job with world of Warlocks. She creates an amazing new storyline for each finding their love." – Melissa, Goodreads (2022)
Warlocks MacGregor® is a registered trademark. Registered, U.S. Patent and Trademark Office