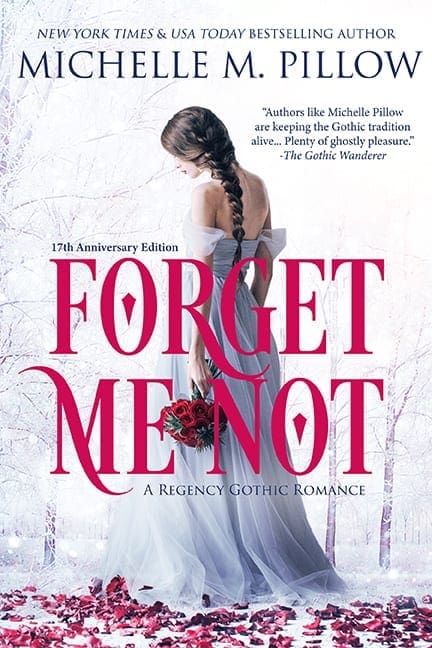 A Regency Gothic Romance (17th Anniversary Edition)
Regency Paranormal Gothic Romance
From NYT Bestselling Author Michelle M. Pillow comes a tragically beautiful love story that defies perception.
When the scandalously independent Isabel Drake refuses to marry the man her parents choose for her, they force her to take lessons on how to become a respectable lady. However, her new tutor makes her feel anything but proper. Although her attraction to Mr. Weston is instantaneous, he resolves to keep her in her place—even as his desires for her become unmistakable.
Things are not what they seem at Rothfield Park. With Mr. Weston's arrival, there comes an abundance of restless spirits who insinuate themselves into her life. Quickly, Isabel loses her grasp on reality, not knowing who's alive or dead. Time is running out, and Isabel must solve the ghostly mystery of the eerie night mist that surrounds the manor before it comes to claim everyone she holds dear—including her Mr. Weston.
Forget Me Not, Re-Edited and Revised 17th Anniversary Edition published November 2020
Paranormal Regency Historical, Ghost Gothic Romance


Click Preferred Format Below For Buy Links:
"Authors like Michelle Pillow are keeping the Gothic tradition alive and well by utilizing standard Gothic plot devices but making them their own as the Gothic evolves into something more spiritual and less terrifying than its originators may have first imagined." 
★★★★★
5 Stars! "There are book hangovers and then theres "I sobbed my heart out til 3.30am books"… This is definitely a sobbed my bloody heart out. … Absolutely loved this book. It wrecked me totally – and I loved every single second of it."
★★★★★
5 Stars! "Beautifully written regency paranormal gothic romance. Forget Me Not is not a story I'll be forgetting anytime soon. Very entertaining read with twists and suspense." 
| | | |
| --- | --- | --- |
| Print Pages | Hours to Read | Total Words |
| 424 | 6 -7 Hours | 73K |
Formerly Titled: The Mists of Midnight
Originally Published 2004​​
CW: Michelle M. Pillow's books contain adult subject matter, graphic violence, and are not suitable for all audiences. 
Book Heal Levels: Sensual
Genre:
Historical Regency Romance
Ghost Romance
Gothic Romance
Mystery Romance
Tropes:
Isolated English Manor

Wealthy, Rich Poor, Different Worlds

Ghost, Haunting
Regency Victorian
Grumpy Sunshine
"If you enjoyed books like Pride and Prejudice and Zombies or Mr. Darcy, Vampyre, then Forget Me Not should give you plenty of ghostly pleasure. If you're a fan of television shows like The Ghost Whisperer or films like The Sixth Sense, you'll also find more enjoyable modern spins on ghosts and the Gothic in these pages. After you finish Forget Me Not, I suspect you will want to read more of Michelle Pillow's novels—fortunately, she has written plenty in both the romance and paranormal genres." Tyler Tichelaar, Ph.D., The Gothic Wanderer, March 2017
"Authors like Michelle Pillow are keeping the Gothic tradition alive and well by utilizing standard Gothic plot devices but making them their own as the Gothic evolves into something more spiritual and less terrifying than its originators may have first imagined." Tyler Tichelaar, Ph.D., The Gothic Wanderer, March 2017
5 Stars! "There are book hangovers and then theres "I sobbed my heart out til 3.30am books"… This is definitely a sobbed my bloody heart out. … Absolutely loved this book. It wrecked me totally – and I loved every single second of it." Leapord Wolf, Amazon UK
5 Stars! "Not the same old easy to guess ending!" Monardia, Amazon
5 Stars! "Things that go bump in the night… ghosts of course and romance! Loved this book! Gave me my Jane Austen fix with attitude and paranormal thrills as well as hot romance- the perfect storm! It's like reading a ghost story by the fire… and feeling every chill and thrill!" Amazon Reader
4 Stars! "Jane Austen with a bit of darkness, and fun styling with the gothic, regency setting." Shayay19, Amazon (2021)
"As a scholar of the classic Gothic novel of the nineteenth century, from time to time I like to read twenty-first century Gothic novels to see how well the seeds that Mrs. Radcliffe planted are flourishing. I'm happy to report that authors like Michelle Pillow are keeping the Gothic tradition alive and well by utilizing standard Gothic plot devices but making them their own as the Gothic evolves into something more spiritual and less terrifying than its originators may have first imagined." Tyler Tichelaar, Ph.D., The Gothic Wanderer, March 2017
5 Stars! "Beautifully written regency paranormal gothic romance. Forget Me Not is not a story I'll be forgetting anytime soon. Very entertaining read with twists and suspense." Book_Lover_97, Amazon (2021)
5 Stars! "This was a well-written story that captures the imagination and keeps the reader guessing as to the events that occur. Grab your copy and enjoy the thrills and chills as the story plays out. It's a wonderful diversion into something totally different!" Emily Pennington, Amazon (2021)