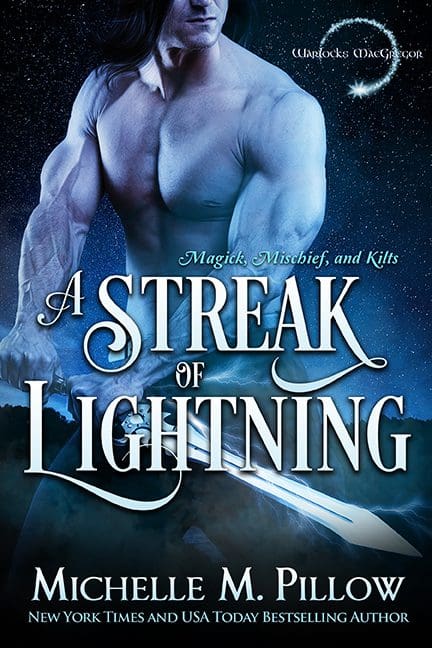 Lightning isn't the only thing streaking in small-town Wisconsin.
Warlock Raibeart MacGregor is on the prowl and looking for his true love. He has only one question for any lassie he meets, "Will ya marry me?" With his sanity often questioned by those who know him best, Raibeart believes there is a method to his madness. At least he hopes so. He's convinced his true love exists, but he just can't seem to find her.
Plagued by nightmares, he's compelled to run himself to exhaustion each night to keep them at bay. The fact that he prefers to drop the kilt while doing so is just a bonus. But when those nightmares begin to bleed into reality, he realizes the woman he's been searching for is literally the one tormenting his dreams.
Katherine Galbraith has been imprisoned by magick for so long that she can't even remember what her crime was beyond the vague impression that she once loved a warlock. Bound to a world that never changes, she spends her days wishing for an end. But when prison walls begin to crack, she must decide if she wants a second chance at lost love or if that love is the reason for all her suffering.
Magic, Mischief and Kilts!
A Warlocks MacGregor Novel
Contemporary Scottish Magic Paranormal Shifter Romance
Barnes and Noble Top Indie Favorite, August & September 2022
Click Preferred Format Below For Buy Links:
You're going to fall in love with me. See, ya already have, lassie.
★★★★★
5 Stars! "I always love Michelle M. Pillow's books! So exciting to see a new book in the MacGregor series!!!"
★★★★★
5 Stars! "[A] a great warlock/paranormal romance! I liked it very much. It is sweet and funny, very unique and engaging."
★★★★★
5 Stars! "I was moved close to tears, I laughed my silly head off, I got so angry at someone, and I finished with a bright smile that refuses to fade." 
| | | |
| --- | --- | --- |
| Print Pages | Hours to Read | Total Words |
| 258 | 4 – 5 Hours | 41K |
 Original Copyright Release Date: 2022/07/26
CW: Michelle M. Pillow's books contain adult subject matter, graphic violence, and are not suitable for all audiences. This book contains a magical roofie backstory used against the hero.
Book Heal Levels: Spicy Carnal
Genre:
Romantic Comedy
Warlock Romance
Scottish Romance
Small Town Romance
Tropes:
Magic, Witches and Warlocks

Highlander

Second Chance

Secrets Revealed
Curse, Lost love
Warlocks MacGregor: Magic, Mischief, and Kilts!
From the Highlands of Scotland to the valleys of Wisconsin...
A modern-day Scottish Paranormal Romance, Award-Winning Series by NYT Bestselling Author Michelle M. Pillow.
About the Series:
People know magic is fake--card tricks and illusions, magicians and entertainers. But there is an older magick, a powerful force hidden from modern eyes, buried in folklore and myths, remembered by the few who practice the old ways and respect the lessons of past generations.
The term "warlock" is a variation on the Old English word waerloga, primarily used by the Scots. It meant traitor, monster or deceiver. This fiction-based family includes males and females of magick. The MacGregors do not agree with how history has labeled them, or other supernaturals. To them, warlock means magick, family, and immortality. This series is not a portrayal of modern-day witchcraft or those who hold such beliefs. The MacGregors are a magickal class all their own.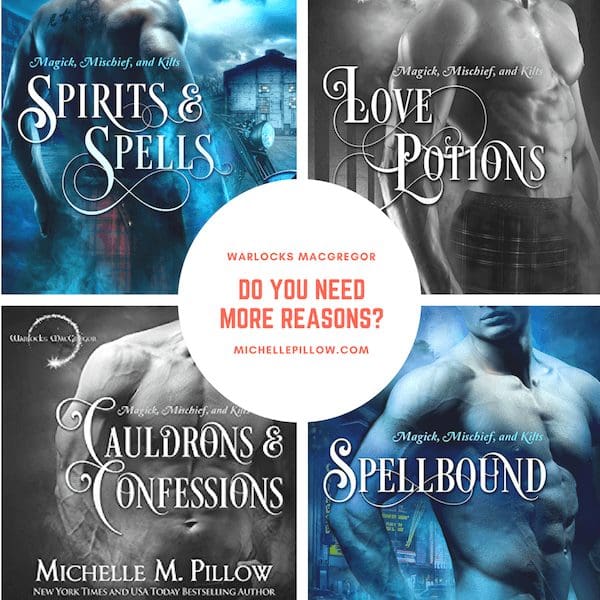 5 Stars! "I always love Michelle M. Pillow's books! So exciting to see a new book in the MacGregor series!!!" Tasha Black, USA Today bestselling author of Paranormal & Fantasy romance (2022)
5 Stars! "I was moved close to tears, I laughed my silly head off, I got so angry at someone, and I finished with a bright smile that refuses to fade." Caroline Paquin, Caro's Reads (2022)
5 Stars! "an emotional ride" Barbara Hanson, Goodreads (2022) 
5 Stars! "I've been waiting for Raibeart's story forever and it did not disappoint." April Mollenkopf, Goodreads (2022) 
5 Stars! "[A] a great warlock/paranormal romance! I liked it very much. It is sweet and funny, very unique and engaging." Marianne, Goodreads (2022) 
5 Stars! "Fans are gonna love it and new readers are gonna be instant fans wanting more. (Good news! There is a whole series you and read if you want more)" Cheri, Goodreads (2022) 
5 Stars! "Out of all the characters in this series, he is my absolute favorite! This entire series is a must read, but I fell in love with Raibeart, if he asked me to marry him, I would have said yes in a heartbeat!" Shayley, Goodreads (2022) 
5 Stars! "I have loved the MacGregor's since the first time I read them. The storyline is entertaining with action, adventure, intrigue and humor. The interaction and humor between the characters is captivating. I can't wait for more from this author." Juanita E. Arp, Goodreads (2022) 
5 Stars! "OMG! Such an unexpected story of Raibert's mate and it is poignant, beautiful, endearing, surprising and absolutely amazing!" Kira Bell, Goodreads (2022) 
5 Stars! "one heck of a story" Karen Fisher, Goodreads (2022) 
5 Stars! "Michelle M Pillow's mind never ceases to amaze me. Her books are top notch and this is no exception. My advice to you is this, ONE CLICK…. ONE CLICK….GO ON….DON'T WAIT." Kristin Childs, One Woman's Opinion (2022)
5 Stars! "This one is literally filled with "gasp" moments! … I loved it!!" Vedece Barnes, Goodreads (2022) 
Warlocks MacGregor® is a registered trademark. Registered, U.S. Patent and Trademark Office