Raibeart might be taken, but he has a nephew he'd like you to meet.
When warlocks play matchmaker, things are bound to go wrong.
Warlock Bruce MacGregor likes his life exactly the way it is. He has his art, his books, his freedom. But lately his family has become marriage obsessed. As one of the last single men standing, they're all looking at him to find eternal happiness…and they're not above casting a few spells to ensure it happens.
Magic, Mischief and Kilts!
From the Highlands of Scotland to the valleys of Wisconsin… A modern-day Scottish paranormal romance by NYT Bestselling Author Michelle M. Pillow.
A Warlocks MacGregor Novel
Contemporary Scottish Magic Paranormal Romance
Click Preferred Format Below For Buy Links:
Bruce MacGregor would like to kindly request that everyone stop trying to set him up on dates.
★★★★★
Michelle M. Pillow's writing style is enchanting, evoking vivid imagery and full of emotions that transport readers effortlessly into the world she has crafted. The seamless integration of magic and romance is nothing short of mesmerizing, and her ability to infuse humor into even the most magical mishaps is truly commendable. This series is a favorite of mine! I really hope she ends up writing more in the world.
★★★★★
5 Stars! "A fun story even though the curse is enough to give you nightmares… So inventive and original. I loved it!" 
★★★★★
"Cursed Love… This is a funny, steamy, romantic and action filled romance that is a thrill ride from the first page. 5 stars!"
| | | |
| --- | --- | --- |
| Print Pages | Hours to Read | Total Words |
| 278 pages | 5-6 hours | 47K |
 Original Copyright Release Date: July 25, 2023
CW: Michelle M. Pillow's books contain adult subject matter, graphic violence, and are not suitable for all audiences.
Book Heal Levels: Spicy Carnal
Genre:
Romantic Comedy
Warlock Romance
Scottish Romance
Small Town Romance
Tropes:
Magic, Witches and Warlocks
Highlander
Matchmakers
Woman in Peril
Fairytale Curse
Warlocks MacGregor: Magic, Mischief, and Kilts!
From the Highlands of Scotland to the valleys of Wisconsin...
A modern-day Scottish Paranormal Romance, Award-Winning Series by NYT Bestselling Author Michelle M. Pillow.
About the Series:
People know magic is fake--card tricks and illusions, magicians and entertainers. But there is an older magick, a powerful force hidden from modern eyes, buried in folklore and myths, remembered by the few who practice the old ways and respect the lessons of past generations.
The term "warlock" is a variation on the Old English word waerloga, primarily used by the Scots. It meant traitor, monster or deceiver. This fiction-based family includes males and females of magick. The MacGregors do not agree with how history has labeled them, or other supernaturals. To them, warlock means magick, family, and immortality. This series is not a portrayal of modern-day witchcraft or those who hold such beliefs. The MacGregors are a magickal class all their own.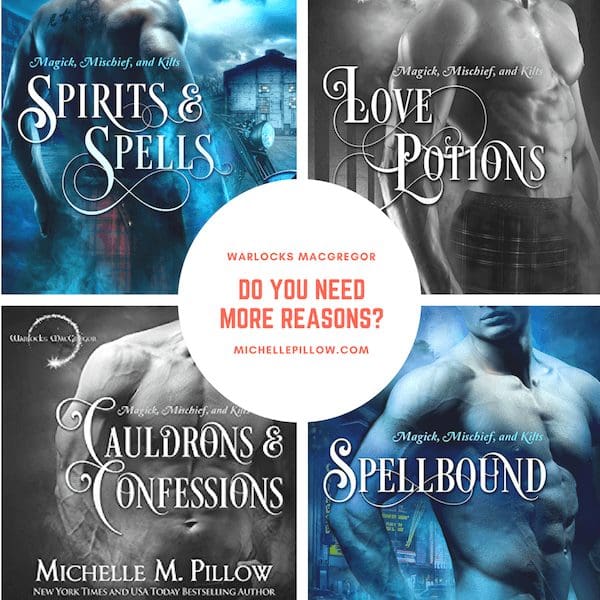 5 Stars! "Michelle M. Pillow's amazing combination of romance, humor and heart always get me! This latest MacGregor book promises all that and more!" Tasha Black, USA Today Bestselling Paranormal Romance Author (Bookbub, 2023)
5 Stars! "A fun story even though the curse is enough to give you nightmares… So inventive and original. I loved it!" Karen Fisher, Goodreads (2023)
5 Stars! "What a ride!" Caroline Paquin, Goodreads (2023)
5 Stars! "Cursed Love… This is a funny, steamy, romantic and action filled romance that is a thrill ride from the first page. 5 stars!" ajscenic, Bookbub (2023)
5 Stars! "Magik. Mayhem. Misunderstandings this storyline has it all and it's simply brilliant! … Highly recommended read!" Karen, Goodreads (2023)
5 Stars! "[A] brilliant whodunit…this went beyond my expectations. High octane action, drama, steam, a little romance and we can't forget the hilarity of Uncle Raibeart." Kristin Chontelle, Bookbub (2023)
5 Stars! "This story turns on a dime but the romance in between warms your heart while the curse tickles your brain." April Mollenkopf, Goodreads (2023)
5 Stars! "[A] blast to read and I highly recommend it as a Great Read! I Loved It!!!"
Sissy Satterfield, Bookbub (2023)
5 Stars! "WOW! That was a lot. Scary too. Not knowing what or when something would happen. I loved the story and enjoyed it so very much." Janet, Goodreads (2023)
Warlocks MacGregor® is a registered trademark. Registered, U.S. Patent and Trademark Office