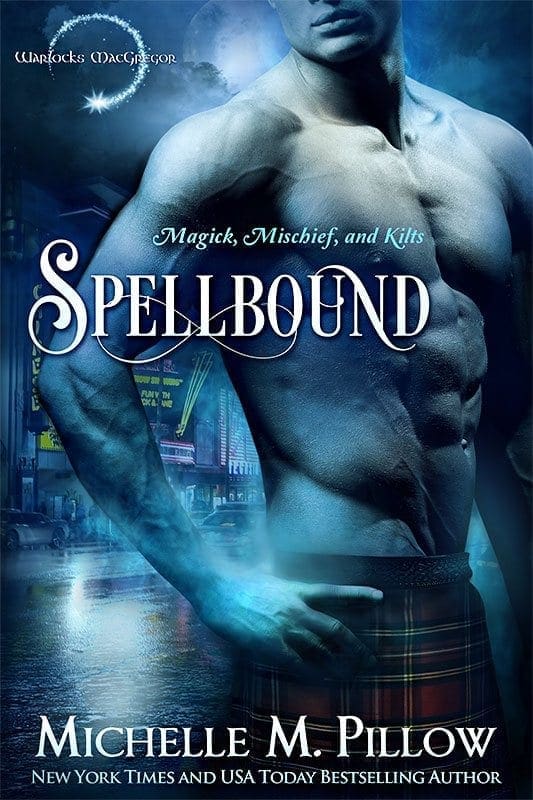 Let Sleeping Warlocks Lie…
Iain MacGregor knows how his warlock family feels about outsiders discovering the truth of their magical powers and shifter abilities: it's forbidden. That doesn't seem to stop him from having accidental magical discharges whenever Jane Turner is around. The woman has captured his attention, and, apparently, his magic and other "parts" don't seem to care what the rules are, or that the object of his affection might be his undoing.
Jane Turner has secrets, ones she doesn't care to share with the hunky Highlander who acts strangely whenever she is around. Haunted by more than her past, spirits and phantom bagpipes surround her.
Is Iain the key to stopping fate, or will Jane's destiny finally catch up with her?
Warning: Contains yummy, hot, mischievous MacGregors who may or may not be wearing clothing and who are almost certainly up to no good on their quest to find true love.
Click Preferred Format Below For Buy Links:
★★★★★
5 Stars! "What could be better than a wickedly irresistible Scottish warlock? Nothing. Absolutely nothing. The family & friends are a hoot & I strongly recommend that you read each and every book in this series. Each with delightful characters & their own HEA. And Uncle Raibeart!" 
★★★★★
5 Stars! "[The] story is fun, adventurous, swoon worthy and so much more. If you haven't started this series, do it now!"
★★★★★
5 Stars! "Another humorous read, full of the MacGregors and their capers….This is a wonderful read and I loved every page of the book and the characters are simply wonderful and the MacGregor men are absolutely wonderful and I know that you will enjoy every page of this book filled with laughter and mischief." 
| | | |
| --- | --- | --- |
| Print Pages | Hours to Read | Total Words |
| 520 | 6 -7 Hours | 55K |
 Original Copyright Release Date: 2015/07/07
CW: Michelle M. Pillow's books contain adult subject matter, graphic violence, and are not suitable for all audiences. 
Book Heal Levels: Spicy Carnal
Genre:
Romantic Comedy
Warlock Romance
Scottish Romance
Small Town Romance
Tropes:
Magic, Witches and Warlocks, Love Potions

Highlander

Wealthy, Rich Poor, Different Worlds

Contemporary

Bird shifter
Warlocks MacGregor: Magic, Mischief, and Kilts!
From the Highlands of Scotland to the valleys of Wisconsin...
A modern-day Scottish Paranormal Romance, Award-Winning Series by NYT Bestselling Author Michelle M. Pillow.
About the Series:
People know magic is fake--card tricks and illusions, magicians and entertainers. But there is an older magick, a powerful force hidden from modern eyes, buried in folklore and myths, remembered by the few who practice the old ways and respect the lessons of past generations.
The term "warlock" is a variation on the Old English word waerloga, primarily used by the Scots. It meant traitor, monster or deceiver. This fiction-based family includes males and females of magick. The MacGregors do not agree with how history has labeled them, or other supernaturals. To them, warlock means magick, family, and immortality. This series is not a portrayal of modern-day witchcraft or those who hold such beliefs. The MacGregors are a magickal class all their own.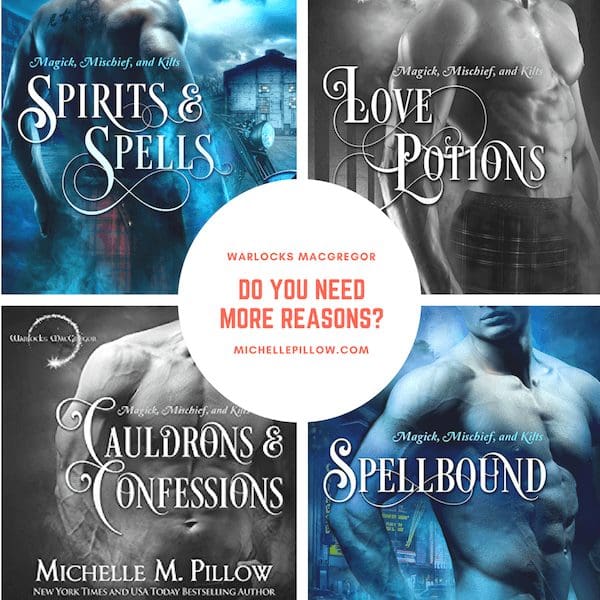 5 Stars! "[The] story is fun, adventurous, swoon worthy and so much more. If you haven't started this series, do it now!" Mary Dean, paranormal author (2021)
5 Stars! "Another humorous read, full of the MacGregors and their capers….This is a wonderful read and I loved every page of the book and the characters are simply wonderful and the MacGregor men are absolutely wonderful and I know that you will enjoy every page of this book filled with laughter and mischief." Sue B, Bookbub (2021)
5 Stars! "What could be better than a wickedly irresistible Scottish warlock? Nothing. Absolutely nothing. The family & friends are a hoot & I strongly recommend that you read each and every book in this series. Each with delightful characters & their own HEA. And Uncle Raibeart!" T Pena, Bookbub (2021)
5 Stars! "I highly recommend this fantastically intense, fast paced book, and the series in which it is, to mature readers who love paranormal fantasy. Enjoy!" Pam Collins, Goodreads
Warlocks MacGregor® is a registered trademark. Registered, U.S. Patent and Trademark Office