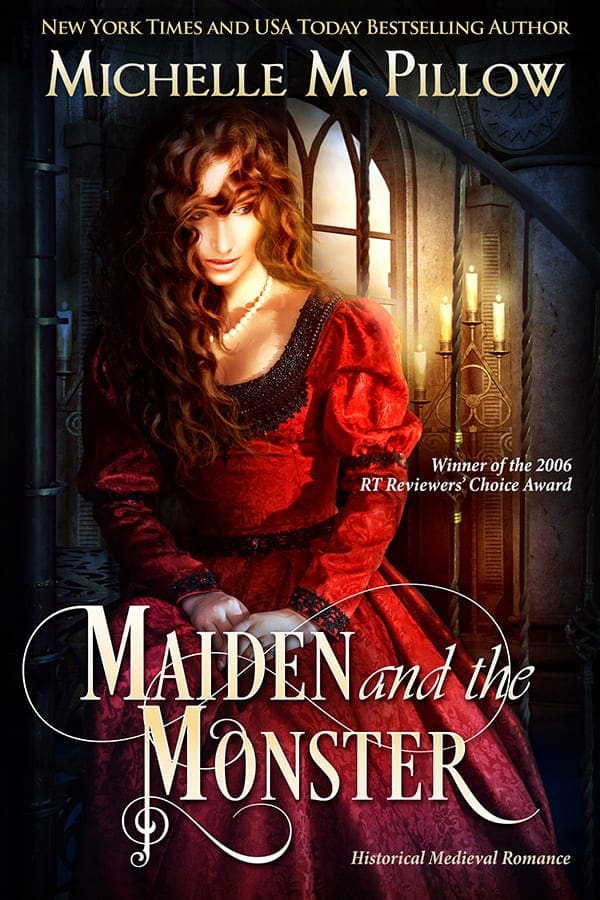 Winner of the RT Reviewers' Choice Award
Medieval Historical Romance
WINNER of the 2006 RT Bookclub Magazine Reviewer's Choice Award!
Award Winning and a Recommended Read, Historical Medieval Romance from NYT Bestselling Author Michelle M. Pillow
Vladamir of Kessen, Duke of Lakeshire Castle, is feared as a demon in the land of Wessex. The kings have granted him a title of nobility in exchange for his part as a political prisoner. Discontent, he bides his time in his new home until war will once again rip through the land. But boredom soon turns to pleasure as the daughter of his most hated enemy is left for dead at his castle gate. Now the monster bides his time plotting revenge.
Lady Eden of Hawks' Nest doesn't know what to think of the man who saved her life, but she can't wrench her thoughts away. His words are those of a tyrant, true to his vicious reputation, but his touch is that of a man, stirring passion when there should only be fear.
It would seem the infamous monster is not as monstrous as he appears.
Length: Long Novel Plus
Click Preferred Format Below For Buy Links:
"This is a perfect blend of history, emotion, tension, hot sex and fascinating and sympathetic characters, and the writing is superb. Pillow chooses magical details to set the scene, and they add to both the history and the emotion." 
Recommended Read!
"Maiden and the Monster is one of the best medieval romances I have ever read."
"I was so entranced by Maiden and the Monster I couldn't put it down. It's intense, and full of emotion… powerful and moving, …Maiden and the Monster is a keeper!" 
| | | |
| --- | --- | --- |
| Print Pages | Hours to Read | Total Words |
| 604 | 10 -11 Hours | 122K |
Original Copyright Publishing Date: 2005/11/23
CW: Michelle M. Pillow's books contain adult subject matter, graphic violence, and are not suitable for all audiences. 
Book Heal Levels: Spicy Carnal
Genre:
Historical Medieval Romance
Nobility Romance, Lords and Ladies
Tropes:
Fairy Tale Retelling: Beauty and the Beast
Damsel in Distress
Grumpy Sunshine
Alpha Hero, Antihero, Morally Gray Hero, Tortured Hero
Blackmail, Revenge, Betrayal, Protector
Damaged lead finds happily ever after
Medieval Romances
Recommended Historical Reads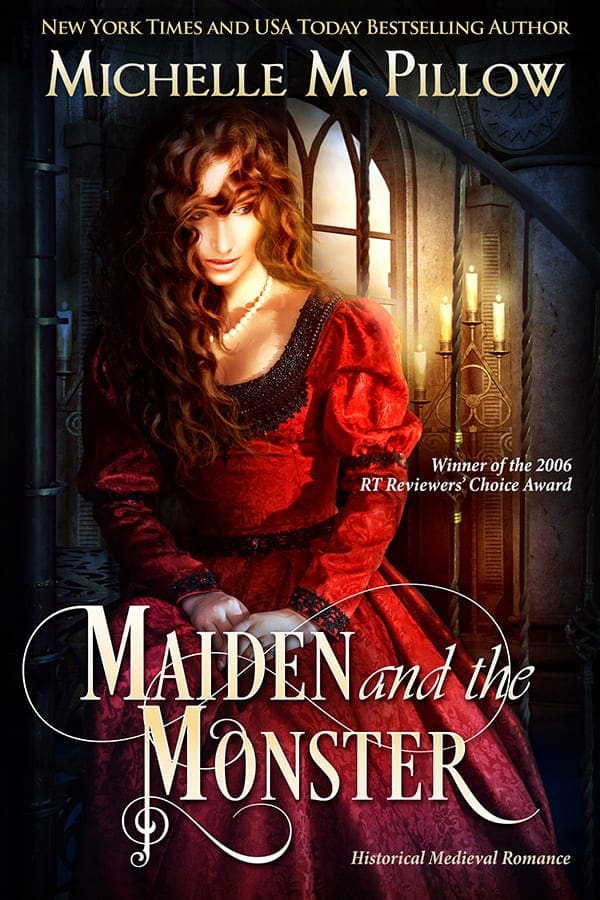 Winner of the 2006 RT Reviewer's Choice Award!
4 1/2 STARS! "This is a perfect blend of history, emotion, tension, hot sex and fascinating and sympathetic characters, and the writing is superb. Pillow chooses magical details to set the scene, and they add to both the history and the emotion." Page Traynor, RT Bookclub Magazine (April 2006)
Recommended Read! "Maiden and the Monster is one of the best medieval romances I have ever read." Love Romances (2006)
"I was so entranced by Maiden and the Monster I couldn't put it down. It's intense, and full of emotion… powerful and moving, …Maiden and the Monster is a keeper!" Nannette, Joyfully Reviewed (2006)
4 1/2 Stars! "Michelle M. Pillow did not re-write the story of Beauty and the Beast. This is the story of two people thrown together by others for their own purposes. No one expected them to find love. This story has action, adventure, and plot twists galore. The sex scenes are artfully woven into the story. Vladamir and Eden overcome great odds to find true love. This book is a classic love story. It is the kind of story a reader enjoys getting lost in." Candy, Ecataromance Reviews (2006)