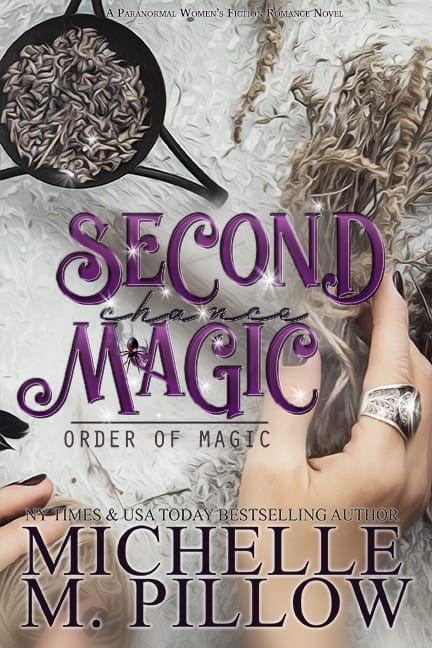 Paranormal Women's Fiction & Romance
Secrets broke her heart… and have now come back from the grave to haunt her.
Lorna Addams' forties are not what she expected. After a very public embarrassment, she finds it difficult to trust her judgment when it comes to new friendships and dating. She might be willing to give love a second chance when she meets the attractive William Warrick, if only she could come to terms with what her husband did to her and leave it in the past.
How is a humiliated empty nest widow supposed to move on with her life? It's not like she can develop a sixth sense, séance her ex back, force him to tell her why and give her closure. Or can she?
Happy Reading!
"So this story isn't what I expected and I am pleasantly glad it wasn't. Powerful emotion and modern events with magic added into the mix. What a great compilation of creativity…!" – Lisa Clover, B&N Reviewer (Favorite Paranormal Women's Fiction, Barnes & Noble Press Blog, Oct 2023)
Click Preferred Format Below For Buy Links:
Praise for Second Chance Magic
"The perfect combination of spine-tingling magic, paranormal fun, and the strength of female friendships. Michelle M. Pillow delivers an emotionally powerful, must-have read."
"Michelle M. Pillow brings us yet another hilariously touching story, this one set in the world of paranormal women's fiction, and you won't want to put it down. I know I didn't! Then again, she had me at séance."
"Second Chance Magic starts with a bang and does not slow down! It's a beautifully written story of starting over and finding your inner power. Highly recommended."
| | | |
| --- | --- | --- |
| Print Pages | Hours to Read | Total Words |
| 300 | 4 – 5 Hours | 52K |
 Original Copyright Release Date: 2020/02/18
Second Chance Magic

Third Time's A Charm
CW: Michelle M. Pillow's books contain adult subject matter, graphic violence, and are not suitable for all audiences. 
Book Heal Levels: Sweet Sensual 
Genre:
Paranormal Women's 

Fiction
Witch Romance
Contemporary Small Town Romance
Supernatural Fantasy Romance
Tropes:
Over 40 Heroines,

Gen X, Later in Life

Sisterhood and Friendships Matter

Ghosts, Demons, Magic

Second Chances, New Chapter in Life

Empty Nester, Widow
About this PWF book:
Is there any Romance? Yes!
Female Friendships? Double Yes! That's what this genre is all about.
Main Character? Lorna is in her 40s, as are her friends. She's rediscovering who she is. She is starting over.
Children? 3 adult children out on their own
Language? Mild cussing.
Sex? Yes, an open-door scene but not erotic.
  Paranormal Women's Fiction Romance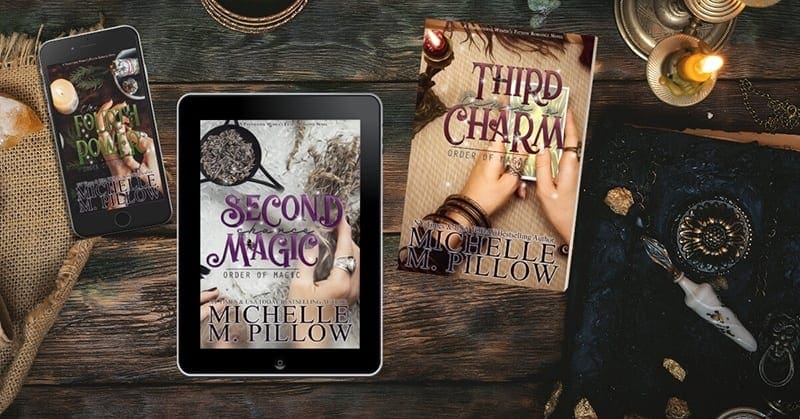 Michelle M. Pillow's Second Chance Magic proves that sometimes all it takes to get a second chance after a massive betrayal, is a little luck, a lot of magic, and the help of your best friends. I was captivated by this book.
"The perfect combination of spine-tingling magic, paranormal fun, and the strength of female friendships. Michelle M. Pillow delivers an emotionally powerful, must-have read."—K.F. Breene, Wall Street Journal, USA Today, and Washington Post bestselling author of the Leveling Up series (2020)
"Michelle M. Pillow brings us yet another hilariously touching story, this one set in the world of paranormal women's fiction, and you won't want to put it down. I know I didn't! Then again, she had me at séance." -Darynda Jones, NY Times Bestselling Author of the Betwixt & Between series (2020)
"When the past and the present merge…awesome author Michelle Pillow brings secrets from the grave and other things that go bump in the night into a fantastic story of second chances in the second act of life." – Jana DeLeon, NY Times, USA TODAY, & WSJ Bestselling Author of the Wrong Side of Forty series (2020)
"Second Chance Magic starts with a bang and does not slow down! It's a beautifully written story of starting over and finding your inner power. Highly recommended." – Elizabeth Hunter, USA TODAY Bestselling Author of the Glimmer Lake and Moonstone Cove series (2020)
"Michelle M. Pillow's Second Chance Magic is full of delicious secrets! What's not a secret is how much you're going to love this book and this heroine. I'll take book two now!" – Kristen Painter, USA Today Bestselling Author of the First Fangs Club series (2020)
"Delightfully heartfelt and filled with emotion. Psychic powers, newly discovered magic, and a troublesome ex who comes back from the grave. Michelle M. Pillow delivers a wonderfully humorous start to a new paranormal women's fiction romance series." – Robyn Peterman, NYT and USA Today Bestselling Author of the Good to the Last Death and My So-Called Mystical Midlife series (2020)
"Second Chance Magic is full of heart and everything I love in a paranormal tale. Great friends, second chances, and physic powers… what's not to love?" – Deanna Chase, NYT and USA Today Bestselling Author of the Premonition Pointe series (2020)
"I absolutely love the Order of Magic series and really hope you binge-read them all! I'm also hoping Michelle does a spin-off of the series." – Mandy M. Roth, NY Times & USA TODAY Bestselling Author of the Grimm Cove series (2023)
"A little spicy and a lot of woman power, this modern-day fiction, will give the reader a spine-chilling fright one minute and an empowering experience the next. … [P]aranormal fantasy fiction, Second Chance Magic is for the binge reader who likes the uniqueness of a book of mixed genres and the mood reader who enjoys a story that gives the perfect rollercoaster of emotions." -Lynsey Pippen, Lakeland Gazette (2023)