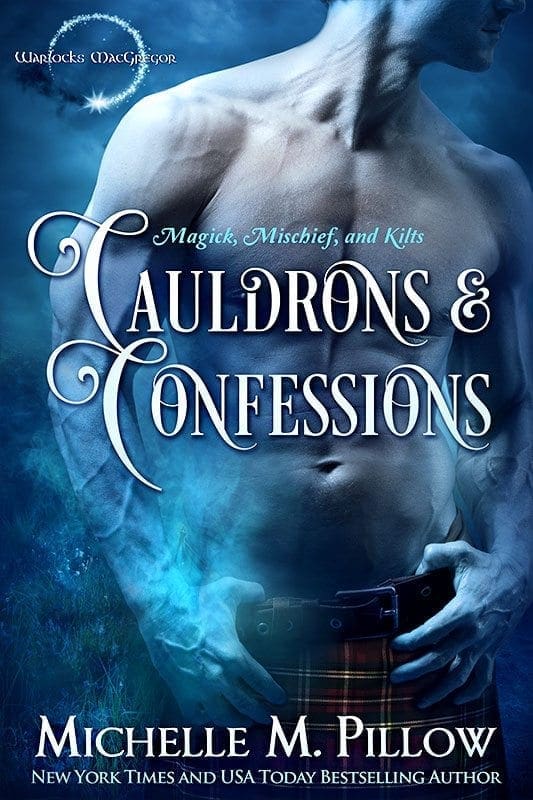 Cauldrons and Confessions
Warlock Malina MacGregor has made some questionable choices in her life — like accidentally hooking up with a demon in Las Vegas. She's ready to put all of it in the past… until demon Dar Lahey, seeking payback, finds her and stirs up forbidden desires. Full of mischief, laughter, and love! (BookBub)
Magic, Mischief, and Kilts!
Malina MacGregor is more than just a delicate flower in need of manly protection, but you wouldn't know it by the slew of male family members who show up anytime she tries to go on a date. She's a powerful warlock in her own right, if only they would let her prove herself.
Fine, sure, she's made some poor choices in men in the past—like the demon she mistakenly hooked up with in Las Vegas years ago. But that was then, and this is now, and she more than made up for that mistake.
Darragh "Dar" Lahey may be a luck demon, but his luck ran out the night he met the magic-wielding temptress—Malina. Now he's back, and he has an ax to grind. Malina needs to pay for what she did to him, and the supernatural attacks he's firing at her magical family is just the beginning. There is only one hitch in his plans for revenge—even after all this time the stubborn woman can still make his heart ache with love, and his body burn with need.
Warning: Contains yummy, hot, mischievous MacGregors who are almost certainly up to no good on their quest to find true love.
Click Preferred Format Below For Buy Links:
★★★★★
"What can I say? Michelle M. Pillow always sucks you into her world and doesn't turn you loose until the last page! Once you read one of her books, you'll want them all. Highly Recommended!"
★★★★★
5 Stars! "As a Scot I've always hated books with Scottish characters in them as they always sound like a bad stereotype but these are some of the few exceptions! … This clan is a hoot! I can neither confirm nor deny that some of these characters might be based on loony relatives of mine LOL! We don't do cavorting in the moonlight though – too damn cold here! Gimme more!!!" 
★★★★★
5 Stars! "I was really excited for this book. The youngest and only daughter she is protected a bit too much by her brothers who torment her. I always knew there was more to her than met the eye but never would've guessed her time in Vegas brought about a tie she never would get rid of. The audio was awesome along with the book." 
| | | |
| --- | --- | --- |
| Print Pages | Hours to Read | Total Words |
| 276 | 4 -5 Hours | 48K |
 Original Copyright Release Date: 2017/03/28
CW: Michelle M. Pillow's books contain adult subject matter, graphic violence, and are not suitable for all audiences. 
Book Heal Levels: Spicy Carnal
Genre:
Romantic Comedy
Contemporary Small Town Romance
Warlock Romance
Scottish Romance
Tropes:
Magic, Witches and Warlocks, Demon

Highlander

Wealthy, Rich Poor, Different Worlds

Contemporary

What happens in Vegas
Warlocks MacGregor: Magic, Mischief, and Kilts!
From the Highlands of Scotland to the valleys of Wisconsin...
A modern-day Scottish Paranormal Romance, Award-Winning Series by NYT Bestselling Author Michelle M. Pillow.
About the Series:
People know magic is fake--card tricks and illusions, magicians and entertainers. But there is an older magick, a powerful force hidden from modern eyes, buried in folklore and myths, remembered by the few who practice the old ways and respect the lessons of past generations.
The term "warlock" is a variation on the Old English word waerloga, primarily used by the Scots. It meant traitor, monster or deceiver. This fiction-based family includes males and females of magick. The MacGregors do not agree with how history has labeled them, or other supernaturals. To them, warlock means magick, family, and immortality. This series is not a portrayal of modern-day witchcraft or those who hold such beliefs. The MacGregors are a magickal class all their own.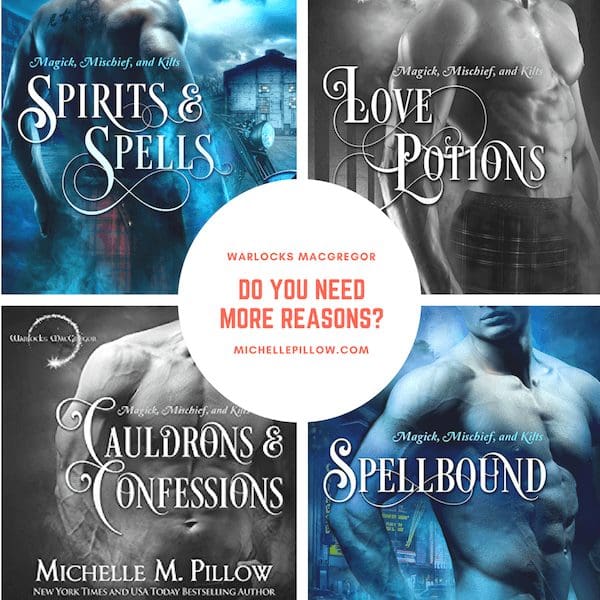 5 Stars! "This is a hilarious addition to the series. But this book had more drama and heart and soul." Mary Dean, book blogger and author, Bookbub (2021)
5 Stars! "As a Scot I've always hated books with Scottish characters in them as they always sound like a bad stereotype but these are some of the few exceptions! … This clan is a hoot! I can neither confirm nor deny that some of these characters might be based on loony relatives of mine LOL! We don't do cavorting in the moonlight though – too damn cold here! Gimme more!!!" Nikki Brooks, Bookbub (2018)
5 Stars! "I was really excited for this book. The youngest and only daughter she is protected a bit too much by her brothers who torment her. I always knew there was more to her than met the eye but never would've guessed her time in Vegas brought about a tie she never would get rid of. The audio was awesome along with the book." Kimberly Reads, Goodreads
5 Stars! "Glorious chaos reigns. I highly recommend this book (and the other Warlock MacGregor books). Happy reading." Janet Hendricks, Goodreads
5 Stars! "Michelle does an amazing job once again. I love the MacGregor warlocks and look forward to their stories every time they come out. Their family antics and dynamics never fail to make me laugh in the strangest of places. I cannot wait to read more of their stories." Melissa, Goodreads
5 Stars! "This is a hilarious addition to the series. But this book had more drama and heart and soul." Mary Dean, book blogger and author, Bookbub
Warlocks MacGregor® is a registered trademark. Registered, U.S. Patent and Trademark Office