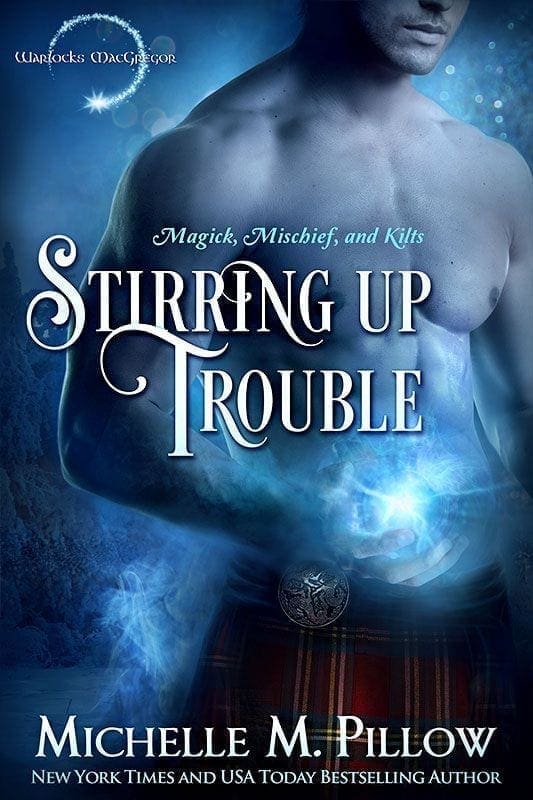 Magick, Mischief and Kilts.
Some Warlocks excel at brewing up trouble.
The magical MacGregor family doesn't know if the new neighbor is friendly or trying to poison them with her cooking. (Not even the dog will eat Donna's offerings.)
When Fergus MacGregor is around Donna Montgomery, he feels something he hasn't felt for a long time. He is still holding on to the memory of his first love who died centuries ago. He's tried everything to bring Elspeth back from the dead. None of his magic spells, potions, sorcery or incantations have worked. His family thinks it's time he moves on.
Is fate giving him a second chance at love, or will falling for Donna stir a powerful supernatural force that intends to cause nothing but trouble?
Warning: Contains yummy, hot, mischievous MacGregors who may or may not be wearing clothing and who are almost certainly up to no good on their quest to find true love.
Click Preferred Format For Buy Links:
★★★★★
5 Stars! "Author Michelle M Pillow never fails to entertain – especially with this series. It is another rollicking good time with the MacGregor clan – a clan of ancient warlocks." 
★★★★★
5 Stars! "The Scottish shenanigans are back again with this book and they will have you rolling on the floor laughing. Well when you aren't shedding tears for lost love and new love that seems lost already."
★★★★★
5 Stars! "The next in this engaging series about modern day Scottish warlocks. … Settle down for a great mixture of fantasy, magic, mischief, adventure and hot romance."
| | | |
| --- | --- | --- |
| Print Pages | Hours to Read | Total Words |
| 118 | 2 -3 Hours | 20K |
 Original Copyright Release Date: 2015/11/17
CW: Michelle M. Pillow's books contain adult subject matter, graphic violence, and are not suitable for all audiences. 
Book Heal Levels: Spicy Carnal
Genre:
Romantic Comedy
Contemporary Small Town Romance
Warlock Romance
Scottish Romance
Tropes:
Magic, Witches and Warlocks, Love Potions

Highlander

Wealthy, Rich Poor, Different Worlds

Contemporary

Second Chances
Warlocks MacGregor: Magic, Mischief, and Kilts!
From the Highlands of Scotland to the valleys of Wisconsin...
A modern-day Scottish Paranormal Romance, Award-Winning Series by NYT Bestselling Author Michelle M. Pillow.
About the Series:
People know magic is fake--card tricks and illusions, magicians and entertainers. But there is an older magick, a powerful force hidden from modern eyes, buried in folklore and myths, remembered by the few who practice the old ways and respect the lessons of past generations.
The term "warlock" is a variation on the Old English word waerloga, primarily used by the Scots. It meant traitor, monster or deceiver. This fiction-based family includes males and females of magick. The MacGregors do not agree with how history has labeled them, or other supernaturals. To them, warlock means magick, family, and immortality. This series is not a portrayal of modern-day witchcraft or those who hold such beliefs. The MacGregors are a magickal class all their own.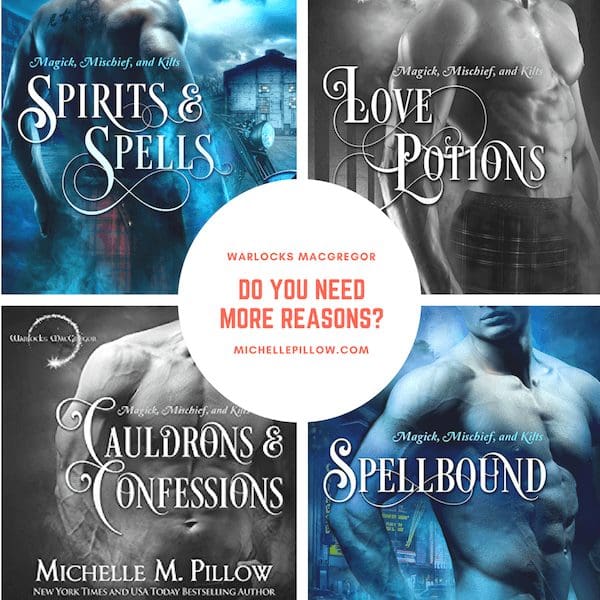 5 Stars! "Author Michelle M Pillow never fails to entertain – especially with this series. It is another rollicking good time with the MacGregor clan – a clan of ancient warlocks." Kathy Brenzi, Bookbub (2021)
5 Stars! "The Scottish shenanigans are back again with this book and they will have you rolling on the floor laughing. Well when you aren't shedding tears for lost love and new love that seems lost already. Sydneyn06 Bookbub (2020)
5 Stars! "The next in this engaging series about modern day Scottish warlocks. … Settle down for a great mixture of fantasy, magic, mischief, adventure and hot romance." Lesley Boon, Bookbub (2021)
5 Stars! "This is a LOL series, with hot Scottish men and the antics and mischief they make. It may not be a steamy romance but it offers the reader a great escape from reality and allows a healthy dose of magick into our lives. HIGHLY RECOMMENDED!!!!" Patricia, Goodreads
Warlocks MacGregor® is a registered trademark. Registered, U.S. Patent and Trademark Office