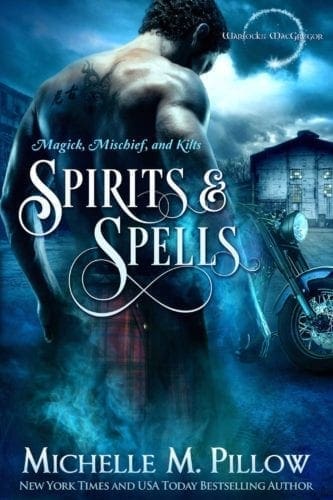 Niall MacGregor, a Scottish werewolf, used magic to steal Charlotte Carver's memories to protect her. But as she begins to remember little things and their sizzling passion heats up, will temptation bring her closer to the truth?
Magick, Mischief & Kilts!
Charlotte Carver is going insane—suffering everything from memory loss to hallucinations, to phantom conversations she can't recall having. Something tells her it's not a coincidence that it all started when the MacGregor family moved to town, and the one person who knows what's going on is the last person Charlotte would ask for help. Her new landlord, Niall MacGregor, is not the most approachable man but that hasn't stopped the brooding Scottish biker from invading her dreams.
When Charlotte's memories start to return, she's not sure she can trust what they are telling her. If magic does exist, then is her attraction to Niall just an illusion?
Motorcycle riding werewolf, Niall MacGregor is the longtime supernatural enforcer for his warlock family. He has regretted more than a few things that he's done in the name of duty, but taking Charlotte's memories ranks as one of the worst. It was necessary, to both protect his magical family and save Charlotte's sanity. But the intimate glimpse into her mind has only made him want things he can never have—including the love of the gorgeous, brave woman herself.
Something from Niall's past has come back to threaten everything he holds dear.
Warning: Contains yummy, hot, mischievous MacGregors who are almost certainly up to no good on their quest to find true love.  And Uncle Raibeart.
Click Preferred Format Below For Buy Links:
★★★★★
5 Stars! "I love this series about the modern day warlock MacGregor family. Michelle weaves a magical story which keeps you hooked from page one."
★★★★★
5 Stars! "LOVE everything about this series. The MacGregor family has it all. Sexy Scottish warlocks who love with all they are. Humour by the mile, and an adventure that makes reading seem like minutes instead of hours. I always look forward to the news of a new release in the series, it's so much fun to read. I highly recommend starting from the beginning and swear you'll fall deeply in love with all things MacGregor!"
★★★★★
5 Stars!"This story has it all, humor, action, romance, magic, danger, and mystery. There is a great plot with terrific characters. Don't miss this terrific series!" 
| | | |
| --- | --- | --- |
| Print Pages | Hours to Read | Total Words |
| 300 | 5 – 6 Hours | 48K |
 Original Copyright Release Date: 2018/01/23
CW: Michelle M. Pillow's books contain adult subject matter, graphic violence, and are not suitable for all audiences. 
Book Heal Levels: Spicy Carnal
Genre:
Romantic Comedy
Warlock Romance
Scottish Romance
Small Town Romance
Tropes:
Magic, Witches and Warlocks, Dark Secret

Highlander

Wealthy, Rich Poor, Different Worlds

Contemporary

Wolf shifter, werewolf
Warlocks MacGregor: Magic, Mischief, and Kilts!
From the Highlands of Scotland to the valleys of Wisconsin...
A modern-day Scottish Paranormal Romance, Award-Winning Series by NYT Bestselling Author Michelle M. Pillow.
About the Series:
People know magic is fake--card tricks and illusions, magicians and entertainers. But there is an older magick, a powerful force hidden from modern eyes, buried in folklore and myths, remembered by the few who practice the old ways and respect the lessons of past generations.
The term "warlock" is a variation on the Old English word waerloga, primarily used by the Scots. It meant traitor, monster or deceiver. This fiction-based family includes males and females of magick. The MacGregors do not agree with how history has labeled them, or other supernaturals. To them, warlock means magick, family, and immortality. This series is not a portrayal of modern-day witchcraft or those who hold such beliefs. The MacGregors are a magickal class all their own.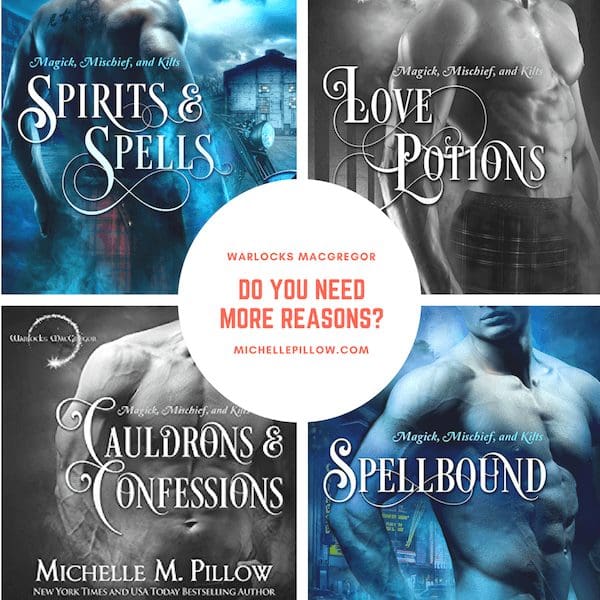 5 Stars! – Bianca, D'Arc, USA Today bestselling author of paranormal romance (Bookbub) (2019)
5 Stars! "I love this series about the modern day warlock MacGregor family. Michelle weaves a magical story which keeps you hooked from page one." Lesley Boon, Bookbub (2021)
5 Stars! "From the beginning of the book, I was interested. The story line is so refreshing. I would definitely recommend this book to everyone." K Bradbury, Bookbub (2021)
5 Stars!"This story has it all, humor, action, romance, magic, danger, and mystery. There is a great plot with terrific characters. Don't miss this terrific series!" Spetrbok, Bookbub (2021)
5 Stars! "Michelle Pillow has created a cast of characters that I love. They are wacky and entertaining. The siblings are gorgeous, sexy and powerful. But above all, this family loves and protects each other. I recommend this series. I am really looking forward to reading the next Warlocks Macgregor book." J Hendricks, Goodreads
5 Stars! "LOVE everything about this series. The MacGregor family has it all. Sexy Scottish warlocks who love with all they are. Humour by the mile, and an adventure that makes reading seem like minutes instead of hours. I always look forward to the news of a new release in the series, it's so much fun to read. I highly recommend starting from the beginning and swear you'll fall deeply in love with all things MacGregor!" Patricia, Goodreads
Warlocks MacGregor® is a registered trademark. Registered, U.S. Patent and Trademark Office