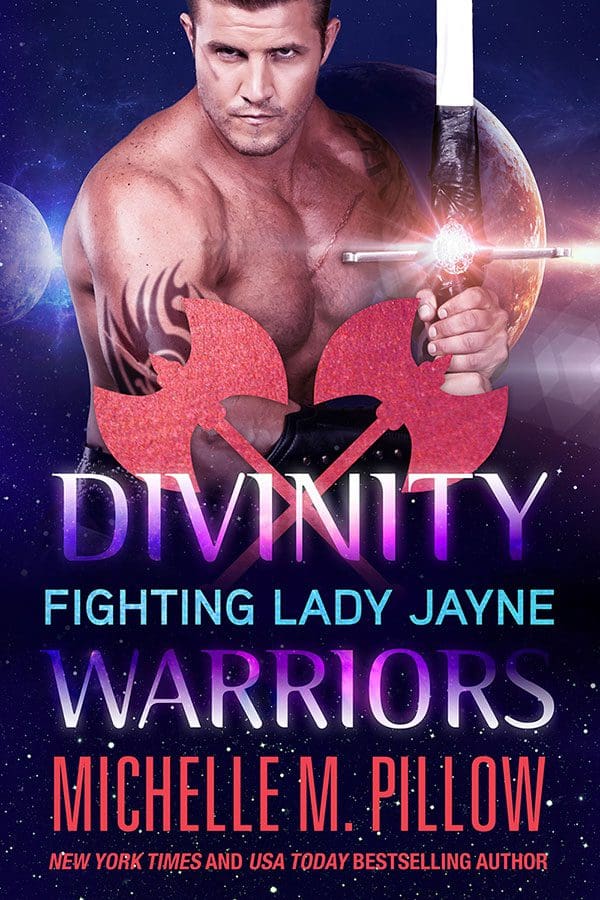 Divinity Warriors Series #2
"It is in me to run and it is in you to capture."
Jayne Hart has earned her independence by becoming Divinity Corporation's inter-dimensional boxing champion. Life is great, until a dirty fighter knocks her unconscious and she loses everything. Now, abandoned by the corporation in an alternate reality filled with alpha male warriors and strange marriage customs, Jayne will use every weapon she has. Even if it means running from her sexy new "husband" and spending the rest of her life in a primitive forest.
Ronen of Firewall longs for a woman to warm his bed and his home, but he had no intention of choosing a bride. In an unprecedented move, one chooses him. Never in the history of the marriage ceremony has a woman dared to lay claim. How can he resist the alluring Lady Jayne? She's confident and sure in her decision to be with him—until their wedding night when she's nowhere to be found. But, Ronen is not one to shy from a battle. He will find Jayne and, when he does, he will do everything he can to tame the heart of his wayward wife.
Alternate Reality, Alternate History, Parallel Universe, Portal Travel, Science Fiction Warrior Alpha Male Romance – Part of the Divinity Universe
Click Preferred Format Below For Buy Links:
"Michelle M. Pillow's characters are full of wit, charm, and sensual qualities. … recommend Fighting Lady Jayne to those who enjoy knights who know how to treat their woman and the woman who keep them on their toes."
5 Stars! "Favorite quote and it also sums up their courtship, Jayne to Ronen. 'It is in me to run and it is in you to capture.'"
"Ms. Pillow again gifts us with a strong and capable woman who shows determination in her decisions to follow her heart and her mind by loving the sexy and devoted man who has claimed her. This series is an example of true love at first sight between courageous women and the warrior men who love them."
| | | |
| --- | --- | --- |
| Print Pages | Hours to Read | Total Words |
| 358 | 5 – 6 Hours | 61k |
Original Copyright Release Date: 2009/05/15
Part of the

Divinity World
:
Fighting Lady Jayne
Ariella's Keeper
Linnea's Arrangement
CW: Michelle M. Pillow's books contain adult subject matter, graphic violence, and are not suitable for all audiences. 
Book Heal Levels: Spicy – Carnal
Genre:
Science Fiction Romance

Alternate Reality Romance
Portal Travel
Tropes:
Fated Mates
Enemies to Lovers
Arranged Marriage / Bartered Brides
Royalty & Nobility
Alpha Hero
Sub Genres: Alternate History, Parallel Universe, Time Travel
Did you know?
I wanted to call the Divinity Warriors series: Battlewar Castle series. The original publisher said no. They didn't think romance fans would like that series title.

Part of the

Divinity World
:
Fighting Lady Jayne
Ariella's Keeper
Linnea's Arrangement
5 Stars! "Favorite quote and it also sums up their courtship, Jayne to Ronen. 'It is in me to run and it is in you to capture.'" Jeep Diva Reviews
4.5 Nymphs! "Michelle M. Pillow's characters are full of wit, charm, and sensual qualities. … recommend Fighting Lady Jayne to those who enjoy knights who know how to treat their woman and the woman who keep them on their toes." Literary Nymphs Review
4.5 Stars! "Ms. Pillow again gifts us with a strong and capable woman who shows determination in her decisions to follow her heart and her mind by loving the sexy and devoted man who has claimed her. This series is an example of true love at first sight between courageous women and the warrior men who love them." Bitten by Books
4 Angels! "Michelle M. Pillow has done a fabulous job of continuing the Divinity Warriors series with Fighting Lady Jayne. …Ms. Pillow gives us a whole new world to discover with unique characters and an explosive story will have readers running back for more. Fighting Lady Jayne is a fast-paced fantasy romance that will take readers on a wild ride. I truly enjoyed Fighting Lady Jayne and I cannot wait to see what will happen next in this series." Sonya, Fallen Angel Reviews