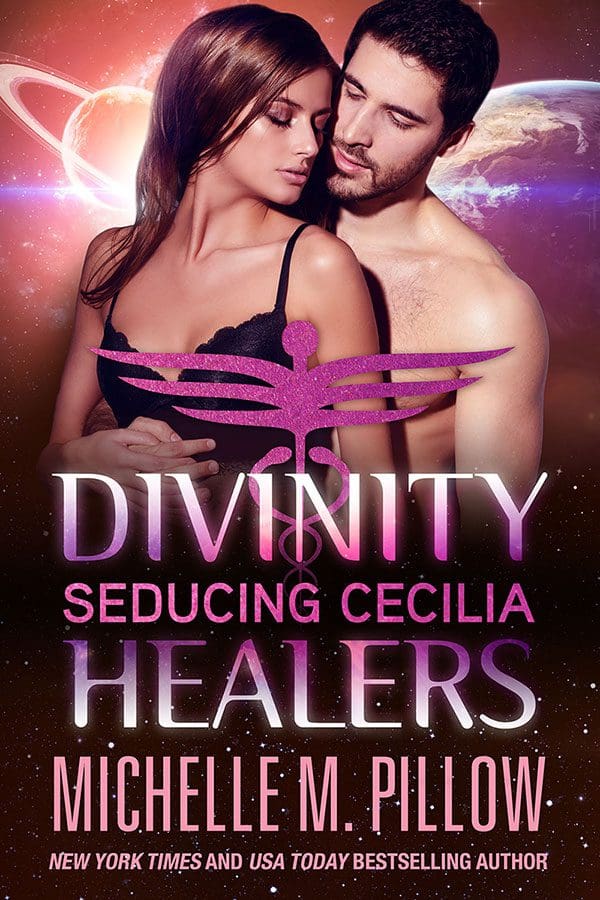 Divinity Healers Series #2
As things heat up, the clock is ticking, and the time for seduction is running out.
In a world obsessed with medical advancement, Dr. Gerard Fauchet longs for something more. When he's assigned as the liaison to a dignitary from a parallel universe, he never imagined she'd be so stunningly beautiful or so damned frustrating. One second she's kissing him, the next she's pretending nothing is between them.
The passion is scorching, everything he ever dreamed of having with a woman. He'll make her admit she wants him—or die trying.
Dr. Cecilia Markos is keenly aware that she's been shoved through a portal to an alternate reality for one reason—to bring home medical advancements for the betterment of her people. Unfortunately, she only has two months to learn a world's complete medical knowledge base. It's an impossible task made even more so by the distractingly handsome Gerard, who she can't seem to keep her hands or her mind off of.
As the clash heats up between Gerard and Cecilia, the clock is ticking, and the time for seduction is running out.
Alternate Reality, Alternate History, Parallel Universe, Portal Travel, Science Fiction Warrior Alpha Male Romance – Part of the Divinity Universe
Click Preferred Format Below For Buy Links:
★★★★★
5 Stars! "Steamy scenes, and the plot was great. It's such a fast read."
★★★★★
5 Stars! "Michelle Pillow is one of my best author's, when I buy her books I know I will be getting my moneys worth. They are entertaining, sizzling and spell checked."
★★★★★
5 Stars! "Thankfully you not only get a ton of story powered by a terrific storyline or two, but you will always have another book to lose yourself in." 
| | | |
| --- | --- | --- |
| Print Pages | Hours to Read | Total Words |
| 208 | 3 – 4 Hours | 30K |
 Box Set Release Date: 2013/09/09
Part of the

Divinity World
:
Ariella's Keeper
Seducing Cecilia
Linnea's Arrangement
CW: Michelle M. Pillow's books contain adult subject matter, graphic violence, and are not suitable for all audiences. 
Book Heal Levels: Carnal
Reader Notes: Ariella's Keeper is the first book in the Divinity Healers series installment, but comes after the Divinity Warriors installment. You can read it before, or after that series and it won't be confusing.
Genre:
Medical Romance
Alternate Reality Romance
Tropes:
Fated Mates
Enemies to Lovers
Forced Proximity
Blind Date
Alpha Hero
Sub Genres: Parallel Universe, Alternate History, Portal Travel, Time Travel 
Did you know?
I wanted to call the Divinity Warriors series: Battlewar Castle series. The original publisher said no. They didn't think romance fans would like that series title.

Part of the

Divinity World
:
Ariella's Keeper
Seducing Cecilia
Linnea's Arrangement
5 Stars! "This a fast paced, steamy and fun read. " A Kepple, Bookbub (2021)
5 Stars! "Steamy scenes, and the plot was great. It's such a fast read." Laura Martinez, Bookbub (2021)
5 Stars! "Michelle Pillow is one of my best author's, when I buy her books I know I will be getting my moneys worth. They are entertaining, sizzling and spell checked." Erik W. McCarty, Reader
5 Stars! "Thankfully you not only get a ton of story powered by a terrific storyline or two, but you will always have another book to lose yourself in." Cherri-Anne Boitson, Goodreads
5 Stars! "Can these two keep there hands off of one another to figure out how to work together. This is book two in a series of three. I recommend reading in order. I love how Michelle carries over her stories and the characters. They are complex and well developed." Robyn, Goodreads