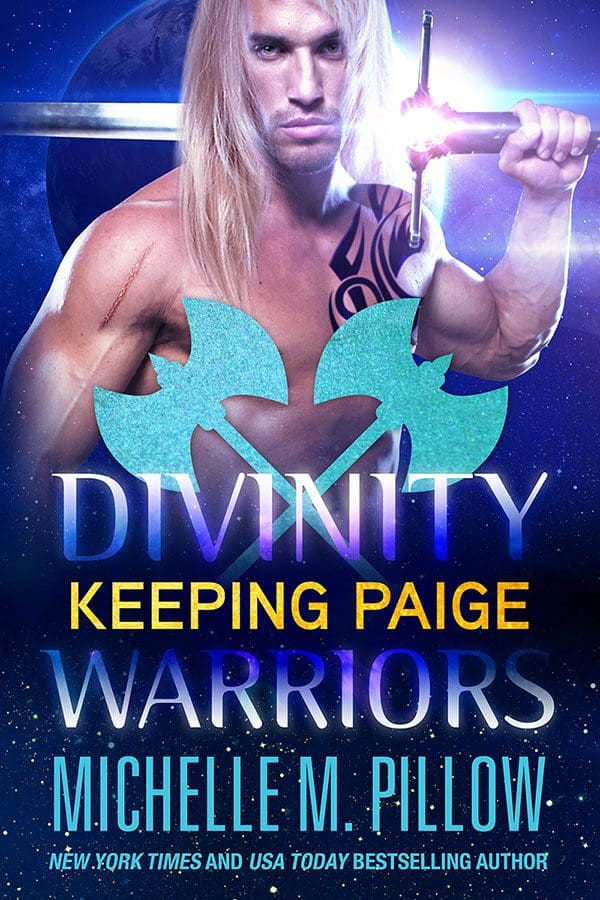 Divinity Warriors Series #3
Aidan's sure he's being rewarded by fate—until his new bride tries to back out of their marriage.
An outcast because of her psychic abilities, Paige doesn't expect her people to rescue her when a zealous sect of Faerians (fairy worshippers) sacrifices her to their gods. Thrown through a fairy ring to an alternate reality, drugged on ambrosia, she is compelled to claim the first man she meets. Only when the effects wear off and she's left with a husband expecting more than she's willing to give, does Paige discover the true extent of what the fairies have done.
Ordered by the king to marry, the warrior Sir Aidan of Fallenrock is dead set against taking a bartered bride from a parallel plane. He believes his people should be patient and wait for the gods to bless them. When the beautiful Lady Paige comes through the sacred rings, kissing him like she knows their joined fate, Aidan's sure he's being rewarded—until his new bride tries to back out of their marriage.
Alternate Reality, Alternate History, Parallel Universe, Portal Travel, Science Fiction Warrior Alpha Male Romance – Part of the Divinity Universe
Click Preferred Format Below For Buy Links:
5 Stars! "Aidan and Paige's story is by far my favorite of the Divinity Warriors books. I absolutely fell in love with Aidan the moment he stepped onto the page." 
5 Angels! "This is the third book in Michelle M. Pillow's Divinity Warriors series and it is by far one of her best fantasy romances. Keeping Paige is an explosive hot romance that I could not put down….Ms. Pillow gives the readers what they are asking for in a fantasy romance and so much more. Keeping Paige is a story readers should not miss. I loved Keeping Paige and I cannot wait to see what will happen next in this fabulous series." 
"Michelle M. Pillow delivers action, suspense, drama, romance, and spine tingling erotic encounters in Keeping Paige."
| | | |
| --- | --- | --- |
| Print Pages | Hours to Read | Total Words |
| 344 | 5 – 6 Hours | 58k |
Original Copyright Release Date: 2009/07/15
Part of the

Divinity World
:
Keeping Paige
Ariella's Keeper
Linnea's Arrangement
CW: Michelle M. Pillow's books contain adult subject matter, graphic violence, and are not suitable for all audiences. 
Book Heal Levels: Spicy – Carnal
Genre:
Science Fiction Romance

Alternate Reality Romance
Portal Travel
Tropes:
Fated Mates
Enemies to Lovers
Arranged Marriage / Bartered Brides
Royalty & Nobility
Alpha Hero
Sub Genres: Alternate History, Parallel Universe, Time Travel
Did you know?
I wanted to call the Divinity Warriors series: Battlewar Castle series. The original publisher said no. They didn't think romance fans would like that series title.

Part of the

Divinity World
:
Keeping Paige
Ariella's Keeper
Linnea's Arrangement
5 Stars! "Favorite quote and it also sums up their courtship, Jayne to Ronen. 'It is in me to run and it is in you to capture.'" Jeep Diva Reviews
4.5 Nymphs! "Michelle M. Pillow's characters are full of wit, charm, and sensual qualities. … recommend Fighting Lady Jayne to those who enjoy knights who know how to treat their woman and the woman who keep them on their toes." Literary Nymphs Review
4.5 Stars! "Ms. Pillow again gifts us with a strong and capable woman who shows determination in her decisions to follow her heart and her mind by loving the sexy and devoted man who has claimed her. This series is an example of true love at first sight between courageous women and the warrior men who love them." Bitten by Books
4 Angels! "Michelle M. Pillow has done a fabulous job of continuing the Divinity Warriors series with Fighting Lady Jayne. …Ms. Pillow gives us a whole new world to discover with unique characters and an explosive story will have readers running back for more. Fighting Lady Jayne is a fast-paced fantasy romance that will take readers on a wild ride. I truly enjoyed Fighting Lady Jayne and I cannot wait to see what will happen next in this series." Sonya, Fallen Angel Reviews