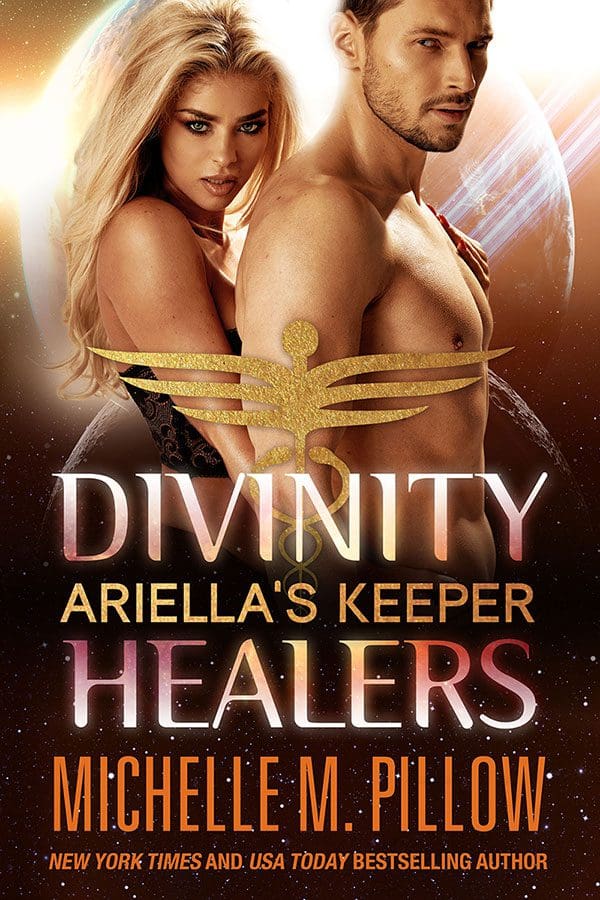 Divinity Healers Series #1
When his father threatens to take away his research facility's funding if he doesn't come home, Dr. Sebastjan Walter has no choice. This isn't just a family reunion. It seems his father has arranged a marriage—Sebastjan's.
Seeing his chance to make one last final deal to get his father out of his life, he agrees to marry the woman from parallel universe. After seeing her, he can't help but think he's on the better end of that bargain.
Ariella has been held prisoner by the Medical Supreme since he cured her of a childhood illness. Compelled to stay in his home as his ward, she has no choice but to follow his rules. When he demands she marry his son, Ariella finds this is one order she might not mind obeying.
Alternate Reality, Alternate History, Parallel Universe, Portal Travel, Science Fiction Warrior Alpha Male Romance – Part of the Divinity Universe
Click Preferred Format Below For Buy Links:
★★★★★
"5 Stars! What can I say except I LOVED this book! Reading this book reminds me why I love Michelle Pillow's writing."
★★★★★
5 Stars! "I expect a great read with any of her books and she never disappoints."
★★★★★
5 Stars! "Right from the first word I was hooked… This book was everything I wanted. HEA, romance and a great female lead."
| | | |
| --- | --- | --- |
| Print Pages | Hours to Read | Total Words |
| 218 | 2 – 3 Hours | 29K |
 Box Set Release Date: 2009/12/31
Part of the

Divinity World
:
Ariella's Keeper
Linnea's Arrangement
CW: Michelle M. Pillow's books contain adult subject matter, graphic violence, and are not suitable for all audiences. 
Book Heal Levels: Carnal
Reader Notes: Ariella's Keeper is the first book in the Divinity Healers series installment, but comes after the Divinity Warriors installment. You can read it before, or after that series and it won't be confusing.
Genre:
Medical Romance
Alternate Reality Romance
Tropes:
Fated Mates
Enemies to Lovers
Forced Proximity
Blind Date
Alpha Hero
Sub Genres: Parallel Universe, Alternate History, Portal Travel, Time Travel 
Did you know?
I wanted to call the Divinity Warriors series: Battlewar Castle series. The original publisher said no. They didn't think romance fans would like that series title.

Part of the

Divinity World
:
Ariella's Keeper
Linnea's Arrangement
5 Stars! "Michelle M Pillow does it again with another great story & Rebecca Cook rocked the narration as she always does! … BUY NOW WITH ONE CLICK. I HIGHLY RECOMMEND YOU DO!" Kristin Chontelle, One Woman's Opinion (2021)
5 Stars! "Right from the first word I was hooked… This book was everything I wanted. HEA, romance and a great female lead." Sam Tully, Bookbub (2021)
5 Stars! "I expect a great read with any of her books and she never disappoints." Cheri, Goodreads
5 Stars! "What can I say except I LOVED this book! Reading this book reminds me why I love Michelle Pillow's writing." Amanda Richardson, Goodreads
5 Stars! "I was impressed with the world building and loved going back to the Staria plane. The sexy times were smoking and the falling in love story heartwarming." Judi, Goodreads