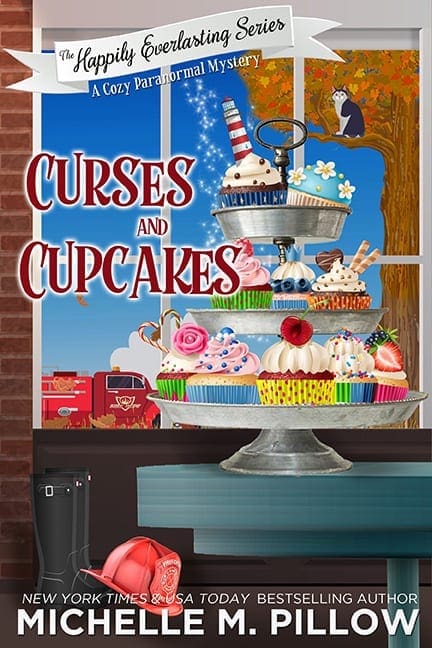 Part of the USA TODAY bestselling series: Happily Everlasting!
Welcome to Everlasting, Maine, where there's no such thing as normal.
Marcy Lewis is cursed (honestly and truly) which makes dating very interesting. With a string of loser boyfriends behind her, she's done looking for love in all the wrong places. That is until the new firefighter arrives in the sleepy seaside town of Everlasting. Nicholas Logan is unlike any other man she's ever had in her life. When someone starts sending her photographs that raise a red flag it soon becomes apparent that she's not just cursed, she's in serious danger.
Nicholas doesn't know what to make of the charismatic young woman managing the local coffee shop. As a string of mysterious fires begin popping up around town, the two unite in search of clues as to who or what is responsible, discovering along the way that things are very rarely what they seem to be.
*Books in The Happily Everlasting Series can be read in ANY order!
Happy Reading!
Click Preferred Format Below For Buy Links:
★★★★★
5 Stars! "Loved it from start! I couldn't put it down, the mystery, the suspense and the intricate plot, made it a very tun fun reading!" 
★★★★★
5 Stars! Romance, laughter, mayhem and a crazy mystery will have you turning pages with a big smile on your face.
★★★★★
5 Stars! "The characters are awesome and the story grabs you and then keeps you laughing at all the antics that are going on."
| | | |
| --- | --- | --- |
| Print Pages | Hours to Read | Total Words |
| 288 | 4 – 5 Hours | 50K |
 Original Copyright Release Date: 2017/12/14
Happily Everlasting series:
1. Fooled Around and Spelled in Love
2. Curses and Cupcakes
(Un)Lucky Valley series:
3. Better Haunts and Garden Gnomes
Reader notes: 
The Happily Everlasting series was a group book project with authors Jana DeLeon, Mandy M. Roth, Michelle M. Pillow, and Kirsten Painter. Each book was a standalone and do not have to be read in order. 
The (Un)Lucky Valley series is by Michelle M. Pillow. Did her character Aunt Polly tickle your funny bone in Fooled Around and Spelled in Love, and Curses and Cupcakes? If so, just wait until you read the next crazy adventure Aunt Polly has up her sleeve.
CW: These cozy mysteries are considered clean romance, as in there are no sexy times happening on the page. There is mild violence and themes, deaths, and neglectful parents, things like that. These cozy mysteries are going to be the sweetest of Michelle's books. You want something sexier and more graphic, try her other series. 
Book Heal Levels: Sweet / Clean (No sexy times), Closed Door
Tropes:
Stalker Mystery

Aunt Polly. Hey, we think she deserves her own category.

Ghosts, Demons, Magic, Garden Gnomes, Curses, Witches

Amateur Sleuth, Woman Sleuth, Culinary Cozy Mystery
Firefighter, Baker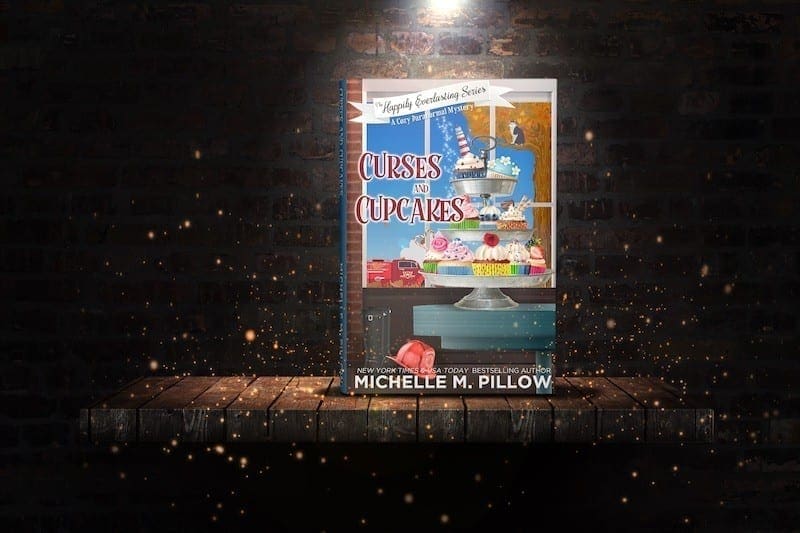 5 Stars! "Loved it from start! I couldn't put it down, the mystery, the suspense and the intricate plot, made it a very tun fun reading!" – Rossana V, Bookbub (2021)
5 Stars! "The characters are awesome and the story grabs you and then keeps you laughing at all the antics that are going on." – Xantippi Leska, Bookbub (2021)
5 Stars! "Romance, laughter, mayhem and a crazy mystery will have you turning pages with a big smile on your face." Robin, Goodreads
5 Stars! "Michelle does an amazing job.. I fell in love with Sprinkles and Nibbles and I highly recommend reading this story so you can do the same!" Melissa, Goodreads
5 Stars! "OMG what a great story." Pam Louis, Goodreads