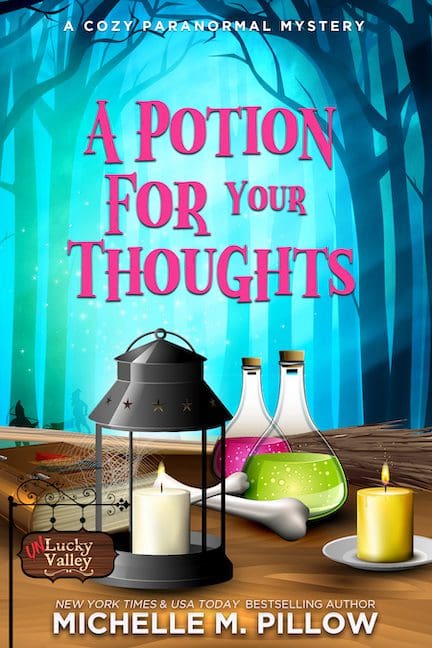 A Potion for Your Thoughts

(Un)Lucky Valley Series Book #3, (Un)Lucky Valley Novella
Welcome to Lucky Valley where nothing is quite what it seems.
Where the magic of love meets the power of the paranormal, the spell is unbreakable.
Jesse Goode has spent the last two years avoiding going to Lucky Valley, Colorado, to claim an inheritance she doesn't want. But when supernatural dangers threaten the only thing she cares about, she has no choice.
From NY Times & USA TODAY Bestselling Author, Michelle M. Pillow, a Cozy Mystery Paranormal Romantic Comedy.
A Cozy Paranormal Mystery – A Happily Everlasting World Novel
This novella was originally published in the Witching the Night Away anthology.
Click Preferred Format Below For Buy Links:
Audiobook Buy Links
Audible US
Audible UK
Amazon Audio
iTunes
★★★★★
5 Stars! "Absolutely loved it! Sweet and sassy, full of laughs and magic."
★★★★★
5 Stars! "characters are lovable and there is lots of action"
★★★★★
5 Stars! "A story full of surprises and comedic adventures with the author's trademark of comedy romance."
| | | |
| --- | --- | --- |
| Print Pages | Hours to Read | Total Words |
| 146 pages | 2-3 hours | 22K |
 Original Copyright Release Date: 2023/03/20
Happily Everlasting series:
1. Fooled Around and Spelled in Love
(Un)Lucky Valley series:
3. Better Haunts and Garden Gnomes
5. A Potion for Your Thoughts
Reader notes: 
The Happily Everlasting series was a group book project with authors Jana DeLeon, Mandy M. Roth, Michelle M. Pillow, and Kirsten Painter. Each book was a standalone and do not have to be read in order. 
The (Un)Lucky Valley series is by Michelle M. Pillow. Did her character Aunt Polly tickle your funny bone in Fooled Around and Spelled in Love, and Curses and Cupcakes? If so, just wait until you read the next crazy adventure Aunt Polly has up her sleeve.
CW: These cozy mysteries are considered clean romance, as in there are no sexy times happening on the page. There is mild violence and themes, deaths, and neglectful parents, things like that. These cozy mysteries are going to be the sweetest of Michelle's books. You want something sexier and more graphic, try her other series. 
Book Heal Levels: Sweet / Clean (No sexy times), Closed Door
Tropes:
Inheritance gone wrong
Aunt Polly. Hey, we think she deserves her own category.
Ghosts, Demons, Magic, Garden Gnomes, Curses, Witches
Bed and Breakfast, Cozy Animal, Amateur Sleuth, Woman Sleuth, Culinary Cozy Mystery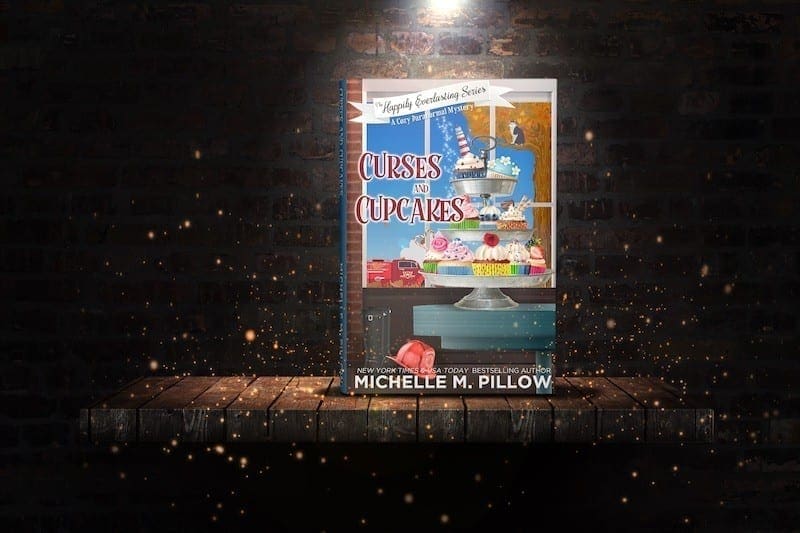 5 Stars!
"
a fast twisty tale with a happy ending.
"
Karen Fisher, Goodreads
5 Stars! "This is a total gem!!! Thank you Michelle M Pillow for another trip to (Un)Lucky Valley!" Kristin, Goodreads
5 Stars! "filled with action and humor" Kristin, Goodreads