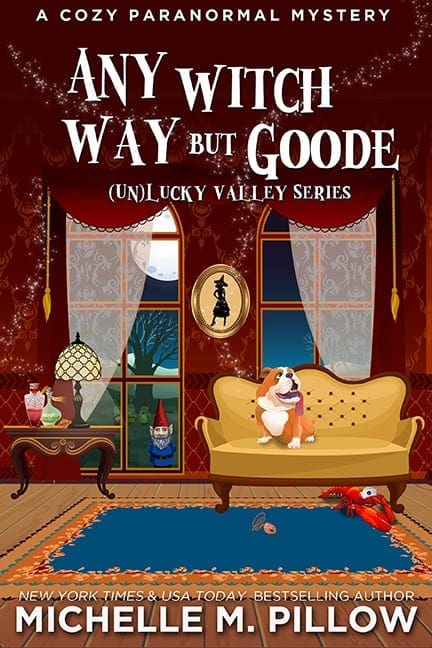 (Un)Lucky Valley Series Book #2
A Cozy Paranormal Mystery – A Happily Everlasting World Novel
From NY Times & USA TODAY Bestselling Author, Michelle M. Pillow, a Cozy Mystery Paranormal Romantic Comedy.
The Garden Gnome Bed and Breakfast might be a new kooky weekend getaway spot, but for Lily Goode the inheritance represents the promise of a stable future for her and her siblings. Unfortunately, the house isn't the only thing she inherited. The Bed and Breakfast also comes equipped with witchy Aunt Polly, troublesome garden gnomes, a town that hates her, newfound magical powers that misfire, and a werewolf boyfriend she shouldn't have asked to move in with her.
When a guest is found dead during her grand opening, Lily knows she has to solve the mystery of what happened before the B&B is closed forever.
Lucky for her Aunt Polly is here to help save the day.
Welcome to Lucky Valley, Colorado, where nothing is quite what it seems.
Happy Reading!
Click Preferred Format Below For Buy Links:
★★★★★
5 Stars! "What a twisty, humorous book. Bed and Breakfast or a nuthouse? Zany characters abound with Aunt Polly at the helm."
★★★★★
5 Stars! "Wow loving how this series is developing quite delightful can't wait for the next installments to see what the next craziness to be unleashed is."
★★★★★
5 Stars! "Wow what a story. I loved the action, mystery, drama, intrigue, magic and more This story had! The characters are fantastic and they pulled you into the story fast. Don't miss it." 
| | | |
| --- | --- | --- |
| Print Pages | Hours to Read | Total Words |
| 250 | 4 – 5 Hours | 43K |
 Original Copyright Release Date: 2019/06/10
Happily Everlasting series:
1. Fooled Around and Spelled in Love
(Un)Lucky Valley series:
3. Better Haunts and Garden Gnomes
4. Any Witch Way But Goode
Reader notes: 
The Happily Everlasting series was a group book project with authors Jana DeLeon, Mandy M. Roth, Michelle M. Pillow, and Kirsten Painter. Each book was a standalone and do not have to be read in order. 
The (Un)Lucky Valley series is by Michelle M. Pillow. Did her character Aunt Polly tickle your funny bone in Fooled Around and Spelled in Love, and Curses and Cupcakes? If so, just wait until you read the next crazy adventure Aunt Polly has up her sleeve.
CW: These cozy mysteries are considered clean romance, as in there are no sexy times happening on the page. There is mild violence and themes, deaths, and neglectful parents, things like that. These cozy mysteries are going to be the sweetest of Michelle's books. You want something sexier and more graphic, try her other series. 
Book Heal Levels: Sweet / Clean (No sexy times), Closed Door
Tropes:
Inheritance gone wrong, Murder Mystery

Aunt Polly. Hey, we think she deserves her own category.

Ghosts, Demons, Magic, Garden Gnomes, Curses, Witches

Second Chances

Bed and Breakfast, Cozy Animal, Amateur Sleuth, Woman Sleuth, Culinary Cozy Mystery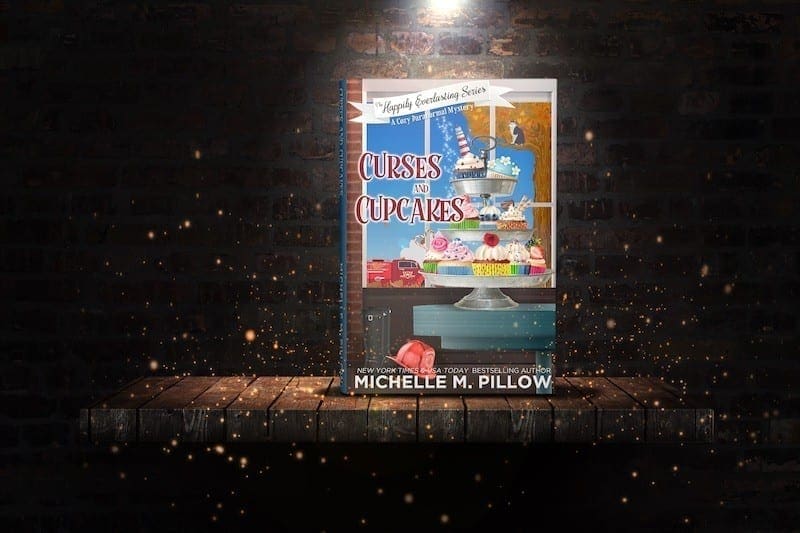 5 Stars! "This is a fun book with disasters coming every which way. Nolan and Lily are trying to keep their heads above water and keep the B&B afloat. There's drama, danger, suspense, and fun." – catsdogsx5, Bookbub (2019)
5 Stars! "What a twisty, humorous book. Bed and Breakfast or a nuthouse? Zany characters abound with Aunt Polly at the helm." – Karen Fisher, Bookbub (2019)
5 Stars! "Fabulously quirky, quick paced read with lots of fun characters to love." Nikki Brooks, Bookbub (2019)
5 Stars! "Wow what a story. I loved the action, mystery, drama, intrigue, magic and more This story had! The characters are fantastic and they pulled you into the story fast. Don't miss it." Pam Louis, Bookbub (2019)