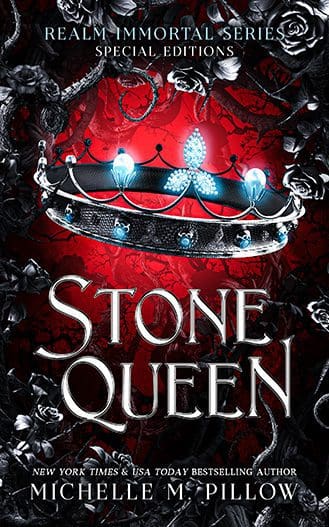 To gain the only thing he truly wants, he'll have to risk everything.
Juliana, newly appointed Queen of the Unblessed, has realized there is a bit more to her position than she first thought. Sure, it has its perks: a sinfully sexy husband who is also a king, growing powers, and a magical life that's never boring, but the drawbacks are considerable. To save her kingdom from war, Juliana accepts assistance from a witch. But when her reality turns upside down, she realizes she's been betrayed.
For a brief time, Merrick knew happiness, as much happiness as the king of necessary evil could ever feel. Juliana has become the light in his darkness. Though he can never tell his wife he loves her—or risk upsetting the balance of both the mortal and immortal realms—the words are understood between them. Or so he thought. When she falls prey to a wayward spell, becoming encased in stone, he knows he'll have to risk everything to gain the only thing he truly wants.
Warning: This book contains hot sex, violence, an evil witch, a blundering wizard, meddling sprights, a new queen and the lustful king who plans on showing her just how fun it is to be in charge.
Click Preferred Format Below For Buy Links:
Audiobook Info
This book is not currently in audio.
"Michelle M. Pillow has created a fantastic series overflowing with magic and a plot so thick I found myself rereading different chapters to make sure I hadn't missed a thing. Lovers of Ms.Pillow's work will enjoy her latest book as it is enchanting and full of everything needed to keep you coming back for more."
"Twists abound in Pillow's third Realm Immortal tale, which boasts drama, intrigue and unique characters."
★★★★★
5 STARS! "Ms. Pillow approaches the magical realm from a refreshingly new angle. Magic and myth are enhanced by mystery and romance with a topping of hot and steamy topping. I hope this book is not the last of the Realm Immortal as I'd love to read more." 
| | | |
| --- | --- | --- |
| Print Pages | Hours to Read | Total Words |
| 376 | 5 – 6 Hours | 62K |
Original Copyright Release Date: 2007/03/06
CW: Michelle M. Pillow's books contain adult subject matter, graphic violence, and are not suitable for all audiences. 
Book Heal Levels: Spicy Carnal
Tropes:
Fated Mates, Alpha Hero, Morally Gray Hero

Different Worlds, Other Realm. Epic Journey 

Nobility & Royalty

Goblin King, elves, fairies, sprights, trolls, demons, fantasy creatures
Woman in Peril, Damsel in Distress
Tolkien's Lord of the Rings meets the movie Labyrinth, with romance.
Immortality has a way of changing fate in the Realm Immortal Series!
A scintillating romance series: When the elfin king Merrick tricks Lady Juliana into entering his realm, he plans on seducing her and claiming her as his own. Can she resist his temptations or will she give in to his immortal will?
Epic High Fantasy, Paranormal Romance series NYT & USAT Bestseller Michelle M. Pillow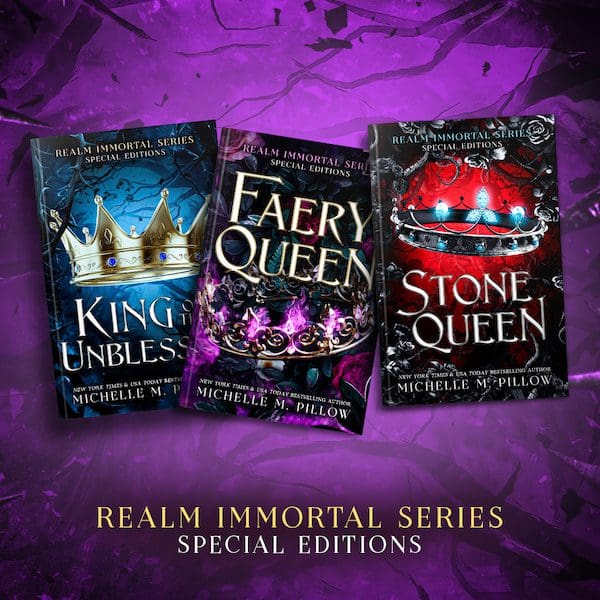 5 Stars! "Ms. Pillow approaches the magical realm from a refreshingly new angle. Magic and myth are enhanced by mystery and romance with a topping of hot and steamy topping. I hope this book is not the last of the Realm Immortal as I'd love to read more." LASR, May 2009
4 Stars! "Twists abound in Pillow's third Realm Immortal tale, which boasts drama, intrigue and unique characters." Romantic Times Magazine, December 2007
4 Angels! "Michelle M. Pillow has created a fantastic series overflowing with magic and a plot so thick I found myself rereading different chapters to make sure I hadn't missed a thing. Lovers of Ms.Pillow's work will enjoy her latest book as it is enchanting and full of everything needed to keep you coming back for more." FAR, April 2007