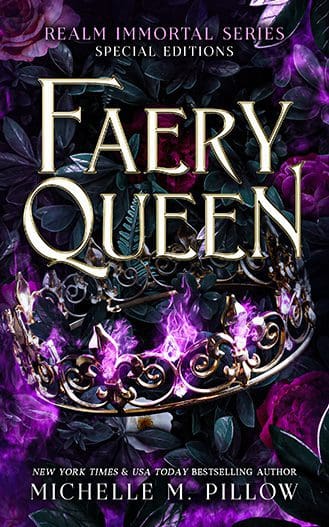 It is ill-advised to incur the wrath of a faery, but it is most foolish to do so of a faery queen…
At first sight, Queen Tania of the Faeries knows that Hugh, Earl of Bellemare, is her one true love. Yet a year has passed since he promised to return, and now she knows he never intended to come back. With her mood darkening and her castle tarnishing, Tania vows to teach Hugh a lesson he'll never forget. That no human should dare deceive a faery queen. In her despair, she turns to King Lucien of the Damned, and swears a blood vow that risks the fate of all the faeries—and Hugh's soul.
Suspicious of the magical world, Hugh wishes he'd never discovered the truth of what was beyond the mortal realm. Noble duty consumes his time—but not his heart. He lost that to the seductive Queen Tania, who surely wanted him only as her plaything. Despite his vow to forget the teasing nymph, she haunts his every thought. When he finds himself kidnapped by the demon king and back in Tania's arms, Hugh cannot resist her charms. But with his family's safety at stake and the land at war, he must return to his home. Even if it means destroying Tania's life.
In a war-ridden land, destiny rides on the wings of a faery queen and on the will of an earl who refuses to acknowledge their love.
Warning: This book contains hot sex, violence, a castle full of amorous faeries, a vengeful queen succumbing to her darker thoughts and the human she would make her plaything.
Click Preferred Format Below For Buy Links:
Audiobook Info
This book is not currently in audiobook.
★★★★★
5 Stars! "Pillow has created a complex world and a heartbreaking love story filled with friction, angst, and deep love. While most definitely a fantasy piece, both the lead characters and the supporting characters are very real."
★★★★★
5 Stars! "Faery Queen is a rich enthralling story, filled with paranormal creatures, love and lust. I was fascinated right from page one and enjoyed the seemingly irresolvable barriers that stand betweenHugh and Tania. Add to this the magic and the battle between good and evil, and you have the ingredients for a great story." 
★★★★★
5 HEARTS! "Michelle M. Pillow brings her readers back into the immortal realm of faeries, wizards, gnomes and other mystical creatures in this action packed romance between the Faery Queen and Lord Bellemare. A true romance, magic and evil will thrill the reader. …Ms Pillow gives her fans hot, sultry sex scenes, action and adventure and great characters."
| | | |
| --- | --- | --- |
| Print Pages | Hours to Read | Total Words |
| 386 | 6 – 7 Hours | 69K |
Original Copyright Release Date: 2006/09/19
CW: Michelle M. Pillow's books contain adult subject matter, graphic violence, and are not suitable for all audiences. 
Book Heal Levels: Spicy Carnal
Tropes:
Fated Mates, Alpha Hero, Morally Gray Hero

Different Worlds, Other Realm. Epic Journey 

Nobility & Royalty

Goblin King, elves, fairies, sprights, trolls, demons, fantasy creatures
Man in Peril, Man in Distress
Tolkien's Lord of the Rings meets the movie Labyrinth, with romance.
Immortality has a way of changing fate in the Realm Immortal Series!
A scintillating romance series: When the elfin king Merrick tricks Lady Juliana into entering his realm, he plans on seducing her and claiming her as his own. Can she resist his temptations or will she give in to his immortal will?
Epic High Fantasy, Paranormal Romance series NYT & USAT Bestseller Michelle M. Pillow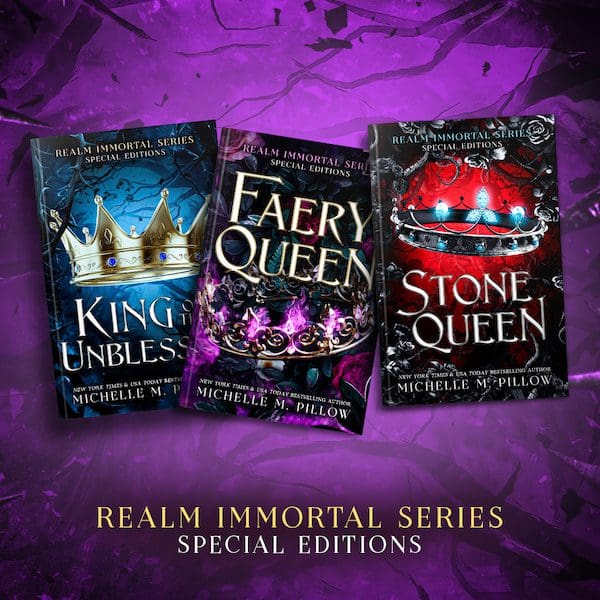 "Those who are hardy and brave will applaud this tale of love." RT Magazine, May 2007
5 BOOKS! "Faery Queen is a rich enthralling story, filled with paranormal creatures, love and lust. I was fascinated right from page one and enjoyed the seemingly irresolvable barriers that stand betweenHugh and Tania. Add to this the magic and the battle between good and evil, and you have the ingredients for a great story." LASR, May 2009
"We could all use a little bit of Euphoria now and again. …Michelle M. Pillow is pure magic." Sensual Reads, March 2008
5 Stars! "Pillow has created a complex world and a heartbreaking love story filled with friction, angst, and deep love. While most definitely a fantasy piece, both the lead characters and the supporting characters are very real." Jennifer, CK2S Reviews, September 2006
5 HEARTS! "Michelle M. Pillow brings her readers back into the immortal realm of faeries, wizards, gnomes and other mystical creatures in this action packed romance between the Faery Queen and Lord Bellemare. A true romance, magic and evil will thrill the reader. …Ms Pillow gives her fans hot, sultry sex scenes, action and adventure and great characters." Love Romances, October 2006
4 ANGELS! "In Faery Queen, Michelle Pillow has created a satisfying romance and an intriguing fantasy world." Fallen Angels Reviews