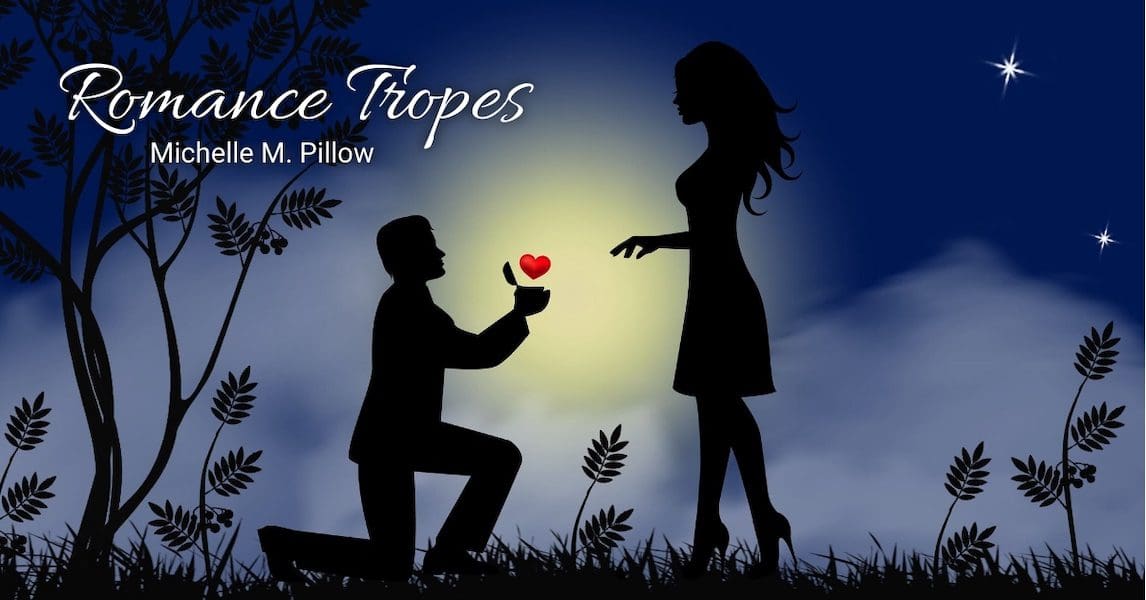 What is the Forced Proximity Romance Novel Trope?
Forced Proximity is a trope in romance novels where the romantic couple, usually from different worlds or circumstances, are forced together in physical proximity. Whether it's to do a job, trapped in an elevator (or, you know, if you're reading a Michelle M. Pillow book, stuck in deep space in the same spaceship), they discover they have more in common than they thought. These situations can lead to unexpected emotions and growth as each character discovers something new about themselves and their feelings for one another.
The thrill of being trapped in Forced Proximity makes it an exciting concept to explore in romance novels – it's both unpredictable and satisfying! With its tantalizing mix of danger, passion and uncertainty, it's no wonder why readers love this genre so much!
Have you ever wanted to know what it feels like to be in a romantic situation that is out of your control? Forced Proximity is the perfect concept for those who love the thrill of a romance novel!
Recommended Forced Proximity Romance Novel Reads
Paranormal Women's Fiction & Romance from NYT & USAT Bestselling Author. From the Order of Magic series.
You can always go home…but sometimes, home won't let you leave. Like, literally.
Even after death, it would appear her grandmother isn't done controlling her life. (and that's putting it mildly)
A spin on the forced proximity concept, in this book, the heroine is trapped with her problems, and there is no escaping them.
If you are looking for more vendors, find them here: The Sixth Spell
Romantic Suspense, Psychological Thriller
Whose truth is the lie? Stay up all night reading the sensational psychological thriller that has readers obsessed, from the #1 New York Times bestselling author of It Ends With Us.

Science Fiction, Paranormal Shifter Romance from NYT & USAT Bestselling Author. The Qurilixen Lords series.
This fearless cat-shifter never imagined she'd become the prey.
Cat-shifter Payton refuses to be tamed by any man.
She has spent most of her life besting the over-protective palace guards to enjoy moments of wild freedom. She never imagined she'd need those skills to escape with her life.
If you are looking for more vendors, find them here: Her Lawless Prince.
Burn for Me by Ilona Andrews
Romantic Fantasy, Magic Romance
#1 New York Times bestselling author Ilona Andrews launches a brand-new Hidden Legacy series, in which one woman must place her trust in a seductive, dangerous man who sets off an even more dangerous desire . . .
Bradi (Interstellar Alphas) by Mandy M. Roth
Paranormal Shifter Fated Mate Galactic SciFi Military Romance
New York Times bestselling author Mandy M. Roth
When the heart sets its course, even home is no escape…
Alpha male shifter, Lieutenant Commander Bradi Janelle isn't looking for a mate. Hell, he goes out of his way to avoid the prospect altogether—until the sexy little number in the infirmary makes a mockery of his ladies' man façade. Now, trapped with her in an escape pod, she's way too close for comfort. Too close to deny himself the pleasure of her body.
Hunted (Brides of the Kindred) 
Alien Warrior Romance, Enemies to Lovers, Forced Proximity
Sophia is being Hunted and the only one who can save her…is the Alien Warrior she fears the most.

The Hero and Heroine are on the run together and stuck in a tiny cabin in the woods while the bad guys chase them.
The Bride Test by Helen Hoang
Heartwarming Multicultural Romance
From the USA Today bestselling author of The Kiss Quotient comes a romantic novel about love that crosses international borders and all boundaries of the heart…
With Esme's time in the United States dwindling, Khai is forced to understand he's been wrong all along. And there's more than one way to love.
Hook, Line, and Sinker by Tessa Bailey
Friends to Lovers, Romantic Comedy
In the follow-up to It Happened One Summer, Tessa Bailey delivers another deliciously fun rom-com about a former player who accidentally falls for his best friend while trying to help her land a different man…
Fantasy, Paranormal Shifter Romance from NYT & USAT Bestselling Author. The Dragon Lords series.
Just when she thinks things couldn't possibly get worse, Riona wakes up months later in an isolation chamber with a sexy, hovering dragon shifter telling her they're meant to be together…forever.
If you are looking for more vendors, find them here: The Impatient Lord.
From Lukov with Love by Mariana Zapata
Slow Burn, Sports Romance
When the offer of a lifetime comes in from an arrogant idiot she's spent the last decade dreaming about pushing in the way of a moving bus, Jasmine might have to reconsider everything.
What's included: forced proximity trope, forced proximity romance books, book tropes