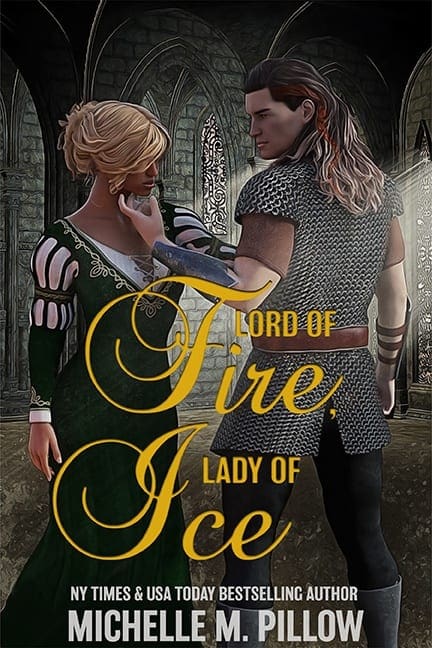 Medieval Historical Romance
"She found herself unimpressed with him, having expected more of the legendary man—Brant. Lord Blackwell. Brant the Gladiator. Brant the Vigorous. Brant the Flame. Brant the Viking Hero. Della snorted in unladylike disgust. More like, Brant the Thorn in my Arse!"
What would you do if you were told you had to marry a man who represents everything you fear?
Historical Medieval Viking Romance
Lady Della the Cold-Hearted
Lady Della despises all things Viking. They may rule the land, but they will never rule her. Unfortunately, her father doesn't seem to agree. To prove his continued allegiance to the Viking king, the Ealdorman of Strathfeld betroths his only daughter to a respected Viking Lord—a warrior who's legendary prowess isn't reserved for the battlefield. Fighting the newfound craving in her body and the unwelcome fire in her heart, Della must choose between everything she knows to be true and the one thing she never expected…
Lord Brant of Blackwell, the Fiery One
Lord Blackwell is as fiery on the battlefield as he is in his passions. He has fought valiantly as a knight for King Guthrum and has earned the respect of the nobles. When his overlord offers the hand of his beautiful daughter and the right to inherit his lands, Blackwell can hardly refuse. However, he soon discovers that his noble bride is anything but the meek and mild woman he envisioned for his wife. One minute she's kissing him back, the next she's swearing to do whatever it takes to dissuaded him from their marriage.
Can his lust for life and his new bride melt the ice that surrounds her heart? Or will Lady Della the Cold be this warrior's undoing?
Click Preferred Format Below For Buy Links:
5 Stars! "Lord of Fire, Lady of Ice is a captivating historical romance novel with many twists and turns that delivers a story that will sweep you away. I enjoyed this novel so much that I will definitely be reading more novels by Michelle M. Pillow."
5 Stars! "Loved these characters & their development. The storyline & the HEA. Maybe this is a series..?!! Would love to here of others getting their HEA too. HIGHLY RECOMMEND. HAPPY READING!!" 
5 Stars! "I loved this story and how played out, the story of how opposites attract and of how misjudged hatred turns to love." 
| | | |
| --- | --- | --- |
| Print Pages | Hours to Read | Total Words |
| 604 | 10 -11 Hours | 122K |
Original Copyright Publishing Date: 2005/11/23
Lord of Fire, Lady of Ice
CW: Michelle M. Pillow's books contain adult subject matter, graphic violence, and are not suitable for all audiences. 
Book Heal Levels: Spicy Carnal
Genre:
Historical Medieval Romance
Viking Romance
Nobility Romance, Lords and Ladies
Tropes:
Enemies to Lovers
Opposites Attract, Grumpy Sunshine
Alpha Hero, Knight in Shining Armor

Arranged Marriage, Political Marriage

Damaged lead finds happily ever after

Fairy tale retelling: Taming of the Shrew
Dear Readers,
What would you do if you were told you had to marry a man who represented everything you fear?
Della may come off as cold and indifferent, but she does it to protect herself. Childhood traumas and a lifetime spent trying to live up to expectations has made her the lady she has become. When her father orders her to marry an enemy in order to please a king, she has no choice by to obey. But it doesn't mean she has to like it…or her new husband.
Brant has worked hard to gain the notice of the king and looks forward to being off the battlefields. Too bad that when he agreed to marriage no one told him of the battles yet to come.
Like all my medieval historicals, I wrote these characters true to their time periods and full of emotions. If you enjoyed Maiden and the Monster, you'll enjoy Lord of Fire, Lady of Ice.
Happy Reading!
Michelle
Medieval Romances
Recommended Historical Reads
5 Stars! "Lovers of historical romances will thoroughly enjoy Michelle M. Pillow's Lord of Fire, Lady of Ice. Pillow's lush attention to detail shines throughout the novel, vividly revealing the scenery and the people living in Strathfeld Castle. The author's graceful prose in addition to her use of language and dialect fitting with the medieval time period makes the story even more real." Jeep Diva Reviews
5 Stars! "Lord of Fire, Lady of Ice is a captivating historical romance novel with many twists and turns that delivers a story that will sweep you away. I enjoyed this novel so much that I will definitely be reading more novels by Michelle M. Pillow." Lori for Jeep Diva Reviews (2013)
5 Stars! "Loved these characters & their development. The storyline & the HEA. Maybe this is a series..?!! Would love to here of others getting their HEA too. HIGHLY RECOMMEND. HAPPY READING!!" De'sire'e, Bookbub
5 Stars! "I loved this story and how played out, the story of how opposites attract and of how misjudged hatred turns to love." deltadee30, Bookbub