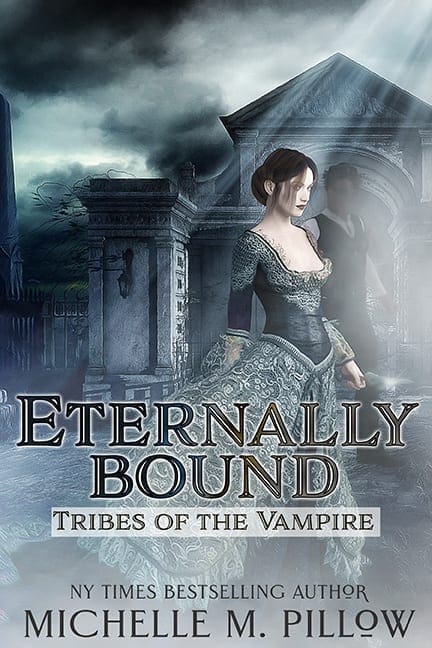 Urban Fantasy, Dark Paranormal Vampire Romance
Tatiana Sinclair has lived a perfect noblewoman's life, until the night her brother forces her to cover up a murder. Haunted by the only witness to their deeds, the intensely sensual Count Spoleti, Tatiana is led into a world she never dreamed existed.
Count Marcello Spoleti is intrigued by the female who dares to try to control the vampire. But, he also knows there is more to Tatiana than just a pretty face–much, much more. Forcing her father to give her to him, lest he tell of his children's crimes, Marcello plans on keeping the strong-minded Tatiana under his complete command.
Urban Fantasy, Dark Paranormal Vampire Romance
Click Preferred Format Below For Buy Links:
Audiobook Info
This book is not currently in audio.
★★★★★
5 Stars! "I really liked this series. If you like Vampire love stories this is it."
★★★★★
5 stars! "True love is bound for an eternity. This book was the sexiest book in the series so far." 
★★★★★
5 stars! "Oh! My heart! The longing. The heartache. The passion and love. … I love the mixture of paranormal in this story. Vampire. Lycan. Witch and spirits. What a collection of imagination!"
| | | |
| --- | --- | --- |
| Print Pages | Hours to Read | Total Words |
| 618 | 9 – 10 Hours | 104K |
Original Copyright Release Date: 2005/03/14
CW: Michelle M. Pillow's books contain adult subject matter, graphic violence, and are not suitable for all audiences. 
Book Heal Levels: Spicy Carnal
Tropes:
Dark Vampires who don't sparkle

Different Worlds, 

Blackmail, Nobility

Vampire, Antihero, Morally Gray Hero

Witch, Werewolf, Wolf Shifter, Magic
Damaged lead finds happily ever after
Destiny brings them together, while powerful and dark vampiric forces conspire to tear them apart.
Dark Paranormal Vampire Urban Fantasy Romance by NYT & USAT Bestselling Author Michelle M. Pillow