Spoiler: HECK YEAH IT IS! (at least this one is!)
Also Known As:
1000s of legit free ebooks
Stuff Your Ereader
Stuff Your Kindle
Stuff Your Ipad
Stuff Your Nook
Stuff Your Kobo
Stuff Your Andriod
ZoeBub – Romance Bookworm
Witchy Bookworm
NK Tribe Called Success – Cavalcade Club
Next Event Dates:
Wednesday, Sept 20 to Friday, Sept 22, 2023 – Romance Bookworm
October 13-15, 2023 – nktribecalledsuccess.com

Saturday, October 28, 2023 – Witchy Bookworm

Wednesday, December 27, 2023 – Romance Bookworm
Future Dates TBD (Join Michelle's newsletter. We'll send a note each time she participates!)
What is the Stuff Your eReader Event?
It's an event where you can buy the books for $ZERO on vendors.
There have been several collective events that fall under this moniker over the years. Maybe you have seen some that Michelle M. Pillow has hosted with Mandy M. Roth in the past? Or found others in Michelle's newsletter? The surefire way to see if an event is legit is to follow the authors you trust.
These events are a collective project put on by HUNDREDS+ of romance authors in appreciation of our readers. THOUSANDS+ of books have been given away in the past!
This is not book lending or a Kindle Unlimited. You don't have to have Amazon Prime. It is not put on by any one vendor but a collective of authors.
A special thanks needs to go out to Zoe York for hosting the next event coming up at Romance Bookworms. To Louisa West for hosting Witchy Bookworms. And to Naleighna Kai of Cavalcade Club.
Is it only for Amazon Kindle?
For the events listed above, specifically? No. It has sometimes been dubbed Stuff Your Kindle by readers, but actually, you can usually get free books on Barnes and Noble Nook, Kobo, Apple Books, GooglePlay, and Amazon Kindle.
Since I got the book free, can I give it away to others?
No. That's pirating. It's illegal, and it severely hurts authors. Instead, send your reader friends to the link to download their own copy legally from vendors. Authors participate in these limited-time events in hopes you will love their book and go buy more. It's how they all make a living, after all. Please support authors, and don't pirate.
What kind of ebooks?
These events are generally put on by indie Romance Authors. Check the promotion for details.
For Romance Bookworms, you can find a great list of romance subgenres: Paranormal, Sci-Fi, Fantasy, Historical, Suspense, Mystery, Urban Fantasy, Women's Fiction, Contemporary, Rom Com, Chick Lit, New Adult and Young Adult. Heat levels will range from sweet to super steamy. There is also a section for finding books by authors in the categories of: BIOPIC, LGBTQ+, and Authors with Disabilities.
Each event varies, so be sure to check out their directions.
Why do authors do this?
It's not a secret that authors need to sell books to live. We also understand that readers new to us might want to try before they buy to make sure we're the right author for them. This is a win-win. You get books. We get new readers!
I'm a Reader, I want in!
1. Join Michelle's newsletter. She'll send a message whenever she participates in an event, so you don't have to remember the dates.
2. Watch for date announcements and mark your calendar. For example, on the date, go to Romance Bookworms.
Please pay attention to the dates. They are subject to change. These are limited-time events, lasting short periods of time. Vendor pricing is final, and authors can't always control price changes, so check before you buy.
I'm an Author, I want in!
The Michelle M. Pillow site does not host the Romance Bookworm "Zoebub" event or set future dates. Check out Romance Bookworm Authors for up-to-date author info.
Each giveaway has its own rules. If you see one you want to join, email one of the authors in it and ask them.
Lords of the Var Series
From NYT Bestselling Author Michelle M. Pillow
SEPT-OCT 2023 FREEBIE! Get it now before the price changes!
Paranormal Shifter Royal Romance, Sci-Fi Fantasy Romance, Fated Mates
Get the FREE Ebook at Vendors! LIMITED TIME!
*Book one ebook is free at select vendors. Check before you buy. Vendor pricing is final. May vary by country. If you don't see it free in your country at one vendor, try another.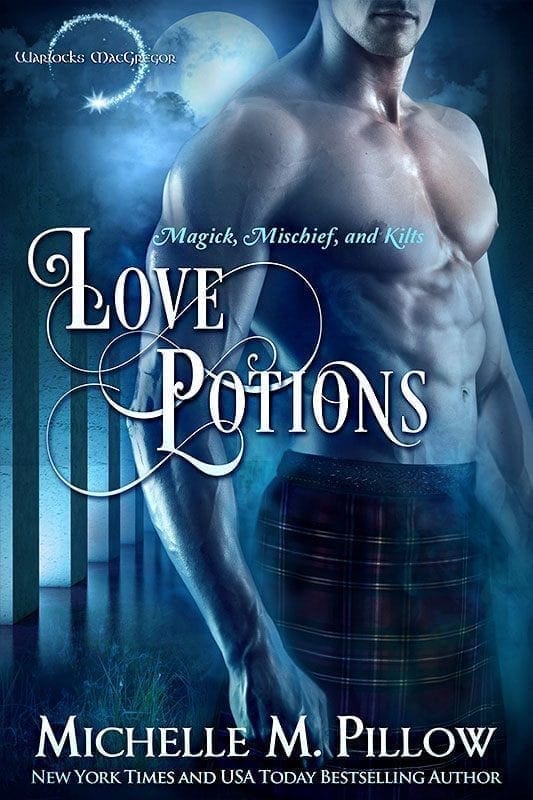 FREEBIE!
Love Potions (Warlocks MacGregor Book 1)
A little magical mischief never hurt anyone until a love potion goes terribly wrong.