The Enchanting Universe of Intergalactic Dating Agency: A Sci-Fi Romance Multi-Author Collection
If you are a fan of science fiction and romance, then the Intergalactic Dating Agency (IDA) universe is bound to capture your imagination. The IDA universe is an exciting amalgamation of captivating stories by talented authors hailing from different corners of the literary world. In this blog post, we delve into the multi-author universe of IDA and introduce you to some of its brilliant contributors.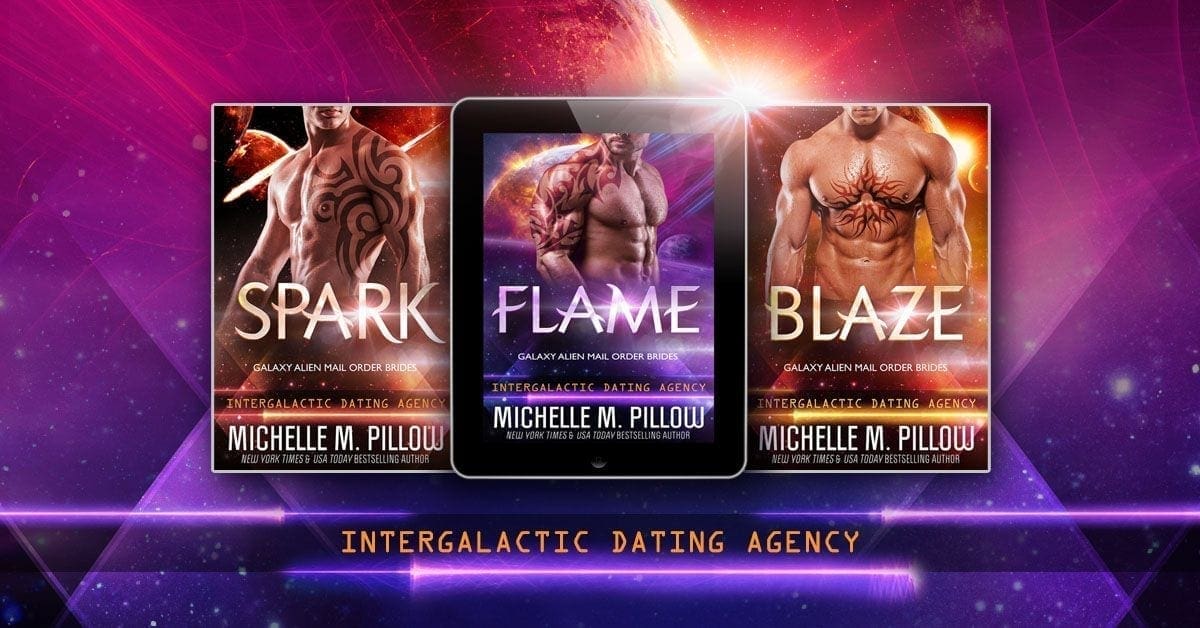 What is the Intergalactic Dating Agency?
The Intergalactic Dating Agency series features an array of authors who have brought their distinctive storytelling abilities to the world of science fiction romance. Each author writes in their own series under the banner of the Intergalactic Dating Agency universe.
These books offer readers a diverse range of compelling characters, thrilling adventures, and heartwarming romances set in a sci-fi world unlike any other.
Writing is a wonderful job, but it can get lonely too! Having a group of amazing authors to share plot tangles with, and bond over release day excitement is such a joy! And of course, all of our readers get to discover and enjoy so many more books, since we all share each other's books with our readers!
Intergalactic Dating Agency FAQs
Is there an Intergalactic Dating Agency reading order? Do I have to read them in order of release?
The different series by different authors are NOT interconnected. You do not have to read every IDA book in a certain order. They are connected by genre. Each series will have a reading order. Please check the author's website or series pages on vendors for reading orders for each individual series.
For example, Michelle M. Pillow's series, Galaxy Alien Mail Order Brides, currently has 6 books. You can find the reading order here.
What is the theme?
We are each writing an alien romance trilogy set in the skies – each book features a separate couple and has a wonderful HEA – so you can really get to know the worlds we've created! – Answer by Tasha Black
Why do the covers look similar?
To make it easier for you to find our books! We want you to recognize Intergalactic Dating Agency books right away! The goal of the project is to give YOU, the reader, more sexy, adventurous alien romances than any of us could ever write alone! – Answer by Tasha Black
The Intergalactic Dating Agency books are so fun to read! Shortish, insta-love, steamy romances with just about every kind of alien you could imagine! I fall in love every time I start a new book. 
IDA was an opportunity to write in my existing world from a different angle…and it's been so much fun! Not to mention, when I tell readers about the other IDA books, I might have one-clicked a number of them…because I can't resist a hot alien romance.
Authors Writing in Intergalactic Dating Agency*
Michelle M. Pillow, Kate Rudolph, Elsa Jade, Demelza Carlton, A.M. Griffin, Ellis Leigh, Kenzie Cox, Tasha Black, Erin Kellison, Susan Hayes, Elle Thorne, K. Cantrell, Cara Bristol, Annie Nicholas, Sue Mercury, Lea Kirk, Susan Grant, Skye MacKinnon, Tamsin Ley, Candice Gilmer, Sophie Stern.
The Intergalactic Dating Agency boasts an impressive roster of talented authors who have contributed their unique storytelling prowess to this enticing universe. Here's a glimpse into some notable books:
Featured Books
Earth women better watch out. Things are about to heat up.
Mining ash on a remote planet where temperatures reach hellish degrees doesn't leave Kal (aka Spark) much room for dating. Lucky for this hard-working man, a new corporation Galaxy Alien Mail Order Brides is ready to help him find the girl of his dreams. Does it really matter that he lied on his application and really isn't looking for long-term, but rather some fast action? Earth women better watch out. Things are about to heat up.
red hot alien, alien invasion, romantic comedy
Tazhio (Kirenai Fated Mates) by Tamsin Ley
Introverted Tamara agrees to go on a space cruise at the insistence of her three sisters, but she insists on taking her dog. Hotshot alien pilot Tazhio knows as soon as he spots Tamara across the tarmac that she's his mate, but crew are forbidden from having romantic relationships with the passengers. When fate catapults them into a life-or-death situation on a hostile planet, Tazhio must defy intergalactic rules and save Tamara by claiming her as his mate.
shapeshifer, pregnancy, shy girl, funny, alien planet
So You Think You Can Marry an Alien (Stargazer Reality Show Brides 1) by Tasha Black
Kent and his brothers have traveled from planet Aerie to Earth to take human females as mates and pleasure them into unbreakable interplanetary relations. As part of the project, Kent agrees to star on a reality show, meant to let humans see how relatable aliens are. When he meets a mysterious young woman, he begins to understand the pent-up cravings and desperate demands of his new human body.
Aliens on Earth, BBW romance, Reality Show romance
Fang (Colony: Nyx #1) by Demelza Carlton
When vampire dentist Dr Fang (yes, really) gets invited to go to the Intergalactic Dating Agency's speed dating event as his friend's wingman, he can't refuse. He isn't looking for love, let alone his fated mate, but one taste of the pretty young human girl Dani, and he's hooked.
Dani isn't sure what frightens her more: aliens, vampires or dentists…only to discover that there are much more dangerous beings in the Colony…and the hot alien vampire dentist might be the exact hero she needs right now.
Fates mates, vampire alien, first time, sold to the alien
Thorrn (Starlight Highlanders #1) by Skye MacKinnon
Thorrn, a kilt-wearing alien warrior, is on a mission to find Earth women to match with his species, but he's resigned to remain alone forever. Everything changes for him when he encounters Jenny — who unexpectedly awakens his mating instincts…
Fated mates, highlanders, warrior, kidnapping, misunderstandings
DARAK (Dakonian Alien Mail Order Brides) by Cara Bristol
Lexie brings an alien as her plus-one to her sister's wedding to shock her disapproving family. But Darak recognizes that she's his fated mate. He has one weekend to convince her they're meant to be together forever.
Fated mates, Aliens on Earth, funny alien romance
Radek (Star-Crossed Alien Mail-Order Brides) by Susan Hayes
This book contains a sassy chef whose dreams just went up in flames, and a runaway snow dragon prince who came to Earth looking for answers – and found his destiny instead.
Dragon Shifter, Alien First Contact, kidnapped, fated mates
Fly with Me (Silverstar Mates) by Lea Kirk
She's heading to Vegas. He is on his final patrol. Hang onto your hair rollers because an alien abduction is about to crash their retirement plans.
First contact. Rom com. Silver fox. Alien abduction. Winged aliens.
A small-town Earther girl hiding from life and an arrogant alien prince on the run from his royal responsibilities are fatefully linked by a malfunctioning intergalactic dating algorithm. Can their stars still align when it turns out that Sin's inheritance might be a lie–and so is his perfect match with Zoe?
Runaway alien prince, grumpy heroine, mating rings
She's hot. She's sexy. She's everything a lonely alien could want… except for the part where she captures him and puts him in a cage.
blue alien, romantic comedy, first contact
As each author contributes their creative vision to the tapestry that is the Intergalactic Dating Agency universe, readers are transported to worlds where love transcends boundaries and conventions. This multi-author collaboration allows for endless exploration of unique romantic encounters against a backdrop of science fiction wonder.
If you're ready to embark on a thrilling journey through unknown galaxies, the Intergalactic Dating Agency will undoubtedly sweep you off your feet. Immerse yourself in unforgettable tales that blend scientific discovery, cosmic intrigue, and heart-pounding romance. Whether you're a seasoned sci-fi aficionado or simply looking for an out-of-this-world love story, IDA promises an adventure like no other.
I love how IDA brings readers and authors together from across the world in our shared love of sexy aliens.
I love the synergy and cooperation of authors writing in the same genre coming together for a group project. The IDA is special. It's been my most favorite group project ever.
Writing in a shared world with the other Intergalactic Dating Agency authors is an adventure in itself. Talented, funny, and brimming full of ideas for alien romance, these ladies are wonderful, and so are their stories.
Joining this talented group of authors writing for the IDA gave me the opportunity to create and explore a whole new universe. I was encouraged to "spread my wings" so to speak, and boy did I ever! Eternally grateful to be a part of this project, and for the camaraderie and support from my fellow IDA authors.
*Please Note: The information provided has been compiled based on available data from romancingthealien.com. This list may not include all authors contributing to the Intergalactic Dating Agency universe. For further information and updates on new releases, kindly refer to the official website or respective author pages.
Views of the article writer do not necessarily reflect the views of the author, who may or may not have read the books mentioned.