Just released Her Lawless Prince! This thrilling sci-fi paranormal romance follows the story of a fearless cat-shifter who never imagined she'd become the hunted. When her life is put in danger, she must use all of her strength and courage to survive and protect those she loves.
Includes some of your favorite tropes!
Fated Mates
Forbidden Love
Nobility & Royalty
Cat Shifter
Forced Proximity
Love Triangle (Imaginary Love Triangle)
Mistaken Declaration of Love
Star Crossed Lovers
Tortured Hero / Tragic Past
Artificial Intelligence / Cyborg / Alien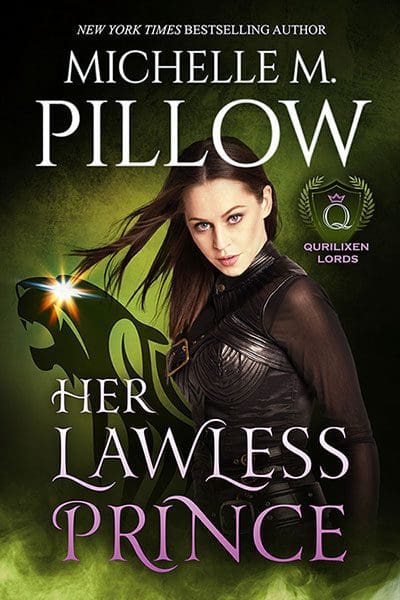 Qurilixen Lords series
This fearless cat-shifter never imagined she'd become the prey.
From NY Times & USA TODAY Bestselling Author, Michelle M. Pillow, a fantasy science fiction romance!
Cat-shifter Payton refuses to be tamed by any man.
Being the adult daughter of the fiercest shifter commander on the planet does NOT have its perks. Add to that the fact that she's also a princess, and Payton has spent most of her life besting the over-protective palace guards to enjoy moments of wild freedom.
She never imagined she'd need those skills to escape with her life.
When a mysterious stranger arrives spouting conspiracies about her people's future, she's sure he needs a one-way trip to medical supervision. But the infuriatingly seductive outlaw knows things about her he shouldn't–intimate things, embarrassing things. And when one of his warnings turns real and takes them captive, Payton is made a believer. She only hopes it's not too late to save her people from extinction.
A quick note from the author…
Dear Readers,
I am so THRILLED to have this book out. You don't even know (unless you follow me in the fan club then you do know lol).
Her Lawless Prince AMAZON UPDATE!!!
I made a joke on social media about Payton being a PITA and I was happy to give her care over to the readers which she apparently didn't find funny. Neither did the universes…
Amazon just let me know that the Her Lawless Prince EBOOK preorder has been delayed until the 20th. If you preorder, you should get it on that date. I'm sorry, I can't do anything about this and honestly, I'm too scared to touch anything in that dashboard until you have it in your hands.
GOOD NEWS!
Hardback and Paperback are available on Amazon right now! They will be out at other bookstores just as soon as they process.
EBook: All other vendors released TODAY on time.
I'm sorry for the delay. Trust me, I WANT you all to read this book. It's been a long year in the making. Thank you for your patience. I heart you all!
Happy Reading!!
Michelle