FAQ Amazon Kindle
No Kindle? No Problem!
(Prime Members) / Kindle Unlimited – These are Amazon run programs for borrowing books via Kindle rather than buying outright. Please see their website for full terms and if it is available in your country.
WHAT BOOKS OF YOURS CAN I BORROW?
Available titles changes regularly.
1. Go to my amazon author page: amazon.com/author/michellepillow
2. Look for the Kindle Unlimited logo on my book listings.
Check Michelle on Kindle Unlimited for a current listing of books.
3. Go to that book page and Happy Reading!

DON'T OWN A KINDLE DEVICE? NO PROBLEM!
KINDLE ONLY BOOKS: You can still read them even without a device – click here for instructions.
NO KINDLE? Click here for instructions.
HOW TO READ WITHOUT OWNING A KINDLE
Kindle has a free app you can download to read Kindle versions on your computer.
Don't own a kindle but want to be able to read the book?
Here are the links to read kindle books without owning a kindle device:
See the below links:
FREE Kindle Reader for PC
FREE Kindle Reader for MAC
Other devices (android, tablet, ipad, etc)
Then simply order you book from Amazon. It automatically sends it to your computer after checkout. (see Amazon.com for full details)
Here are more detailed directions if anyone needs them.
Everyone with access to Amazon's website may get the book. It's pretty easy once you know how.
1. If you don't have a Kindle, there is a free reader for your computer/tablet/phone so you can read it: (see above links)
2. Buy the book.
3. Amazon will automatically put it into the app you installed so you can access it instantly.
Hope that helps. Please let me know if have problems and I'll be happy to find you an answer. Hope you enjoy the book.
MICHELLE BOOKS ON AMAZON – STAY UP TO DATE!
If you want to know about ALL VENDORS – Sign up for my Author Newsletter.
1. Go to my amazon author page: amazon.com/author/michellepillow
2. Click the ADD FAVORITE Button.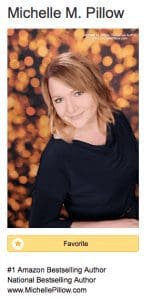 How to article provided compliments of Michelle M. Pillow, Copyright (c) Michelle M. Pillow 2014 michellepillow.com