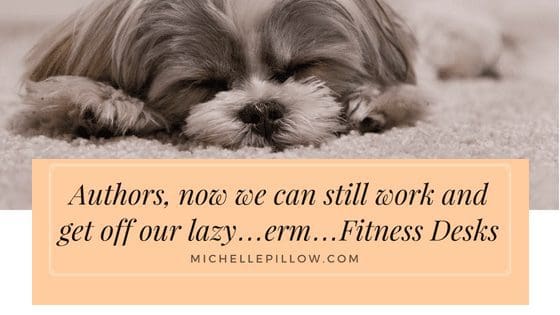 Over the last year, I've noticed more and more people discussing the multi-tasking phenomenon of work and exercise. As authors under what now seems to be a constant deadlines in the fast paced, pump out a ton of books a year market, exercise seems to be one of the things we need the most…and one of the first things to get knocked off our list of things to do in a day.
It doesn't have to be that way. Here are several options for you to check out to stay healthy and on work track.​
---
The Treadmill Desk
This was the first version of work while working out that popped up on all the author groups I belong to. There are several versions on the market from models like (listed cheapest to most expensive as of the time of this post) TrekDesk Treadmill Desk (left), the Exerpeutic 2000 WorkFit High Capacity Desk Station Treadmill (right), or the LifeSpan TR1200-DT5 Treadmill Desk.
Each of these options come with various features, from desk size and position to type of treadmill. I recommend using those links as a starting point and to shop around before purchasing to make sure you get the price and the features you personally need.
---
For those of you who are too clumsy for the walk and type, these following options offer a nice alternative:
To the right, you'll see FitDesk v2.0 Desk Exercise Bike with Massage Bar​. Ride at your own pace while working. Hey, as a bonus if you get lost in the world-building maybe you'll actually forget your working out.
Or perhaps you'd like the FitDesk Under Desk Elliptical (pictured left). And if you're really into working out at your desk, there's plenty of accessories to chose from.
---
​Cheaper Alternatives
And the best part is that not every option needs to cost a lot of money or take up a ton of space. You can pick up a DeskCycle Desk Exercise Bike (left) for less than $200.
Or, if you are truly talented…unlike me who'd probably forget they were on a balance ball and fall over in the middle of a fight scene… you can get a​ Gaiam Balance Ball Chairfor less than $100. (It even comes in Lime Green!)
​Already have a treadmill, elliptical or stationary bike? No worries. There's a cheaper desk attachment that you can use without having to repurchase an expensive piece of workout equipment. For example, the SurfShelf Treadmill Desk: Laptop and iPad Holder (left).
Don't need it to hold a laptop? Some author don't like typing or moving. That's ok, you can still multitask with an iPad holder (right). Exercise Mount for iPads (SALE NOTICE: At the time of this article this was on sale for less than $10, but is normally listed for under $50. Be sure to check it out if you're interested.)
---
REVIEW: FitDesk 2.0
Fitdesk 2.0 Review
by Carina Wilder, Author
The Fitdesk v2.0 isn't perfect. Its seat needs a better adjustment system, and overall to better accommodate most people's posteriors. The integrated resistance bands aren't particularly useful and more often than not, they come loose (plus, try using them while typing. I dare you). Still, I had three workouts on my Fitdesk this week: 65 minutes, 77 minutes and 55 minutes. As a writer, I use the bike while I work and I love that an hour later, I'm a sweaty mess and haven't even noticed that I've worked out.
As I understand, it's still being sold for $299, making it a much cheaper alternative to a lot of exercise bikes. The laptop desk is great; it's got a non-slip surface and has rolling wrist supports on an adjustable bar to help prevent injury. I find that my brain functions better when I'm biking than when I'm sitting or lying still. So overall I recommend the Fitdesk with the caveat that if there's a 3.0 on its way, I'd recommend that you wait for that one. They could definitely improve upon the design, and I hope they do.