Michelle M. Pillow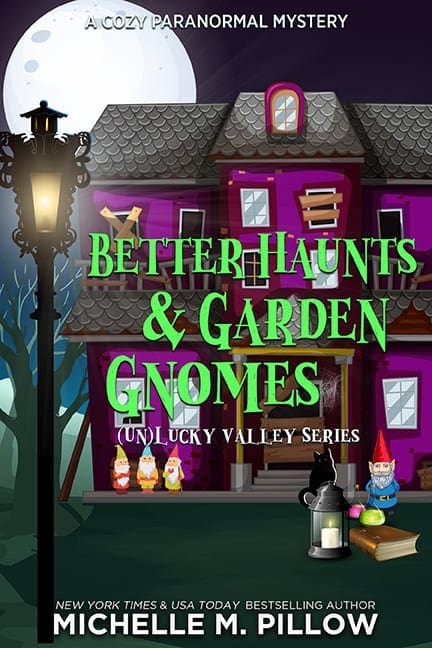 I've been a published author for about 15 years now, and during that time I've had the opportunity to write in many different romance genres—dark fantasy, historical, paranormal, contemporary, sci fi, futuristic. One thing became obvious very quickly in my career. For better or worse, I wasn't a one-genre writer. My muse likes to explore and research, so I let her.
My first "cozy mystery paranormal romantic comedy" (say that ten times fast), was in The HappilyEverlasting Series project with Mandy M. Roth, Kirsten Painter, and JanaDeLeon. We each wrote a different book in a shared world. In the first book, Fooled Around and Spelled in Love, AuntPolly quickly became a fan favorite. (You can see her make appearances in MandyM. Roth's book in that series.) She started as the lovable, quirky aunt to Fooled Around and Spelled in Love's heroine, Anna. She runs a tiny, and slightly questionable, magic shop in the back ofAnna's coffee shop.
So why did I write BetterHaunts and Garden Gnomes? For Aunt Polly. Readers love her. I love her. She's too much fun to stop.
My new series is called (Un)LuckyValley where I bring my Polly character from those other books to a new setting.
Aunt Polly goes where she is needed, and a long-lost relative is in some serious need of her brand of magic. Lily Goode just inherited a creepy mansion in Lucky Valley, Colorado. It comes complete with neighboring ghost town, Unlucky Valley. The residents aren't too welcoming and blame Lily's family for the string of bad luck that runs through town.
Nolan Dawson, one of the town's favorite sons, is the city code enforcer and is give the task by the town council to run the Goodes out of town. He agrees, thinking it's what's best, but then he meets Lily and all bets are off. And it looks like he's not the only one tasked with frightening Lily.
Oh, and Aunt Polly brings her gnome army with her. No one is quite sure what is happening with those statues, but they're popping up everywhere.
(Un)Lucky Valley has it all—werewolves, witches, ghosts, other supernatural creatures, mystery, and a run of really bad luck.