Since this has come up a few times in my FB group…
To make #kindlequotes that you can share on social media. This example is from my book Second Chance Magic using an iPhone Kindle App. (I'm told that this does not work on the Android Kindle App at this time so you'll just have to try your device and see.)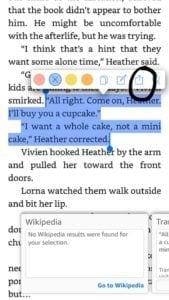 Highlight the part you want, click the icon option shown on the graphic.
Hint – After you push that icon, click the Text tab up top and copy the quote, link etc so you can paste that easily to your post when you put the graphic up. It will save you having to type everything out.
Thanks for spreading the book love!
Be sure to tag me when you post mine online so I can share them too!