Amazon Direct Publishing's KDP University with Michelle M. Pillow
Thank you to everyone who attended my interview webinar with Amazon Direct Publishing's KDP University discussing book marketing, publishing, branding, and writing in multiple genres, as well as using Author Central and A+ content to create a strong book release. Scroll down for RESOURCES TALKED ABOUT IN THE VIDEO.
From KDP University, About the Video:
A romantic at heart, Michelle M. Pillow loves stories with a happy ending, imperfect characters, and good mysteries that are challenging to solve. Though she writes in many genres—and has sold a million books across them!—she's best known for her sci-fi and paranormal romances, mysteries, and paranormal women's fiction. Join us as Pillow shares how she uses resources like Author Central and A+ content to create a strong book release. 
Resources talked about in the video
Locating Author Central, Kindle Select, and A+ Content in your KDP Dashboard:
Marketing Option> Everything is listed here. Be sure to check out all the features available to you!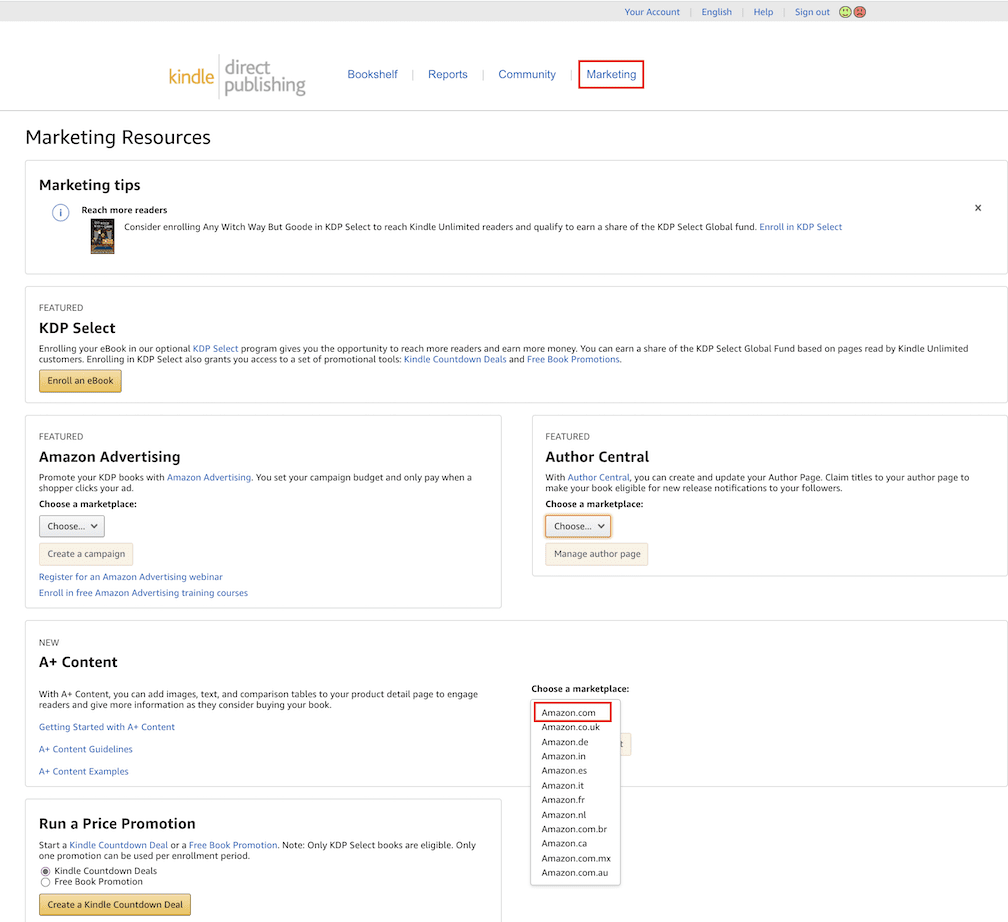 Quick Tips for A+ Content (watch the interview for more in-depth tips)
Create all the content modules you want in the US first. (Very Important, US FIRST. It doesn't always go the other direction between countries). Then go to the new marketplace: Switch Marketplace > check "Show Auto-Created Content". This will copy over what you made in the US marketplace to the following markets (as of writing this): US UK DE IN CA AU
Put in ASINs for EACH format you do in your KDP Dashboard – ebook, paperback and hardback – and don't forget preorders.
To get content up faster, do series content and then put all the series ASINs in for all formats.
Go to A+ Content dashboard, choose your modules, and write down the graphic sizes you'll need before starting your graphics. I recommend Photoshop, Bookbrush or Canva.
To make graphics for A+ Content
(Cost $8.25 – $20.50 a month)
They have templates for making A+ Content: Go to Custom Creator > Ad Size > Amazon logo > Choose your template
TIP: Because not all may have a template, go to A+ Content dashboard, choose your modules, and write down the sizes you'll need before starting.
 Canva
(Cost Free – $12.99/mth)
On the very top right go to: Create a design > Custom Size
TIP: Go to A+ Content dashboard, choose your modules, and write down the sizes you'll need before starting.
Marketing Checklists (watch the interview for more in-depth tips)
TIP: Customize a Release Checklist for your books, using your contacts and leads. But here's a few to get you started:
I keep lists of contacts I've made of the years—bloggers, authors, vendors, professional organizations—who I let know whenever I have a release. With other authors, I make sure I'm talking about their releases and sales when they have something. I love it when author friends do well, and in return they support me.
 Preorders
When I have the buy links:
Add book to my website(s), social media pages, and tell my newsletter
Add to my blog. This is set up to feed out to places like Goodreads and my Amazon Author page.
Update my Reading Guides
Update backmatter in other books in the series
Share the news with my author professional affiliations (like The Authors Guild)
Claim it in Author Central and add the additional metadata available there
Create social media graphics
Set up any newsletter swaps or jacket quotes with author contacts
You can do cover reveals, social media polls, teasers, anything to get readers excited by what's coming
Set up a preorder for the next book in the series right before this one releases so readers will have a buy link and know more is coming
Share it with reviewers
Release Week
I normally have social media posts scheduled and staggered throughout the week/month
I update my website, send newsletters, post blogs
Share the news on Goodreads
Release the paperback and hardcover formats
Play reader games in my groups
Take a moment to breathe
---
Paranormal Women's Fiction
We talked a little about PWF and wanted to elaborate a little because I love this genre and what it represents so much.
I joined a group of 13 female authors. Together we wanted to read and write about women in midlife — women like us — in a positive way. We didn't invent books with 40+ heroines but sought to define a place for them amongst other genres. There were many great stories already with older women dealing with real life issues, but often in genre fiction these books are lumped in amongst young adult and new adult books and can be difficult to find.
The 13 authors launched the first paranormal women's fiction titles in February 2020 on the same day. Since then so many wonderfully talented authors have also written PWF books. It's very exciting.
You can read the full interview I did with the Dispatch newspaper here.
FAB 13 PWF Founding Authors (Several of us have done KDP University webinars, so be sure to search for those!)
Michelle M. Pillow, Mandy M. Roth, Shannon Mayer, K.F. Breene, Jana DeLeon, Eve Langlais, Deanna Chase, Elizabeth Hunter, Darynda Jones, Kristen Painter, Robyn Peterman, Christine Gael, Denise Grover Swank