Aged to Perfection: A Magical Paranormal Women's Fiction Romance Collection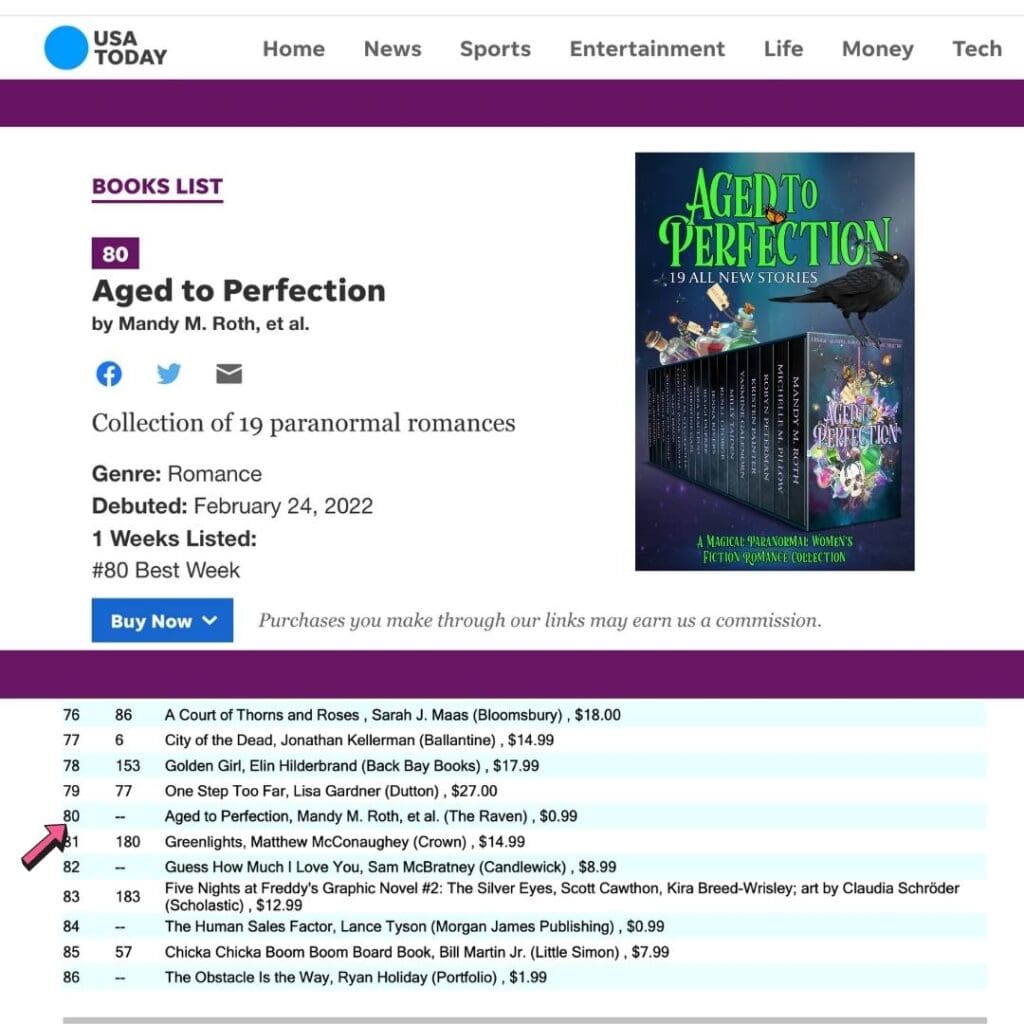 We just found out that this set has hit the USA TODAY Best-selling Books list! Congrats to all the authors and thank you to the readers for helping us make this a success!
Aged to Perfection Anthology
Those aren't gray hairs, they're strands of glitter letting the world know you're fabulous. So adjust your crown and join us as we celebrate women who are fabulous, over forty, and aged to perfection in this magical paranormal women's fiction romance collection. Includes stories from some of today's top PWF authors, NY Times and USA TODAY bestsellers, as well as new emerging voices in the genre.
Featuring
Mandy M. Roth–Running with the Devil
When a gubernatorial candidate comes through the doors of a small magic shop, claiming he was mystically framed for murder, a witch has to decide if she can put their past behind her and help.

Michelle M. Pillow–Merely Mortal
Tamara, a mere mortal, desperately enlists the help of a self-proclaimed ghost hunter when an age-old curse begins claiming the lives of her supernatural siblings.

Robyn Peterman–My Big Fat Hairy Wedding
A forty-something Shifter supermodel, five supernaturally screwed-up bridesmaids, and a demonic mother of the groom determined to ruin the wedding. This marriage is going to Hell. Literally.

Kristen Painter–Code Name: Mockingbird
This story contains vampires, kissing, cats, and shape-shifting secret agents. What else do you need to know?

Yasmine Galenorn–Weaver's Web
Paranormal investigator and witch January Jaxson, and her wolf-shifter boyfriend Killian O'Connell, take a vacation for Valentine's Day and find themselves in a search for their hostess's missing sister.

Milly Taiden–Surviving Midlife
Sophie never expected to be rewarded for being the perfect wife and mom for two decades—but she also never expected to be kicked to the curb either!

Renee George–The Age of Inno-Scents (Nora BlackSeries)
A fun '80s-themed mystery event takes a deadly turn when Nora Black's psychic nose sniffs out a real murderous plot.

Jenna Rivers–Spell of a Time
You have to be a total witch to survive dating in your forties.

Reggi Dupree–Midlife Collision
A newly single woman recovering from betrayal discovers no one is who they seem in Hoodoo, Texas—especially her new dog.

Shéa MacLeod–Day of the Were-Jackal
Edwina Gale is used to tracking down supernatural bad guys, but when her romantic weekend is interrupted by the murder of a drag queen, can she solve the crime before an innocent person is convicted?

Christine Gael–The Bargain
When she strikes a deal with a nefarious stranger to save her granddaughter's life, Inez Walthrop is dragged into a world of werewolves, vampires, and monster-hunters that she thought only existed in her nightmares.

Charise M. Studesville–The Perks of Being A Hoodoo Rose
In a small Midwestern town, one sister takes over the family hoodoo business and must break a centuries-old hex that threatens to prevent the women in their family from finding lasting love.

Christine Zane Thomas–A Touch of Twilight
A second chance with a first love comes with a ghostly price.

Macy Dixon–Midlife Shelf Life
Life was all books and tea and frosty autumn days until Emmaline Fox had a magickal hot flash that changed her life…

Stephanie Berchiolly–Train Bound to Forty
A force of nature unto herself, Florebelle Fairfield, must face a magical destiny she was never prepared for.

Nicole Rosas–Eternal
A last-minute whirlwind trip changes everything this forty-two-year-old thought she knew about herself and life.

Bobby Leigh–Snow Hill: Hexed On A Feeling
When emotions heat, so does she.

Jade Greenberg–Magic Takes Manhattan
One intoxicating New Yorker, a lifelong curse, and a splash of magic make an unforgettable midlife cocktail.

Aaron M. Cabrera–The Invention of Magic
After inadvertently summoning a demon, Jinx must now stop the evil that possessed her best friend from killing her ex.