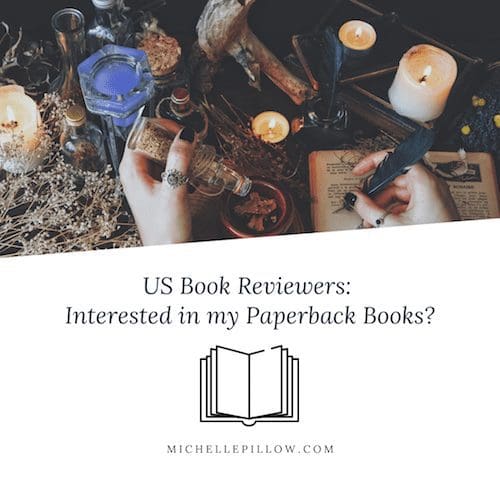 Order of Magic Series:
US Reviewers – Paperback, Ebook, Audio Codes
International Reviewers – Ebook and Audio Codes
Welcome to NY Times & USA TODAY Bestselling Author Michelle M. Pillow's Order of Magic Series Book Distribution Project page. Thank you for being a part of our online community.
The Order of Magic series distribution project's goal is to get paperback copies of the series into the hands of avid book bloggers (including social media platforms), print mediums (magazines, newspapers, etc), Instagram (bookstagram), and TikTok (booktok), booksellers and librarians. Not sure if you qualify? Fill out the form. The more the merrier. You never know.
There is no better way to decide if you like a new series, new author, or new genre than to read the actual book. There are currently four books out in the Order of Magic series and one pre-order. The books average 4.5 stars and above with hundreds of reviews. (Example: Second Chance Magic book one has 4.5 stars out of 513 reviews on Amazon.com, 4.24 stars out of 1,255 at Goodreads).
If you take a book, we ask that you share about the series and author online, post pictures with the books on social media, talk about it on your blogs/websites, and help us spread the word about the Paranormal Women's Fiction series, Order of Magic, or other works by Michelle M. Pillow.
*The fine print can be found on the copy request page at MichellePillow.com. Not all request can be honored. There are a limited amount of copies.