Automatic Book Update
This is useful if you want to be sure you get any new versions of an ebook. This may not work in every situation, for example: on special circumstances, like a new, expanded anniversary edition that is not published as the same book.
"Opt in for automatic book updates to receive new versions of your books when we have confirmed that improvements were made. In order to retain your notes, highlights, bookmarks and furthest reading locations, ensure that all your Kindle devices and reading apps have the "Annotation Back Up" setting turned on." – Amazon
1. Log into your account and go to it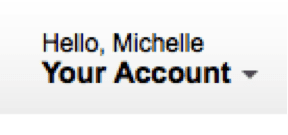 2. Go to Manage Your Content and Devices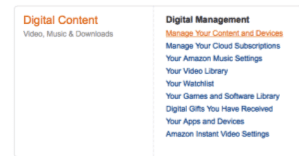 3.  Make sure you have Automatic Book Update Turned on.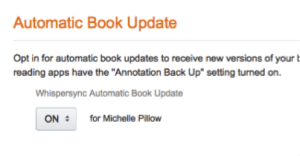 It's that simple! Now you will always get the newest version available of the ebook.
How to article provided compliments of Michelle M. Pillow, Copyright (c) Michelle M. Pillow 2014 michellepillow.com