Preorder Now ›
Amazon US
Amazon (All Countries) 
Nook
Kobo
iBooks

IT'S HERE! Well, almost. It's up for preorder anyway.
LOL I'm just so excited to be bringing you the next mischievous Warlocks MacGregor story!
With one week to go until the release of the fourth book in the Warlocks MacGregor series, here's the summary, a peak at the book trailer and an opportunity to preorder the book:
Malina MacGregor is more than just a delicate flower in need of manly protection, but you wouldn't know if by the slew of male family members who show up anytime she tries to go on a date. Sure, she's made some poor choices in men in the past—like the demon she mistakenly hooked up with in Las Vegas years ago. But that was then, and this is now, and she more than made up for that mistake.
Darragh "Dar" Lahey may be a luck demon, but his luck ran out the night he met the temptress—Malina. Now he's back, and he has an ax to grind. Malina needs to pay for what she did to him, and the supernatural attacks he's firing at her magickal family is just the beginning. There is only one hitch in his plans for revenge—even after all this time the stubborn woman can still make his heart ache, and his body burn with need.
Warning: Contains yummy, hot, mischievous MacGregors who are almost certainly up to no good on their quest to find true love.
I hope you'll all go check it out. I absolutely LOVE this series and can't wait for you to read the latest book!
Happy Reading!
Michelle
Preorder Now ›
Amazon US
Amazon (All Countries) 
Nook
Kobo
iBooks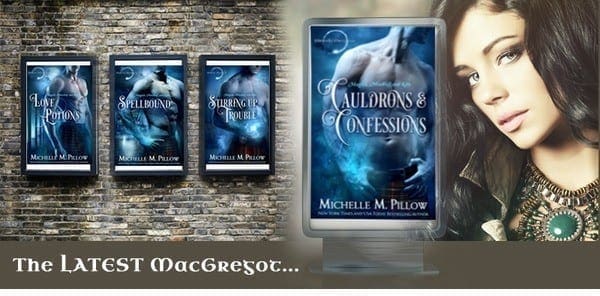 Malina, the latest MacGregor
Hi there,
With every page I write, I feel closer to my heroine, Malina MacGregor (Remember her, the mischievous sister from Love Potions?). Mind you, I feel that way with each character I create as I write them.
But there's something about her story that resonates with me. Maybe it's the fact that she was displaced as an infant?
Malina is the only sister to Erik, Niall and Euann. In the upcoming Warlocks MacGregor book, a rebellious past haunts her. Dar, someone she hurt, resurfaces with revenge on his mind.
As a baby Malina was sent to England. It was for her own safety in a time when the witch trials were taking place in Scotland. Maybe her displacement is why she feels she must prove her loyalty to her family?
Does this grievance drive Malina to destruction?
Whatever the case, love, loyalty, and longevity rule supreme as I navigate the latest addition to one of my favorite series, Warlocks MacGregor.
"Cauldrons and Confessions" releases March 28th.
If you haven't yet read the series, I've reduced book 1 "Love Potions" down to 99 cents for a limited time.
Happy Reading!
Michelle